One week before Shanghai turns itself red and spooky. Here we have a round-up of like a dozen events — mostly parties and live music, some film screenings, many aren't spooky at all! — to enjoy over the weekend before the inevitable deluge of Halloween parties.
Thursday, October 15
Thursday, Oct 15 @ Education First APAC Office
Green Initiatives' 121st documentary screening event features Toxic Beauty, a film following a class action lawsuit against J&J and the stories of women fighting for justice and for safer, toxicant free cosmetics. Showing starts at 7pm, and it's 70rmb at the door.
Thursday, Oct 15 @ Logan's Punch
After taking a break from organizing this year's Convention, the Ladies Who Tech team is back with a STEM Drinks Night, where representatives from Global Women Entrepreneurs Network (GWEN) and SheUp Community share their vision, initiatives, and stories on community engagement. The evening aims to provide a conducive platform for communities, technopreneurs, and tech professionals to develop long-lasting connections as well as opportunities. Starts at 7pm, 150rmb when you register.
Friday, October 16
Friday, Oct 16 @ LOFAS
Beijing meets Shanghai inna Reggae Style. Veteran DJ crew Shanghai Dancehall is hosting the event, which also includes Shanghai locals Skinny O.G. and afro artist JAC 45. They are joined by reggae singers General Huge and Zulu Bob, and DJ Sistakilla.L from Beijing. Reggae, roots, dub, afro, and hip-hop all come together for one night of live music and pure vibes at LOFAS. Starts 9pm, 100rmb on the door including a drink, or 75rmb presale.
Friday, Oct 16 @ SHAKE
Brand new live band taking classic tracks and completely rearranging and remixing them live for the dancefloor. Super G is the electronic cousin of Shanghai Funk Unit, led by synth player Xiao He. The band features Xiao He on synth and electronics; Zhang Tianchi on bass; Sui Yifan on drums; Lannie Loong on vocals; Cao Kan on trombone; Liu Peikun on guitar; and Huazi Weng on sax. Expect new versions of everything from Stevie Wonder to Avicii and more. Starts at 9.30pm, tickets are 80rmb.
Saturday, October 17
Saturday, Oct 17 @ Perch
Perch celebrates its first anniversary on Saturday, 4pm until late. They'll be giving out celebratory gifts all night long, along with a special anniversary deal of 3 drinks for 100rmb. Nice.
Saturday, Oct 17 @ Kee Club
Alter. celebrates two years of parties with two weekends of... more parties. First up is this one at Kee Club Garden, with Alter. Soundsystem Finascia Lucas Lbtx. Doors open 3pm, goes till 10pm. Presale for entry after 5pm is 100rmb including a drink, or 150rmb at the door with a drink.
Saturday, Oct 17 @ The Pearl
A free workshop to learn everything you need to know about being a drag king. Shanghai drag king Mitch Bitchpleaser will be joined by very special guests drag king Break and finest dandy Lotus Hawke who'll teach you everything you need to know about Drag King history, make-up techniques, stereotypical masculine body language, drag personas and drag performance. Plus, a chance to perform at a new drag king show coming soon. This workshop focuses on the performance of masculinity and welcomes people of any gender. Scan QR to sign up. Starts 2pm.
Saturday, Oct 17 @ Inferno
Inferno's vampiest goth night is back. Hosted by local goth artist Muninn, expect fishnets, corsets, and a sexy amount of black eyeliner. So. Much. Black. Eyeliner. This event will have limited Inferno goth night merch; first come first serve. Sponsored by Crimson Pangolin Gin, and Witchcraft Brewery, first 30 goths to show up in goth gear get a free drink. Starts 10pm.
Saturday, Oct 17 @ Tacolicious
Taco Crawl is back! Venues: Tacolicious, Bubbas Food Co, Homeslice, The Cannery and The Apartment. Starts at Tacolicious at 5.30pm and takes the party bus from venue to venue, reaching the final venue at around 11pm and very, very drunk. Free flow margaritas and sipping Altos tequila on the bus (until they run out). One taco per token, and a special token from Homeslice. Costume contest too, and a sexy piñata. Scan the QR code on the flyer for more information and to purchase tickets.
Sunday, October 18
Sunday, Oct 18 @ The Melting Pot
Wax Out! is a monthly casual hangout afternoon (2pm-7pm) for local record enthusiasts and diggers alike. Bring a few records if you wish as turntables will be opened to those willing to share their personal interest in wax. Free.
Sunday, Oct 18 @ 521/SH
Celebrate the season of spooks with a screening of the 2016 horror film 'The Boy'. Don't be scared alone, tickets are BOGO, so you can bring someone to snuggle when things get creepy. Scan the QR code to reserve a spot.
*
Meanwhile, Over On SmartTicket...
Oct 17-18 @ Huangpu Expo Park
HOCY Music Festival brings on a Halloween party with some seriously good EDM with exclusive live stream headliners Don Diablo and Kasakade, and Shanaghai DJ Carta playing live, along with Attack, Beto, and DJ Tracy. Happening in Huangpu District's portion of the Shanghai Expo Park.
Oct 17 @ LOFAS
Lofas is bringing in a metalhead line-up including three Chinese bands: "On the Verge of Extermination," a Shanghai metalcore band, active in different livehouses in eastern China; "Blood of Life," playing their characteristic thrash death metal; and "Black Villain," a young blood that's just formed this year. Expect to see a secret, special guest band, playing blackened melodic epic death metal, coming all the way from up the distant central plain of China. Starts 8pm. Pre-sale is 80rmb.
Thu-Fri, Oct 22-23 @ The Pearl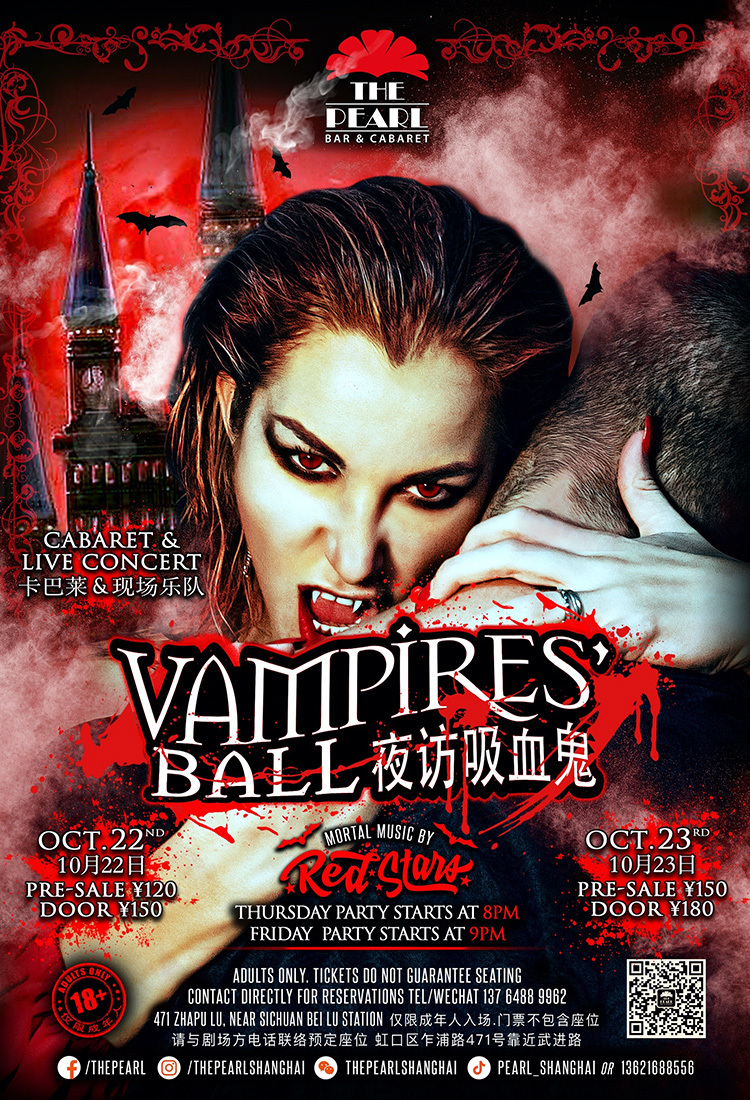 This one's not for another week but The Pearl's Vampire's Ball, a Halloween special in collaboration with the Dark Circus team, is likely to sell out pretty quick. A full-on, immersive, sexy cabaret with live music, themed cocktails and shots, free face painting for those who arrive early and best Vampire costume winning prizes during the night. Show starts at 8pm on Thursday night and 9pm on Friday night. Doors and kitchen open at 6pm. Happy Hour from 6-8pm. Pre-sale tickets are 120rmb.