You know what you're here for. We know what you're here for. Let's get into what's good this weekend for "places-to-be" and "things-to-do." Clubs, bars and parties, mellow jazz, and a Malaysian BBQ pop-up to name just a handful.
Friday, October 23
Oct 23, 9pm @ C's
A grungy, rough and punk mini-arts festival celebrating Shanghai's diverse up-and-coming acts and creators. Live show, market, exhibitions in C's bar. Resident punks Hogchoker, 90s emo punks Flip House, and 80s gothrock coldwave Snuff Disco with special guest Gargoylegirlfriend are bringing some gnarly sets, hosted by DJs Lev Zep and Lobito. Free entry. Starts 9pm.
Oct 23, 10pm @ Cafe Des Stags (Found 158)
DJ Skinny Brown's bringing chill reggae music. He started the Popasuda dance parties at Dada Shanghai back in 2011. You won't hear any English lyrics; Skinny Brown strictly plays "global bass" jams coming from cheap computers in the Caribbean, Sub-Saharan Africa, Indian, and beyond. Free entry. Starts 10pm.
Oct 23, 11.30pm @ DownTownHall 151
The underground club opposite the Pit (Found 158) sees the Cool Group going from house to recognizable electronics all night long. Eren, Edison Chen and Temple Rat on the decks. 50rmb entry.Starts 11.30pm. Head downstairs.
Oct 23-25, 1pm @ By the Former Union Church
Jazz at Lincoln Center Shanghai celebrates its third anniversary with a 3-day jazz music festival. Live music, performances, activities, talks, etc. and a creative market at Waitanyuan Culture Square. Expect the Chen Xiaojun Quintet, Fei Jia Quintet, Jazz It Up Big Band, Cluster Kids Jazz Band, New Grass Band, Swing dance presented by Downtown Swing, Ukulele Pop-up presented by Flashukers, and BAO Junrui Quintet.
Saturday, October 24
Oct 24, 6.30pm @ Xibo (Changshu Lu)
Free flow food & drinks to celebrate Xibo's 10-year anniversary, plus a live band and DJ. Scan QR code on the flyer for 248rmb/early bird, or 298rmb/at the door. Space is limited. First come first serve. Celebration is from 6.30pm – 10.30pm.
Oct 24, 11.30pm @ Real Shanghai Bar
Midnight viewing of the Rocky Horror Picture Show at the cozy upstairs movie screening room at Real Shanghai Bar. If you know, you know. Movie starts promptly at midnight, seating is limited. 88rmb with two drinks free popcorn. Add 100rmb for free-flow Asahi from 11.30pm-2.30am.
Oct 24, 3pm @ Fosun Foundation
Alter is hosting the second half of its two-parter 2-Years Anniversary celebration at the Fosun Foundation. It's gonna be a night of EDM tracks, touching on Italo Disco, Electronic and House. Lineup for the event includes Thoma Cher, Safart, LeonWill and the Alter. Soundsystem. Free entrance before 5pm. Pre-sale is 100rmb, 150rmb at the door.
Oct 24, 1pm @ Mikeller Tasting Room
Mikkeller and Nomfluence food blogger Rachel Gouk are serving up an evening of Malaysian cuisine. Food on the menu includes rendang brisket, ayam percik (chicken thighs marinated in coconut cream and spices) and pork belly burned on a smoker. 35-55rmb for a la carte serving. Starts 1pm.
Oct 24, 5pm @ Funkadeli
Funkadeli is technically turning 4 years old! Party starts at 5pm and there is a 3-drink token deal for 120rmb. Funkadeli classics to be served all night.
Oct 24, 6pm @ Bubba's Food Co.
The Spaghetti Cowboys are rolling into Bubba's for some trippy 60s surf-rock and Quentin Tarantino-inspired live music. Bubba's is also going to be serving Tarantino-inspired meals, such as The Big Kahuna Burger, Killer Nachos, The Mexican Spread and the Inglourious Basterds' (sic) ham sandwich.
Oct 24, 6pm @ HUNT
Dress up Shanghai-style for a qipao costume contest at HUNT, where the winners can earn a total of 2,000rmb in cash prizes. Biggest single prize is a cool thousand. The event will go late into the night.
Sunday, October 25
Oct 25, 4-8pm @ Uptown Records n' Beet
NTS Radio is broadcasting live from Uptown Records. DJs Mice, Slowcook, China Social Club and JRG will be spinning tracks from 4 -8pm. If unable to make, folks can tune in live on nts.live/2.
Oct 25, 3pm @ Bird
Battle of the bottles. Round 2 starts, as Team Natural and Team Classic go head-to-head to see who has the best lineup of vino. The event goes from 3pm-7.30pm. Come by and check out the wine tower.
Meanwhile, Over On SmartTicket
Oct 22-23, 9pm @ The Pearl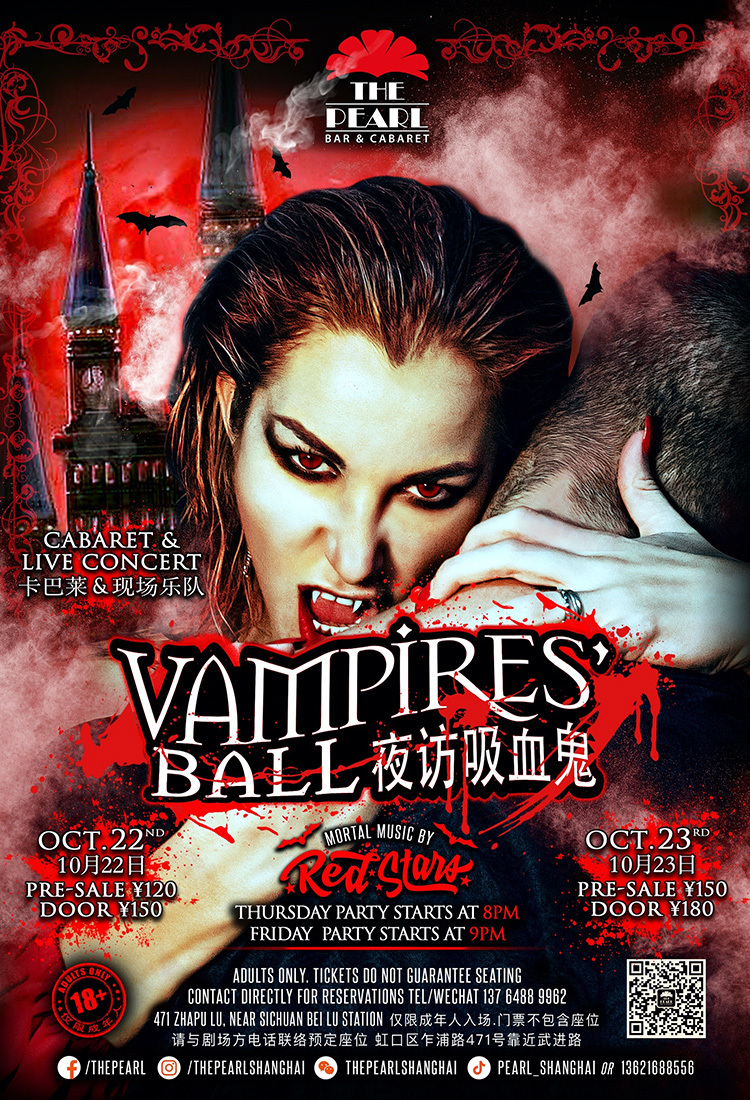 The spookiest cabaret to grace a Shanghai stage. The Pearl (already a haunted enough spot as it is) celebrates Halloween with gory performances and a live band.
Oct 23-24,8pm @ Jazz Lincoln Center
Crisp Jazz at the Lincoln Center. The lineup for the two shows include guitarist Lawrence Ku, trumpeter Toby Mak, drummer Chris Trzcinski and bassist Damien Banzigou. Pick up your ticket from SmartTicket.
Oct 24, 8pm @ Yuyintang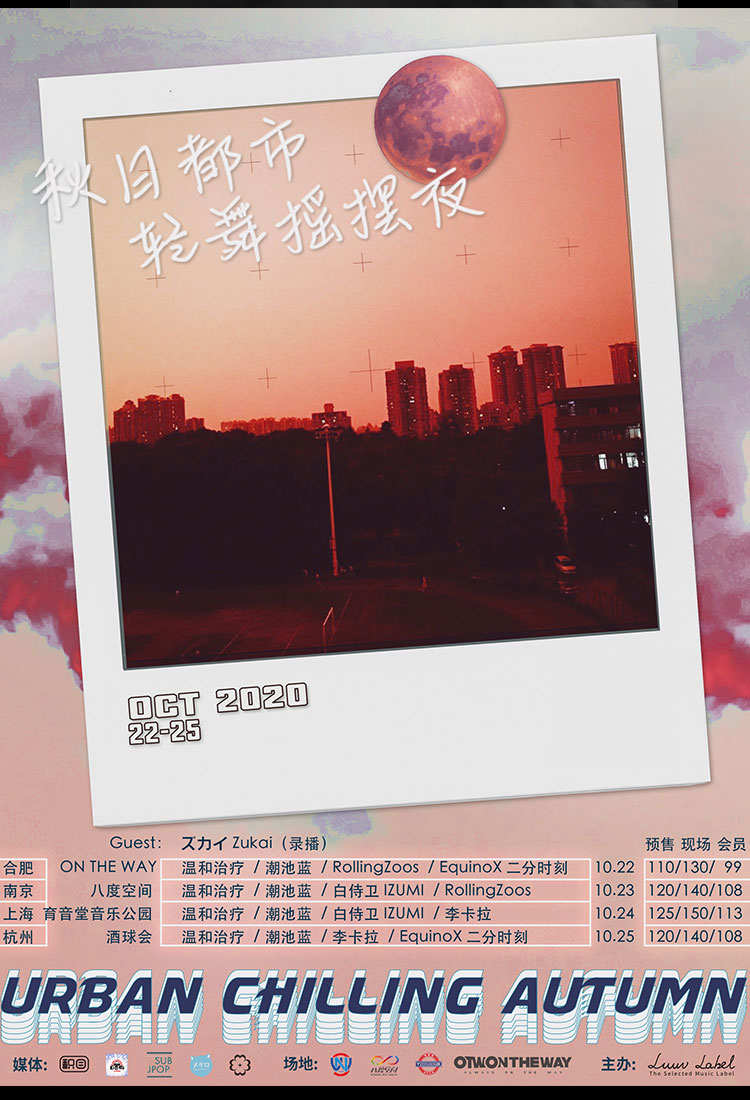 Enjoy the season of falling leaves with more live music. Four Chinese bands are performing live at Yuyintang Park. If you like city-pop, this is your night.