Ignore the soggy rain that has plagued this week and make sure that the weekend isn't a disappointment. Head out to one (or several) of the 15 events going on over the next few days.
THURSDAY
Mar 18, 8pm @ Roxie
Brain Blast! Roxie is hosting a quiz night, 'with a heavy emphasis on the Q'. Come as one or as a group, and get the chance to win prizes. All gender expressions and sexual orientations are welcome to join, no one is excluded. Free to join.
Mar 18, 9pm @ XBar
XBar has lined up DJs Liquid Mechanics, Chouchou and .upDXyl for an evening of minimal vibes. Artist Linda will be displaying her work, complemented by the tracks of the DJs. Entrance is free.
Mar 18, 9pm-midnight @ The Apartment
Hey-o ladies! The drinks are on. The Apartment is bringing back Ladies Night (every Thursday). It's free-flow sparkling wine or spritzer from 9pm to midnight. If a table is booked, then a free bottle of either red or white wine will be handed out. In the spirit of St. Paty's, guitarist Yusuf will be performing live before 9pm.
FRIDAY
Mar 19, 7pm-late @ Mikkeller Tasting Room
Return of the Kings! Street Kings and Mikkeller are joining forces for a sequel to January's Taipei All Day pop-up. Kelvin Ip, Sohail Kalia and Sophie Steiner are serving up Taiwanese Beef Noodles for 58rmb and Braised Pork Rice for 48rmb. The event runs until the food is done, so remember, 'early bird gets the early noodle'.
Mar 19, 9pm @ SHAKE
The SHAKE band and Wink are coming together for an evening tribute to Dayton, Ohio. They will be playing music from bands such as the Ohio Players, Zapp, Junie Morrison, Slave and Lakeside. Dinner and cocktails start at 6.30pm, with the live band performing later in the night. Entrance is 100rmb per person.
Mar 19, 11pm @ Celia by Pulse
Since she is back, and bigger than ever before, Celia is hitting the floor running with their first Friday evening event: "Party Like a Russian". DJs Solo, Final Request, Makkk and Tofu are scratching the turntable all night. There is a 100rmb cover charge at the door.
SATURDAY
Mar 20, noon @ Funkadeli
Funkadeli's Yanping Lu location is celebrating three glorious years with an all-day anniversary party. Starting at 12pm, Chef Lucky Lasagna is serving up a bunch of Italian food, as well as special drinks by the bartenders. There will be a DJ turning up the jams throughout the day. It will cost 120rmb to get three tokens, with each one being exchangeable for either food or drinks.
Mar 20, 3pm @ Xime
Young artist Wang Wei is hosting her first solo exhibition. The showcase will include a series of sculptures and photography created by the artist herself. This exhibition will run from March 20 to May 15. Entrance is free.
Mar 20, 5.30pm @ SakeMate
Starting this weekend, SakeMate will host 'Why Not?!' every Saturday. DJ Veselka will be mixing dance and house music throughout the evening.
SUNDAY
Mar 21, 8am @ Dragon Events
Crack into the early Sunday morning with a hike through foliage. This family- and pet-friendly trip will have people walking through plum blossoms (the season has begun) and wildlife, led by both Mandarin and English guides. It costs 369rmb per person to participate, and the meeting point is
Zhongshan Park Metro Station
. Sign-up via WeChat:
138 1861 2354
.
Mar 21, 1-4pm @ Cyclo
'Gul, gulp, gulp...'; express the inner artist with a glass of liquid courage. Cyclo is hosting a sip and paint class on Sunday afternoon. Artist Man Xian Li will be leading the class. It costs 258rmb to participate, and each person will receive both a glass of wine and art equipment. Make sure to book early, reservations are required.
Mar 21, 6pm @ Café Paulus
Future Parenting is hosting a class about raising children under bilingual households. Science-orientated and presented as a discussion, guests can learn about how multiple languages affect the development of a child's mind. It is free to join, but there are limited spots – contact via WeChat:
FutureParenting
.
SMARTTICKET
Mar 19-20, 7.30pm & 9.30pm @ Jazz at the Lincoln Center Shanghai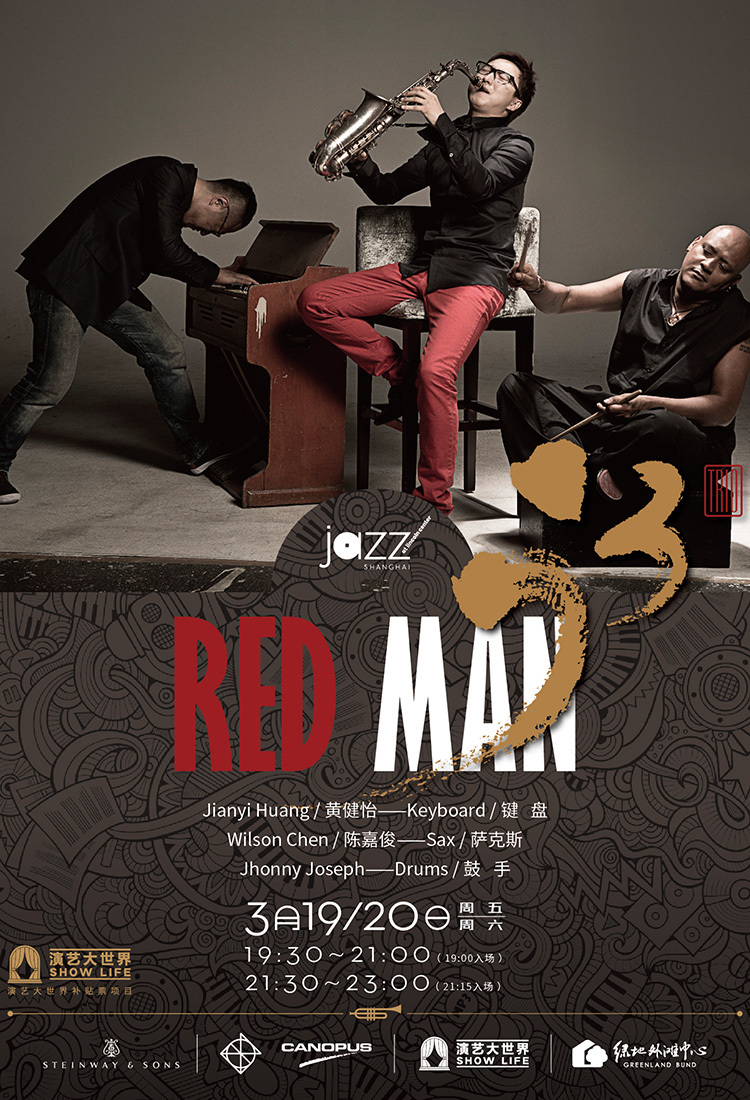 Time to get jazzy. Saxophonist Wilson Chen, drummer Johnny Joseph and pianist Jianyi Huang will be performing Red Man, the trio's own personal jazz creation. There are two shows on both evenings. The pre-sale cost of admission is 180rmb per person. A two-person package deal for 518rmb comes with two complimentary drinks. Interested? Grab tickets on
SmartTicket
.
Marc 21, 2pm @ Jazz at the Lincoln Center Shanghai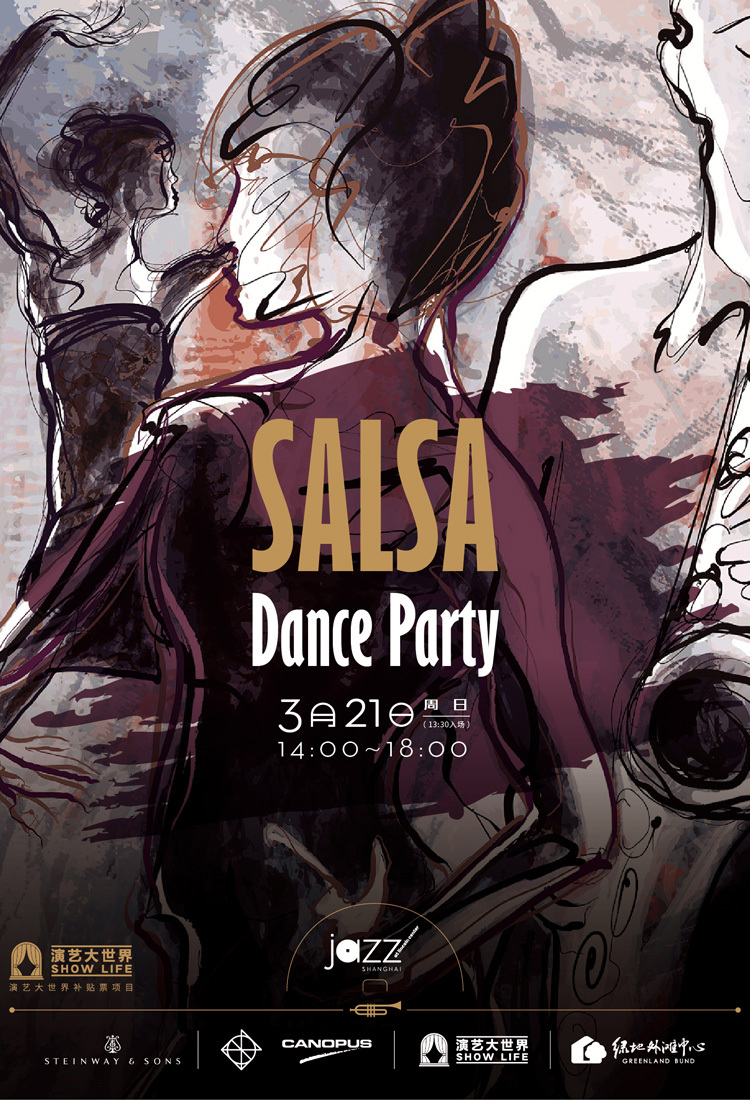 "Those moves are
muy caliente
!" A dream sentence to be heard when doing salsa. LCS is hosting a Salsa Party on March 21. There will be a professional salsa dance performance and plenty of fun on the floor. The music performed will be played by pianist Hongbin Yang, saxophonist Yue Xue, bassist Haiwu Zhua and drummer Guojun Yu. The pre-sale cost to join is 228rmb per person, which can be purchased on
SmartTicket
.
Mar 21, 7.30pm @ Jazz at the Lincoln Center Shanghai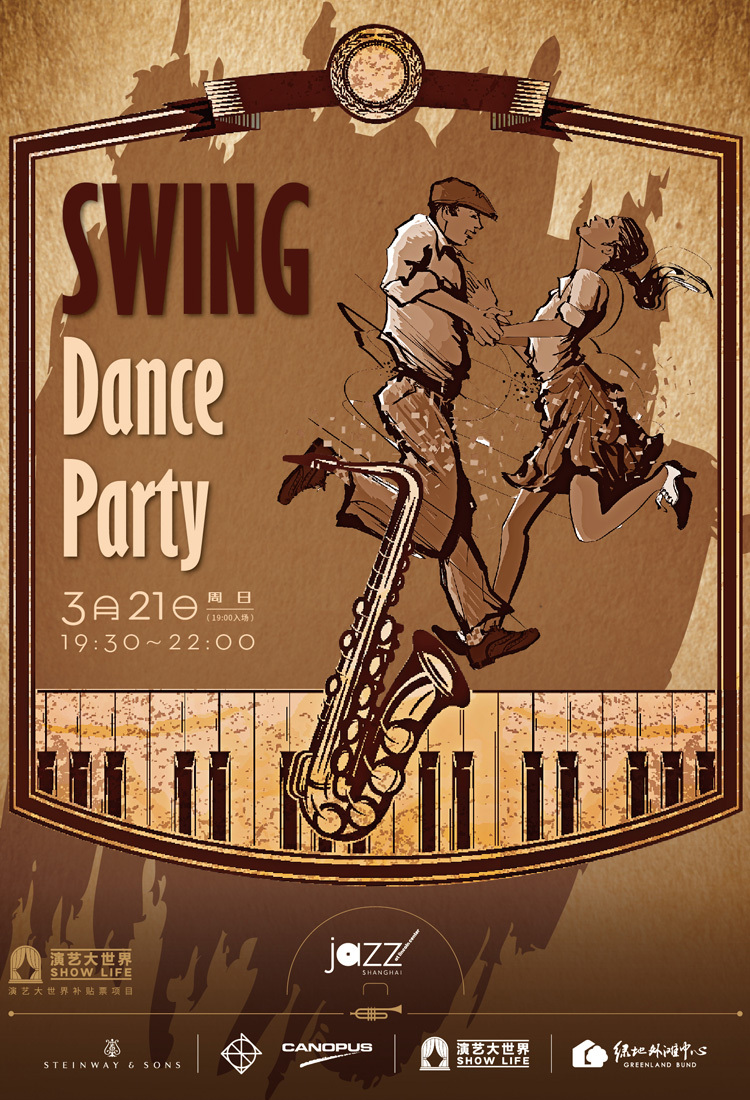 Looks like Sunday is just a day for moves and grooves. There will be Swing Party on the eve of March 21 at LCS. The musicians from the Salsa Dance Party will be doing another round of performances. Single person pre-sale admission is 150rmb. There are two two-person package deals: 1) 360rmb with two snack plates, and 2) 488rmb with two complimentary drinks. Swing over to
SmartTicket
to get a foot through the door.
*
These events didn't scratch that itch? Well, head over to SmartShanghai's Event Directory to know what else is going on
.