The oncoming Sunday workday can be a real vibe killer, but think on the bright side: on the way to that dreadful morning wake-up, folks can rock out to some killer night out or chillax to some are workshops. Here are a bunch of events to plan out the next four days around.
THURSDAY
Feb 4, 9pm @ XBar
Blast through the metaphorical portal into a world of music from another corner of the globe. DJ Karni Vlad will be playing gypsy house and modern melodic electro, with tribal rhythms and a twist on tropical motifs – how cool. There is a
recommended
dress code: 'Nomadic Chic'. Entrance to the event is free.
FRIDAY
Feb 5, 7pm @ Cyclo
Needing an easy way to meet new people really fast? Well Cyclo is hosting a speed-dating party for all of the romantics out there. there are two options for attending: Option 1, which is 7.30-8.30pm and Option 2, which is 8.45-9.45pm. There will be an after-party for folks to mingle. Sorry to say, but the event is limited to only under 30 years. there is a pre-sale deal for 188rmb and an at-the-door price of 220rmb.
Feb 5, 8pm @ C's Bar
C's Bar is celebrating CNY their way, by having a total banga'! The music line up for the evening will include Hogchoker, Rat King and CARBO, with special guest DJ, Tina Turnatrick, joining in on the fun as well. Entrance is free, and there is a BOGO deal going until 10.30pm. the first 50 to enter can earn themselves a hongbao.
Feb 5, 9pm @ XBar
Jump back to the 80s with Xbars 'Stranger Things'-esque synth night. DJs will be mixing up Synth-Pop, Italo and New Wave for the night. Entrance is free, but there is one requirement...guests gotta rock up in their best power suit.
Fri 5, 9pm @ Shake
Make the Friday night a funky night. Shake has Jonas Seetoh sharing his pipes alongside Vanessa and the SHAKE band for soem old school soul and funk. There is dinner and cocktails starting at 6.30pm, with music at 9.30pm. Entrance is 100rmb.
eb 5, 11pm @ The Apartment
DJ Renee is scratching up the turntables at The Aprtment for a mix set of hip-hop, trap and house. Entrance for teh event is free before 11pm, BUT there is a 2 drink pre-sale deal for 100rmb. If later that 11pm, then entrance is 100rmb (it comes with one drink though).
SATURDAY
Fri 6, 10am @ Moka Bros (Henderson 688)
Rise early, strecth it out and then eat it up. This weekly Saturday event will be taught in both Chiense and English, and all guests attending will recive both a 10% brunch meal discount and free VIOLA beer at Moka Bros. Make sure to wear comfortable clothes, to bring a mat and to have a water bottle. Heads up, get there 15 minutes early, in order for the class to start on time.
Fri 6, 10.30am-6pm @ Wait and Roll Printing Studio
How about taking those arts & crafts skills to a whole other level. This workshop will teach people everything they need to know to set up their own personal printing sation at home. It welcomes all, from young aspiring artists to the casual individual with an interest for creativity. It's 700rmb to participate, but a 10% discount will be given to students and groups of 2 people.
Fri 6, 3.30pm @ Shanghai Brew House
An event for folks with a green thumb and an eye for style. A florist will teach people how to creat flower arrangements, while the venue will be offering each person a complimentary glass of Prosecco. It's 220rmb to participate.
Feb 6-8, 2pm @ Chongming Island
Yoga for Life is back at it again. Take a break from the city (before the week-long break starts) and enjoy a getaway of relaxation. Off at Chongming Island, guests will stay at a 5-star hotel, take part in daily yoga classes, and get a chance to explore the outdoors. Because the island is wihtin the Shanghai city limits, guests' health codes won't change. The all-inclusive cost is 2,650rmb (comes with a room for two). Guests can arrive at resort Timing for arrival is flexible for all.
Feb 6, 10.30pm @ ASL
Let it rain the golden elixir. ASL and Tpark are doing a joint project: free flow booze on Saturday. All people need to do is download the Tpark app and subsribe to their membership. Once done, guests will be able to book both a table and bottle service at ASL. Alongside the deal is an 100rmb entrance fee; people can scan the QR code to get on the evening's guest list.
SUNDAY
Feb 7, 5pm @ 1900Loft
Sunday night is movie night! "Down: Indie Rock in the PRC" is a 52-minuted documentary that explores the underground music scene of China. There will be both English and Chinese subtititles accompanying the film. A discussion with teh directors will follow the screening, as well as the oppurtunity for any musicians to take the stage and jam out. It's 50rmb to attend, and spots are limited so scan teh QR code to reserve a seat.
Feb 7, 5-10pm @ The Curry Gaeng (FanTang Food Hall)
Can a person have too many bananas in one night? Well test that theory out with a Banana Night. No RSVP is needed for this party at The Curry Gaeng, where there will be Thai fried bananas, banana daiquiris and banana curry. There will be games of banangrams, where winners can earn free rum shots.
SMARTTICKET
Feb 4, 8pm @ Licnoln Center Shanghai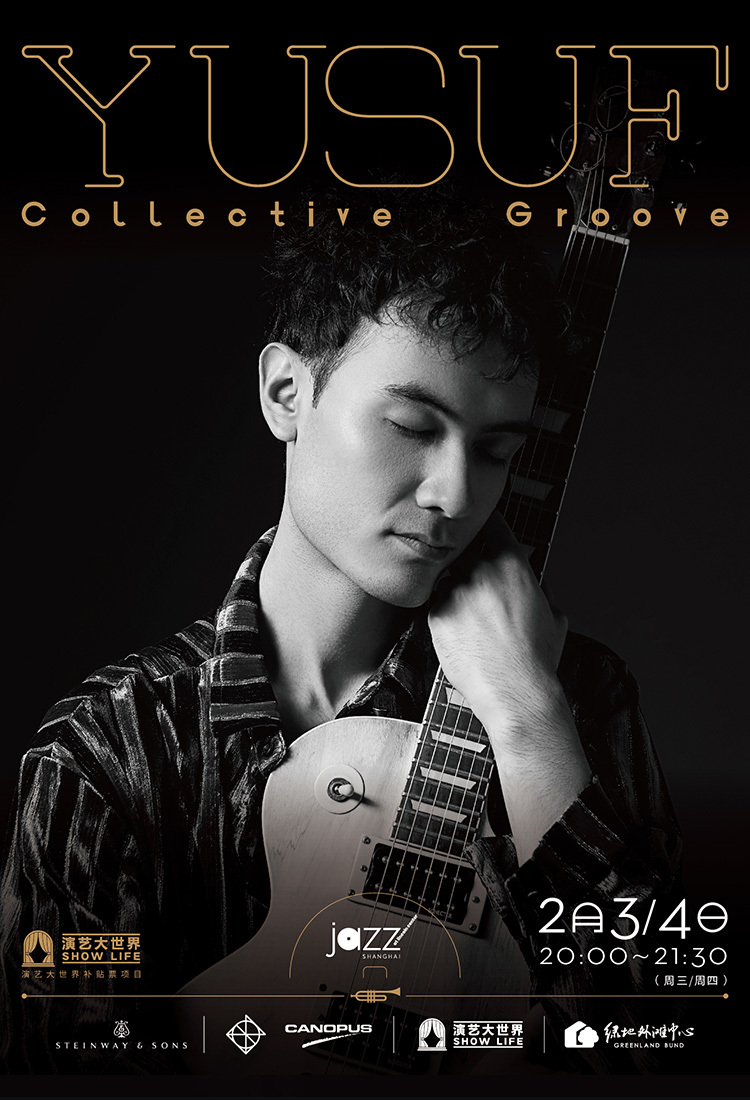 Yusuf, who will be providing vocals and will be on lead guitar, will be exploring his love of R&B, pop and soul. Along with for this musical journey is Kaser, vocalist and guitarist, 艾克拜尔 on the bass, Jiangtie on the drums, and JZ club regular, saxophonist Li Dianming. The pre-sale price is 150rmb, so pruchase tickets on
SmartTicket
.
Feb 4, 9pm @ The Pearl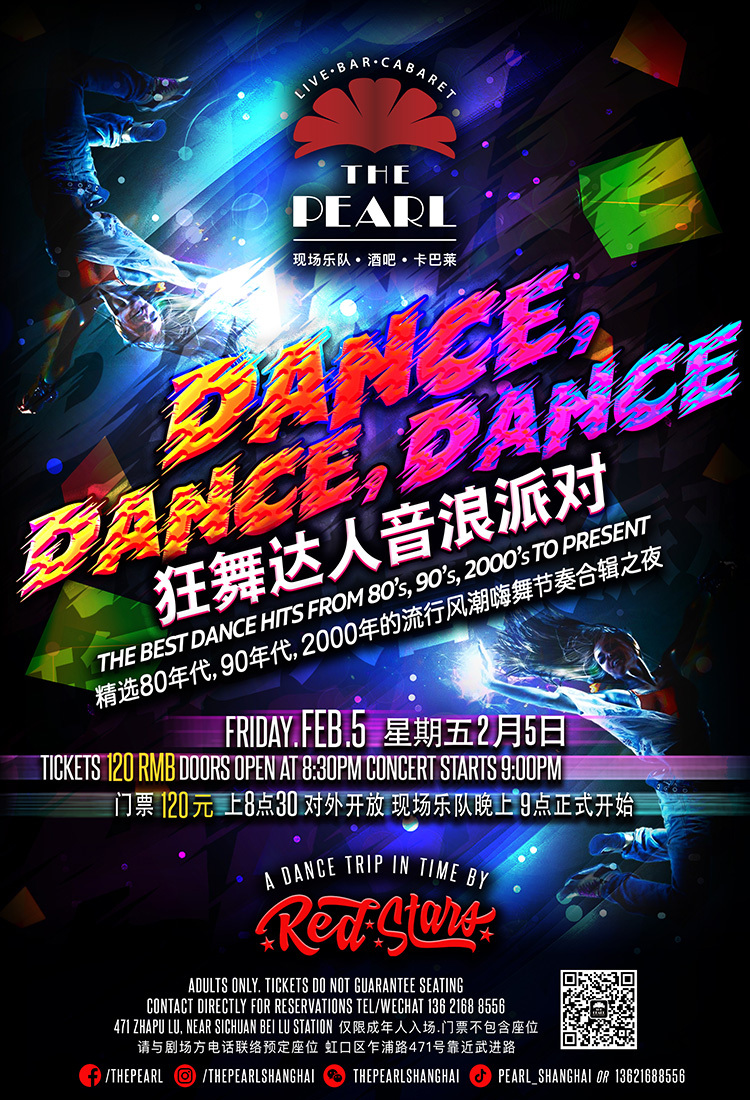 Before the CNY holiday starts, The Pearl is doing a 'two-birds, one-stone' event. First is a Red Stars cocnert, where they will be rocking out to hits form the 70s to the present. Followed is the premier of the cabaret show "Showgirls", where dancers, drag queens and aerial performers will take the stage. Showgirl Anna will be end the night celebrating her birthday and delivering a surprise. The pre-sale tickets are 120rmb, so purchase them on
SmartTicket
.
Feb 5-6, 8pm @ Lincoln Center Shanghai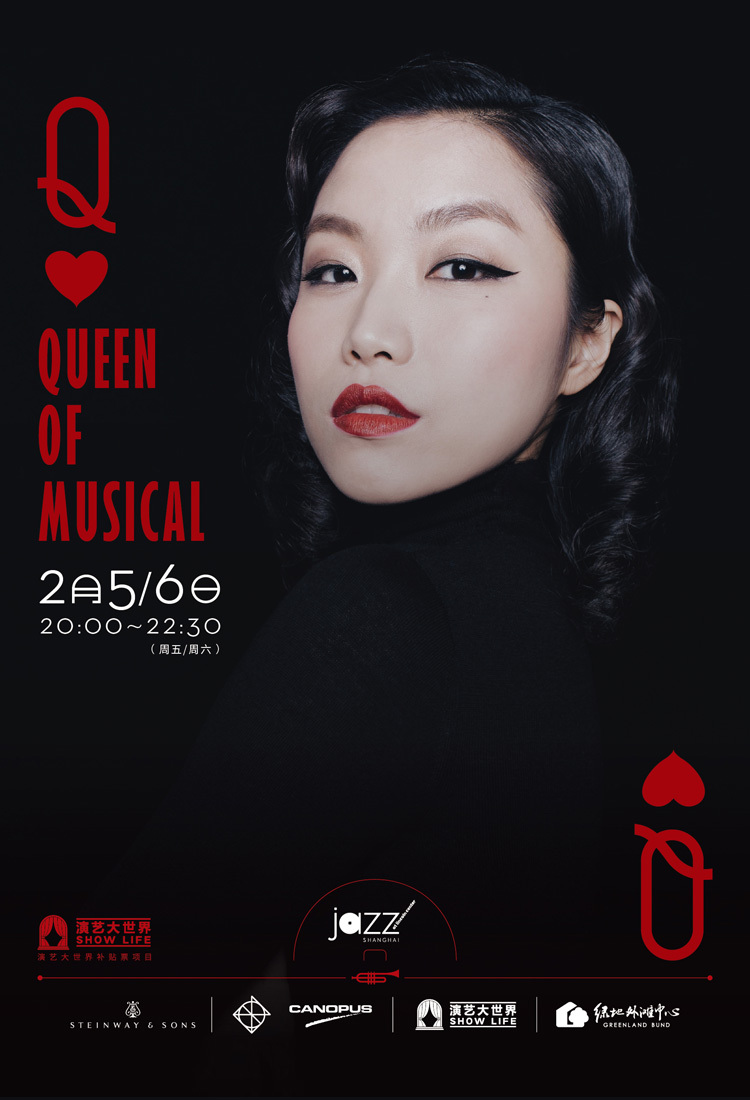 "Sleep No More" alumni Xu Meng is lending her vocals at the Lincoln Center Shanghai. Accompanying her for the night is pianist Feng Yuwei and drummer Dong Ziyuan. The pre-sale tickets are 180rmb, and come with a complimentary snack plate. To pruchase tickets, go to
SmartTicket
.
Feb 5-6, 10pm @ The Pearl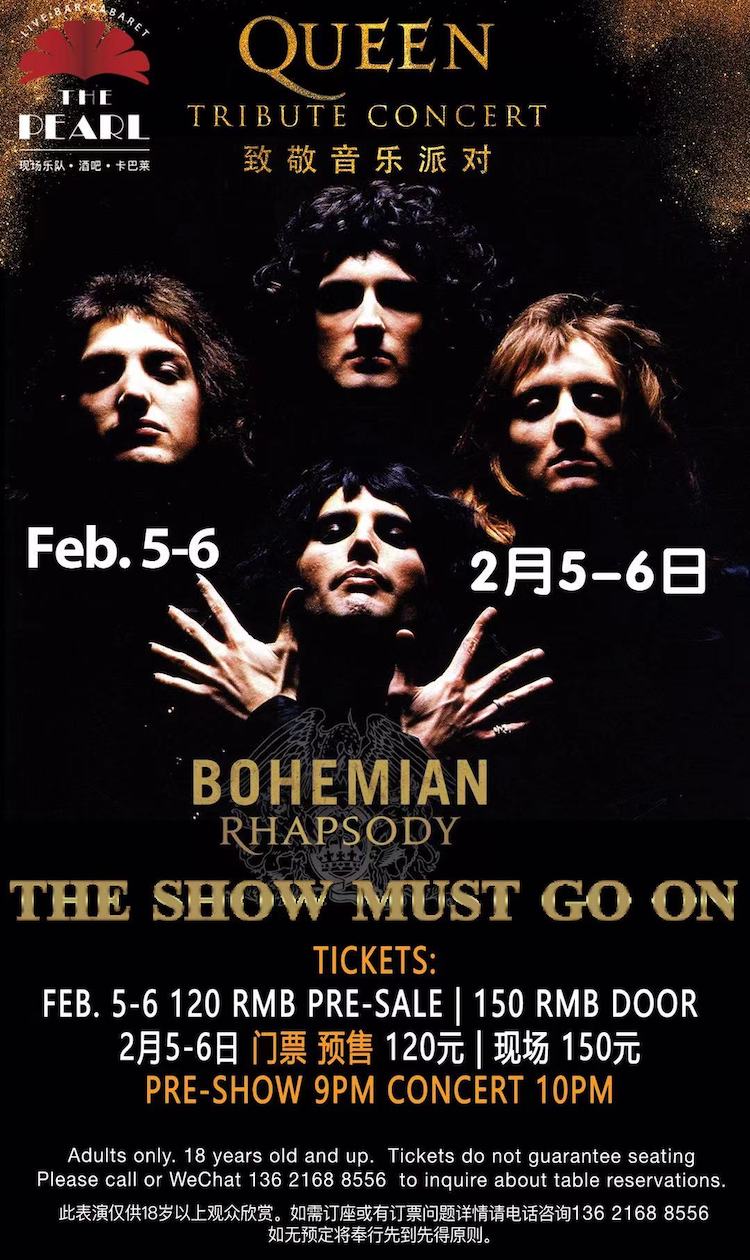 the fan-favorite show is back! The Red Stars are doing another Queen tribute concert, right before the CNY holiday. Come by to rock out the iconic band's biggest anthems and ballads. The pre-sale ticket is 120rmb, so purchase them on
SmartTicket
.
*
To know about more events in Shanghai, click here for our Things To Do page
.