Goddamn shame the weather has gotten so dreadful with this rain. Anyway, jump-start the weekend's cold, dead heart 9 very unbeatable super awesome events.
Our full events calendar is here
.
Thursday, September 17
September 17, 8pm @ Roxie
Let's put that brain to the test. Roxie is hosting another trivia night, one that welcomes all gender expressions and sexual orientations. Compete in a group of close friends, or if attending solo, then a group of new friends. The event is fully bilingual, so spend that empty Thursday evening winning prizes.
Friday, September 18
September 18, 8.30pm @ LOFAS
Rock out like you're horseback! LOFAS is hosting a bevy of rockbands and DJs for the Friday evening. Expect the tunes of Banana Monkey, delivering some new Shanghai indie rock, QIUNIU with their Inner-Mongolian-Psychadelic fushion, and DJ Kyle B with his all-vinyl reggae set. Tickets are going for 75rmb pre-sale or 100rmb on the door.
Saturday, September 19
September 19, 8pm @ Kartel
Poetry magazine ASPZ is celebrating the launch of their summer edition, Spaces. Presentations of poems & artwork published within Spaces. The event is followed by a poetry open mic. There's an entrance fee of 50rmb and it comes with a complementary ASPZ summer edition.
September 19, 8pm @ Pistolera
Possibly your last chance to celebrate Mexican Independence Day, if this last week wasn't enough for you. Pistolera has a margarita special running the entire day (38rmb a glass) to put some life back in your weary limbs, plus the usual food, music and live performances.
September 19, 8pm @ Elevator
Hologram Dreams is back and all out of bubblegum. Starting with a free screening of the absolute classic "They Live" — complete with Homeslice pizza and B-movie trailers — then a night of heavy synth, a mix of electro with Italo Disco, funk, electro, wave and a bunch more electro. Guest DJs Go See, WC7 and Heatwolves putting grooves in the turntable. Entrance is 50rmb before 11pm and 80rmb after.
September 19, 9.30pm @ Le Cafe des Sagiaires
Cafe Des Stags is giving a Shanghai a jolt of nostalgia with their #throwbackSaturday party night. DJ Frau and Venus Fltrap are going to be mixing some classic tunes from the heyday of 20 YEARS AGO. An absolute cultural wasteland, but they're determined to find something worth replaying. Come by in your best 90s and 2000s costume get up as the best Y2K outfits will win prizes.
September 19, 10pm @ Street Noise Club
Returning this weekend, Shanghai Dancehall are heading to untested venue Street Noise Club to deliver a night of reggae. Ghanaian singer JAC45 will join to give a live set of original music. Best of all, entrance is free.
Sunday, September 20
September 20, 9am to 8.30pm @ Pick Up Location TBA
End the summer season with splash, and like, not in a puddle, but an actual beach. FoS and SNOWJAM are coming together to get folks on wakeboards and in the surf. The only thing people need to bring, helmet and lifejacket. 498rmb for full experience, 88rmb for only the BBQ (with complementary drink), and 80rmb for the party bus.
September 20, 3 to 7pm @ Lucky Mart
Dogs for dogs! Lucky Mart is hosting a hotdog charity event, where they are introducing their konbini hot dog and beer combo. It's all for a good cause: 20% of all proceeds will be donated to Furry Friends Rescue. Dogs are encouraged to bring their humans along.
Meanwhile, Over On SmartTicket...
Sep 17-18 @ Jazz at Lincoln Center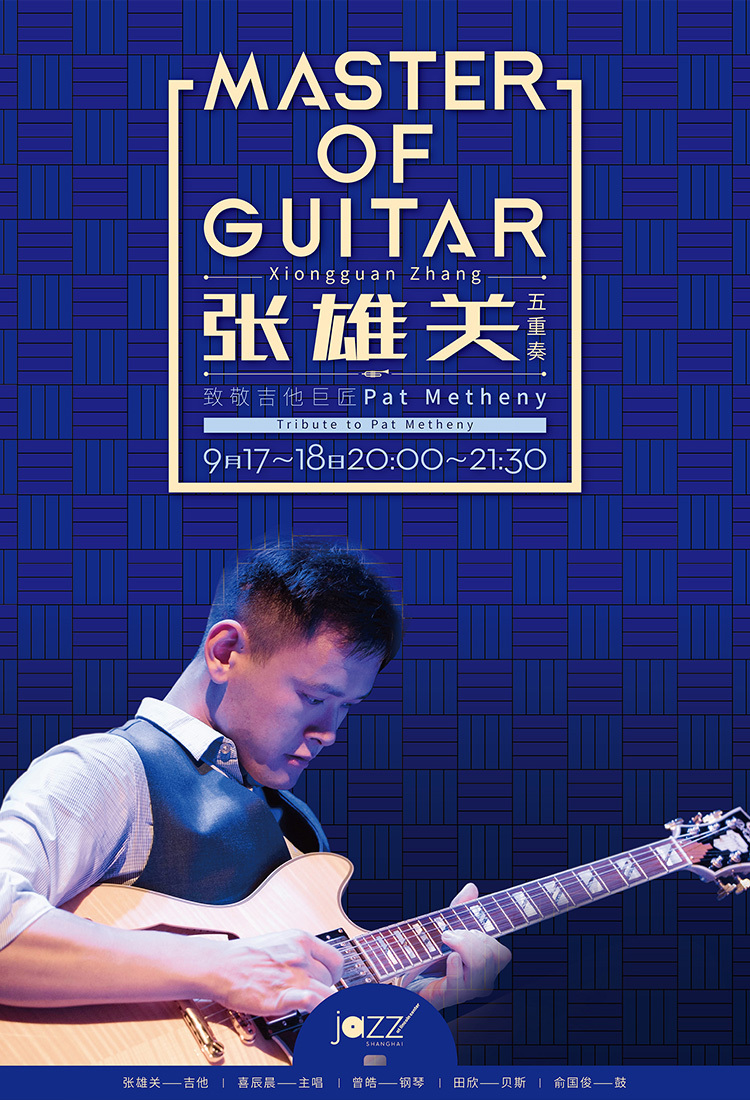 Zhang Xiongguan, a young and uprising jazz guitarist brings his band for a night of tributes to the legendary Pat Metheny, one of the best jazz guitarists of all time. Pre-sale's 180rmb, including a snack plate.
Sep 19-Oct 31 @ Hyatt on the Bund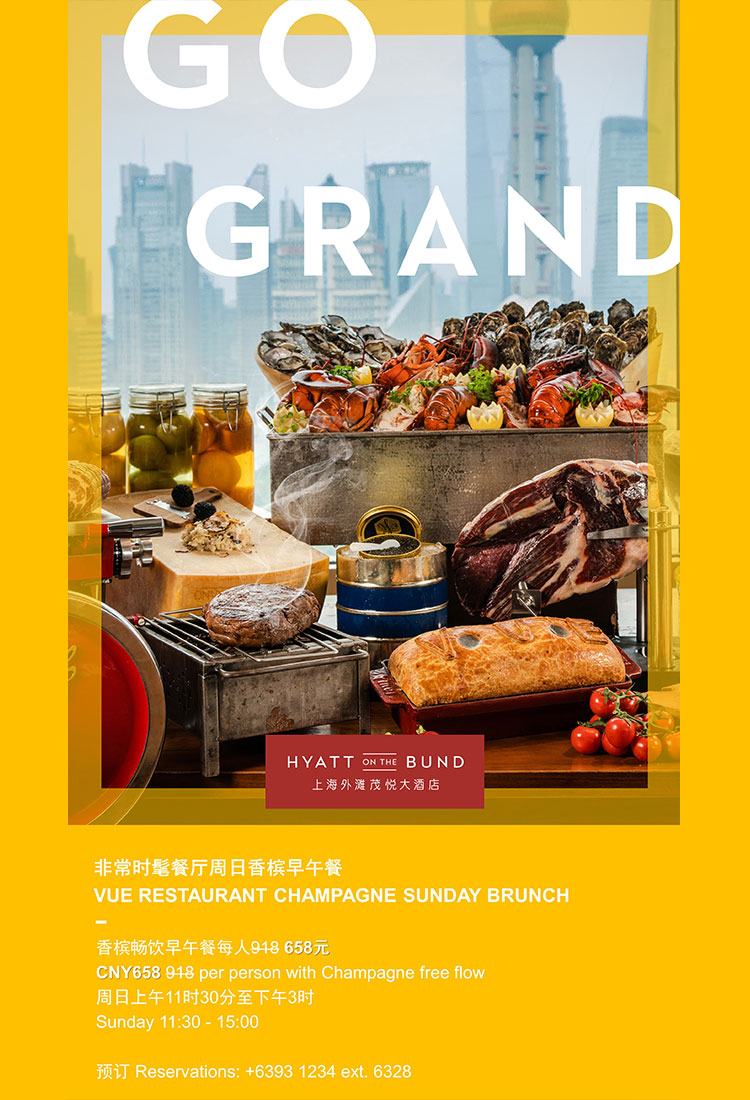 The VUE restaurant at the Hyatt on the Bund has a good deal on a champagne brunch, with nine cooking stations serving up seafood, meats, cold cuts and desserts. They also do a tableside service, where chefs prepare Lobster Bisque, Steak Tartar, and more right at your table, like you're a visiting diplomat or something! The weekly Sunday brunch has a discount until the end of September: 648rmb with champagne free-flow. Bargain! Runs from 11.30am to 3pm.
Sep 19 @ The Pearl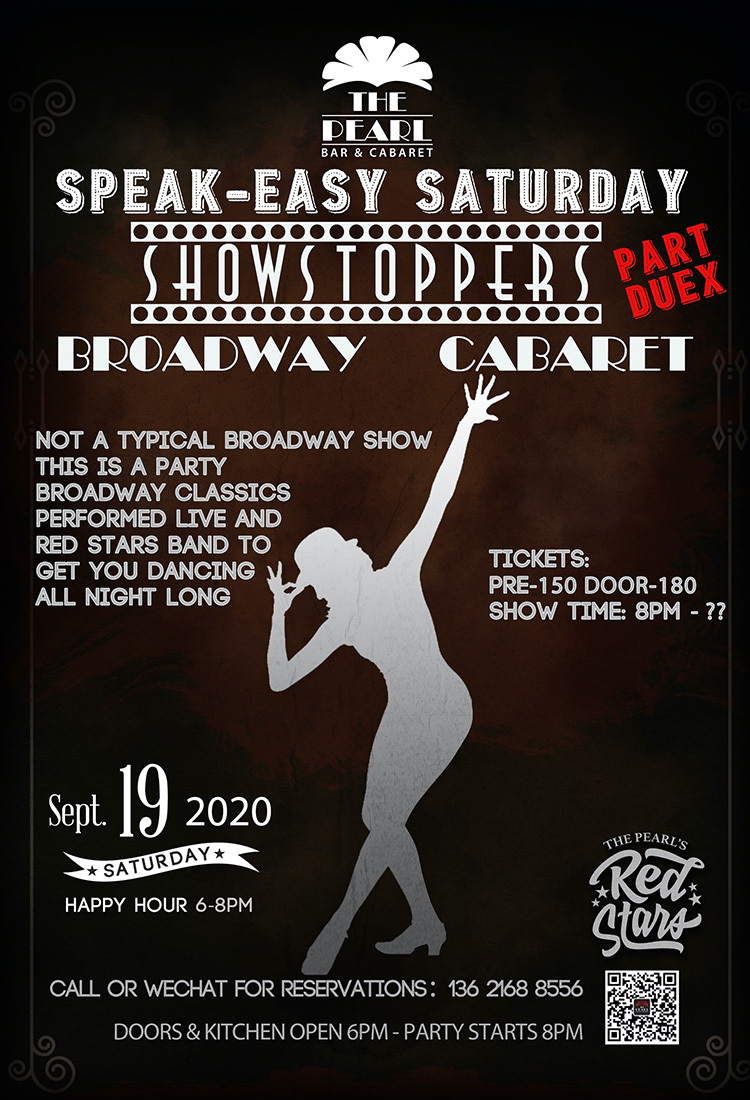 Hey Big Spender! Jesus Christ you're looking like a Superstar! Are you ready for a Sister Act of show-stopping broadway excellence? Are you sick of broadway puns? Ya Got Trouble! Pop, Six and Squish your way over to the Pearl, for Speakeasy Saturday for a full live band performing hits stage hits for Broadway Cabaret: Showstoppers Part Deux. That's two in French, mon cher! Come in your Broadway finest and don't forget to shine those pearly whites because (last one, promise) You're Never Fully Dressed Without a Smile. 150rmb pre-sale.
***
Browse all events on SmartShanghai here.