2021 can't come fast enough, and Shanghai's party reservations are already filling up with people looking to tell 2020 to get out. Here are some NYE options that still have tickets available.


Big Rooftop Free-Flow Parties
Disco Heaven New Year's Eve Party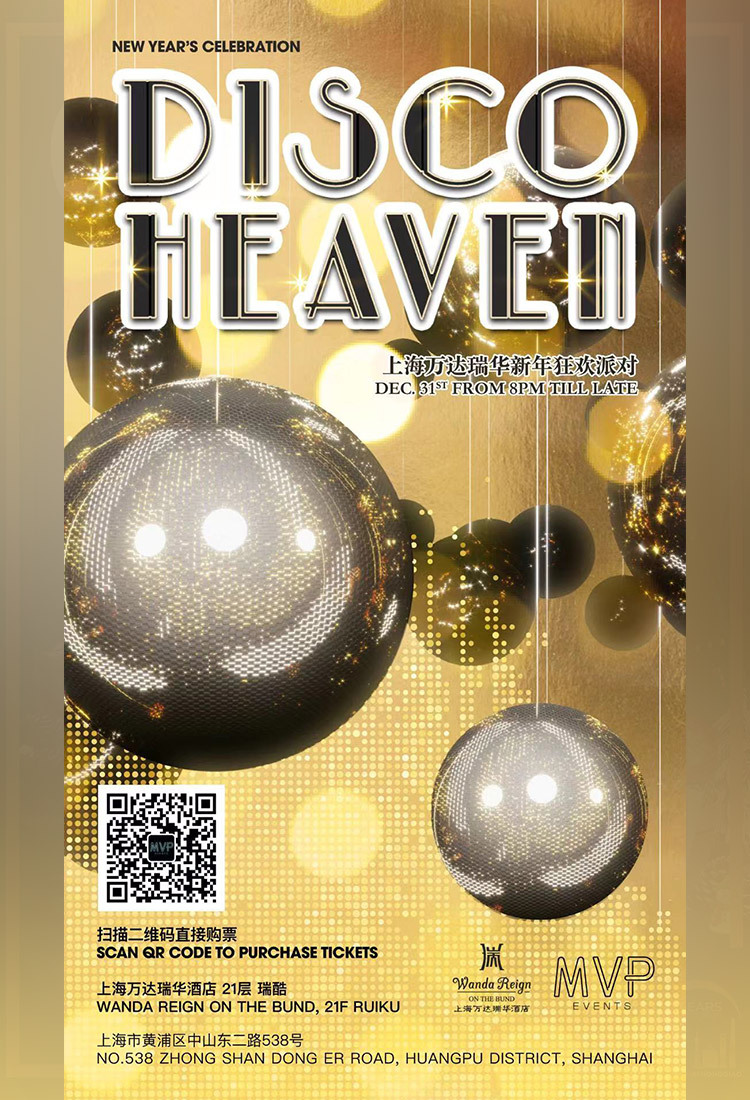 MVP has been hosting one of the biggest NYE parties for a few years now. This year they are moving to a new location, Riuku, the rooftop bar on the 21st floor of the lux Wanda Reign on the Bund hotel on the south end of the bund. Great terrace and one of the best Pudong views in Shanghai.

The Deal: It's 900rmb for free flow all night long and various dinner and table booking options are still available.



POP Voyage to 2021 Countdown Party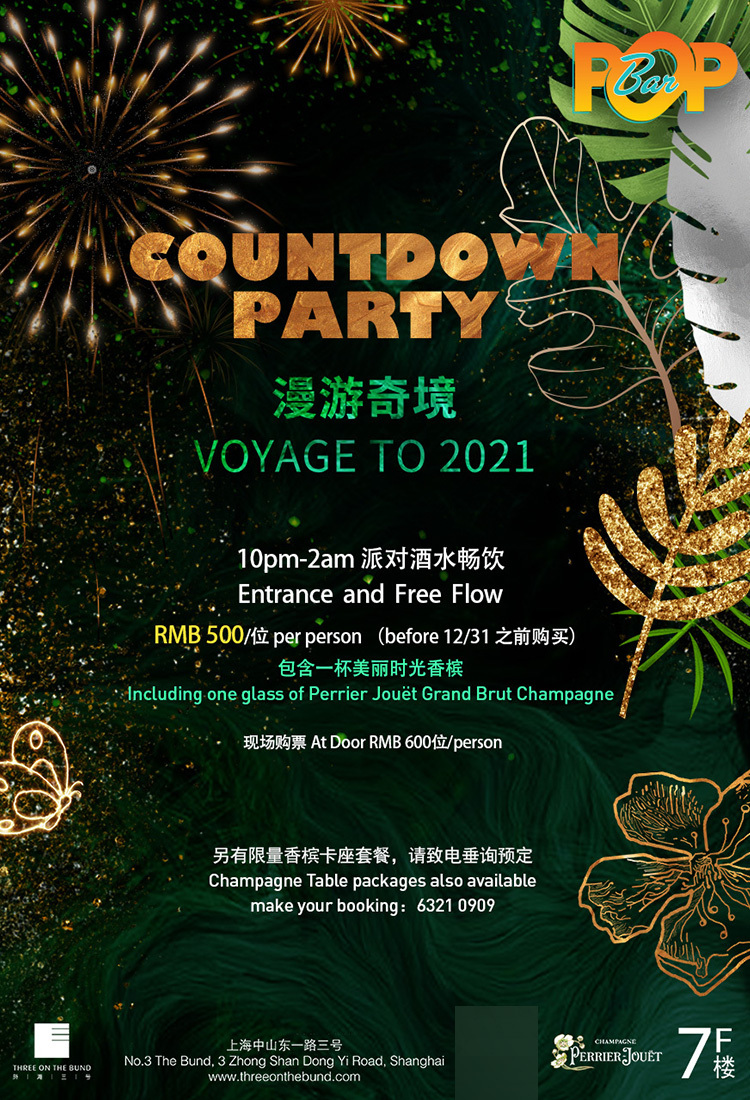 Probably Shanghai's longest running NYE parties at 3 on the Bund's POP. Certainly, the best option if you start with a dinner at one of the Bund restaurants.

The Deal: 500rmb, comes with one glass of Perrier Jouët Grand Brut champagne, and 4 hours of free-flow from 10pm to 2am.



Kartel New Year's Champagne Shower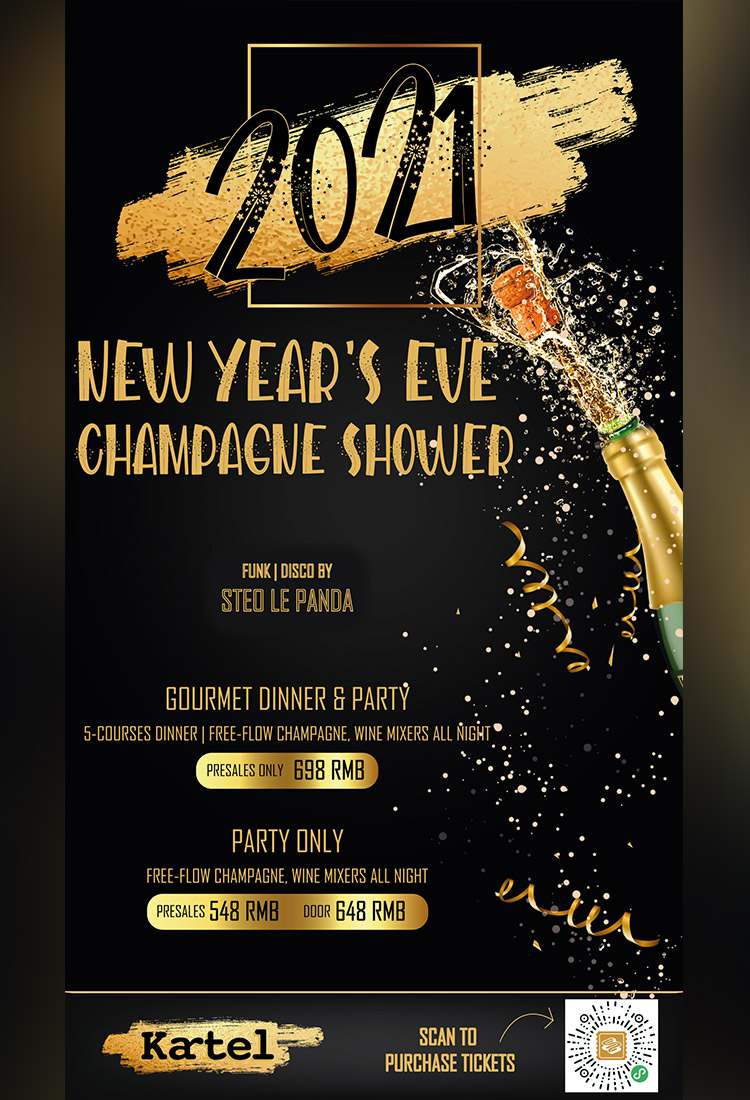 Kartel's iconic rooftop terrace always gets packed for it's great view and decent all-you-can drink deals. This is one of the best selling NYE parties for a few years now, and the downtown location means you'll have less trouble getting a taxi after.

The Deal: 548rmb for free flow Champagne, dinner sets starting at 698rmb.



Live Music
Jazz Into 2021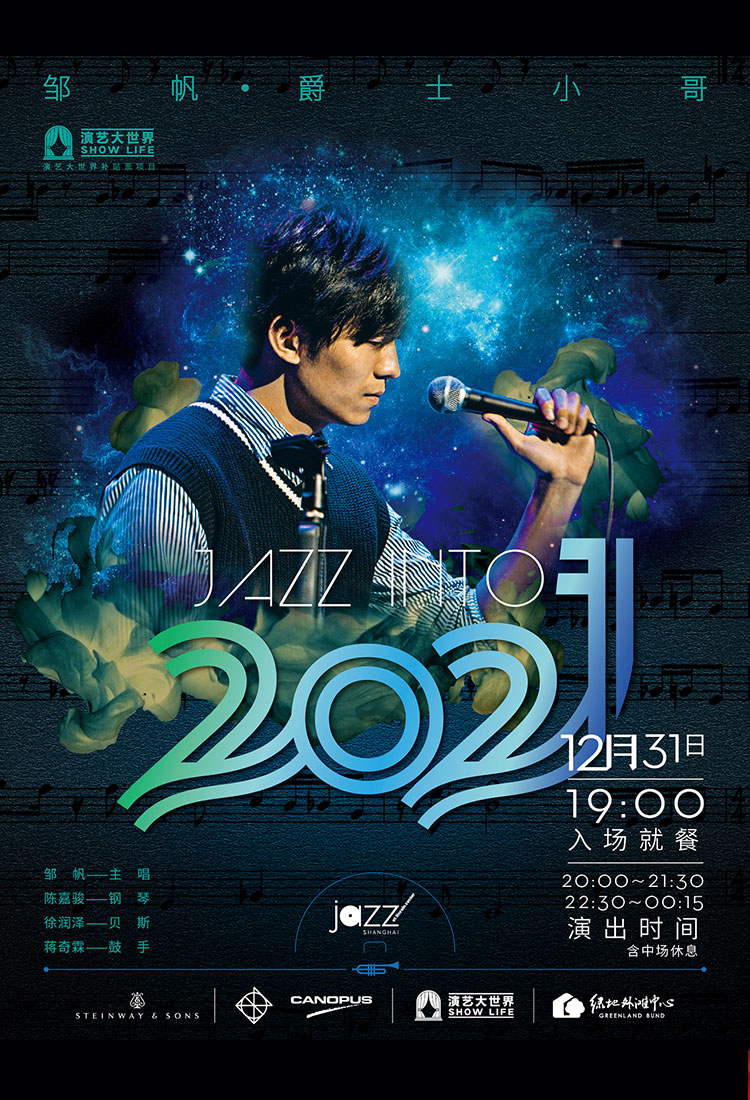 The dark, intimate and chic jazz lounge in partnership with the famed New York institution used to have monthly rotations of foreign guest bands. With the borders closed, they've made it their goal to find China's best jazz talents instead. For NYE, it's the young and talented vocalist Zou Fan and his band. Two shows available for NYE.

The Deal: Tickets with snacks from 588rmb, and 688rmb including dinner.



Death By Metal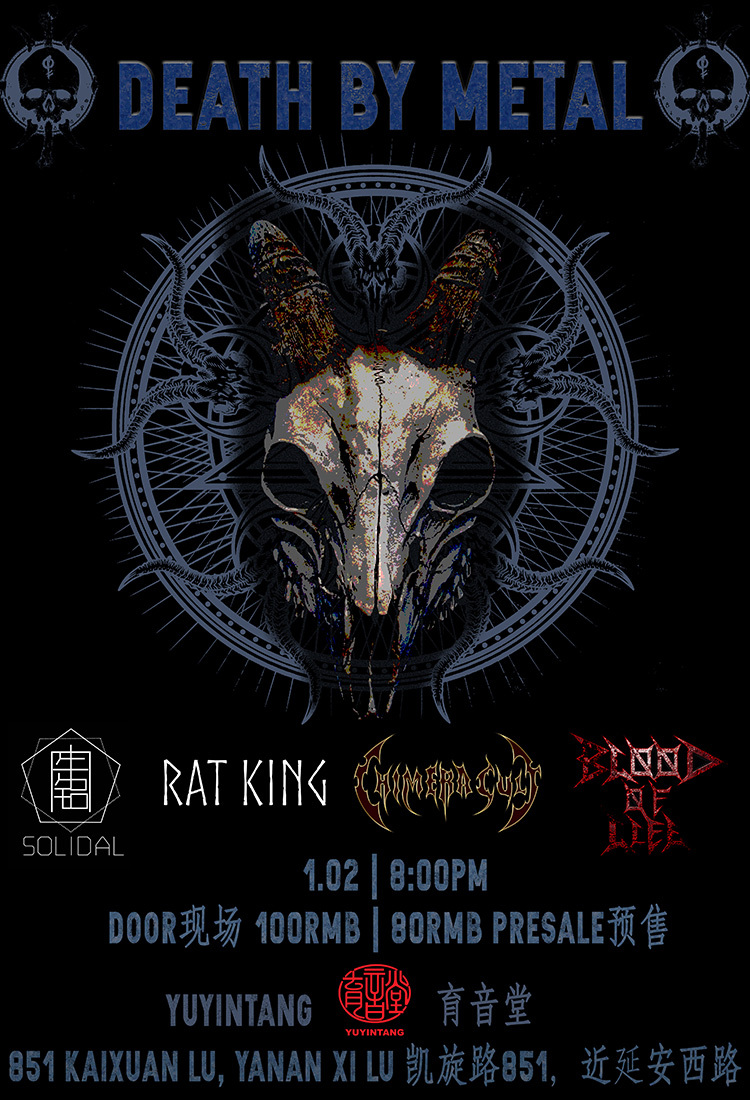 Yuyintang is one of, if not the, oldest underground live music houses in Shanghai, and a staple in the city's indie scene. For NYE they have 4 local metal bands sharing the stage. No drink deals and no view, but drinks are cheaper than at most other places.

The Deal: 80rmb for tickets



Themed Parties
Go Grand Go Gang in 20s - The Ritz Bar & Lounge

The bar at the Portman Ritz Carlton has a 1920s themed party. Dress as a Shanghai gangster or a silent screen star and enjoy the cabaret performances and live music.

The Deal: Entry is 198rmb per person with a glass of Chandon sparkling wine, or get the free-flow option for 588rmb.



Shanghai In The 1920s Count Down Party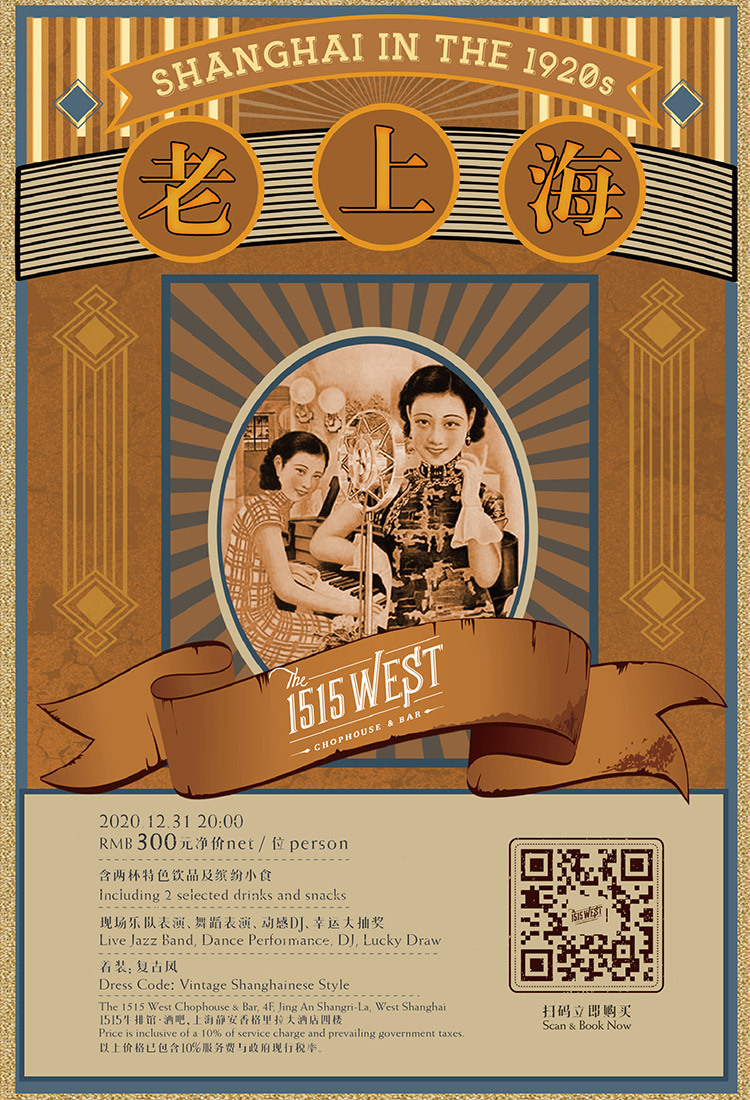 The other big 1920s themed party is just around the corner, at the Shangri-la's The 1515 West Bar. Dress Code is "vintage Shanghai."

The Deal: Entrance is 300rmb each, comes with two drinks and snacks.



Too High Jump House NYE Party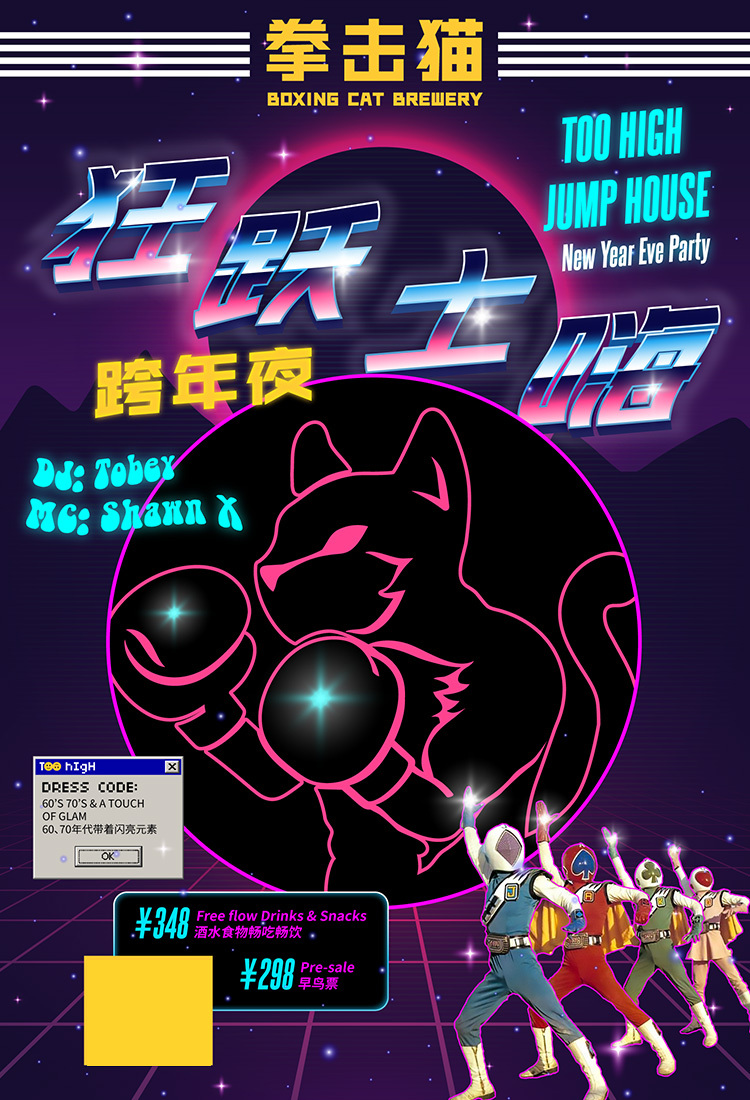 You want to party in Xintiandi right? Boxing Cat Xintiandi turns into a 60's/70's themed nightclub with future bounce played all night until the new year's bell ring. Dress code: 60's and 70's. Great reasonably-priced free flow deal.

The Deal: 318rmb for five hours of free flow and snacks.



More Bars with a View
New Year's Eve Champagne Countdown Party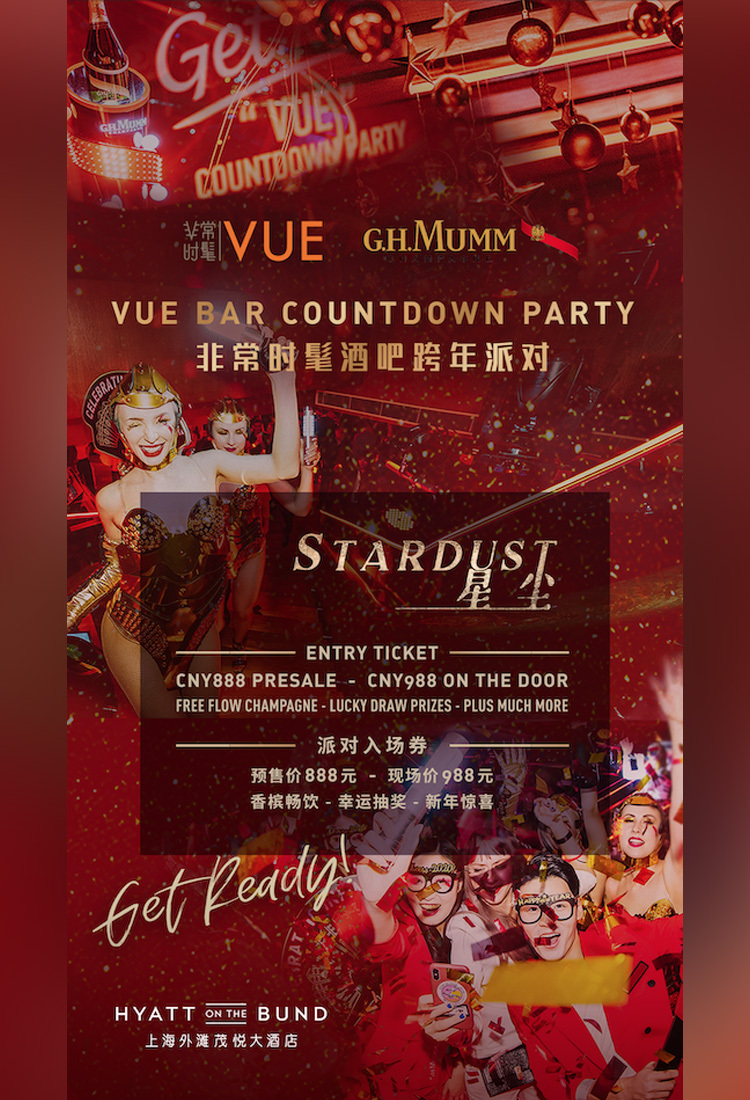 The view doesn't get much better in Shanghai than this one, but the small outdoor space can get crowded.

The Deal: 1,080rmb for the dinner including Boston lobster, plus 888rmb for free flow Mumm Champagne, wine, spirits, beer and soft drinks, but you can just go for the party and book the 888rmb option.



LUX New Year's Eve at Lago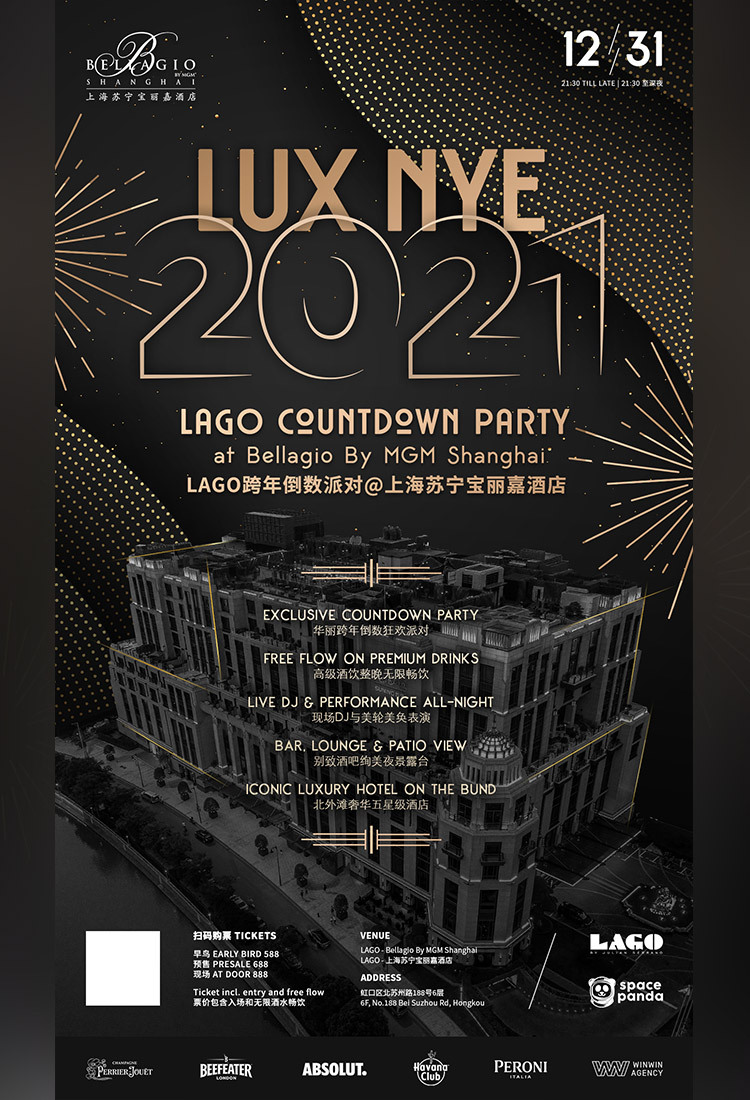 Lago at the Ballagio hotel is a few blocks off the Bund but still has great views. Expect an evening "filled with dance performances, DJs and a lot of other surprises." That could mean anything! But it's guaranteed to be swanky.

The Deal: 988rmb for free flow Champagne or 688rmb for free flow drinks (no Champagne).



Bar Rouge Gold New Year's Eve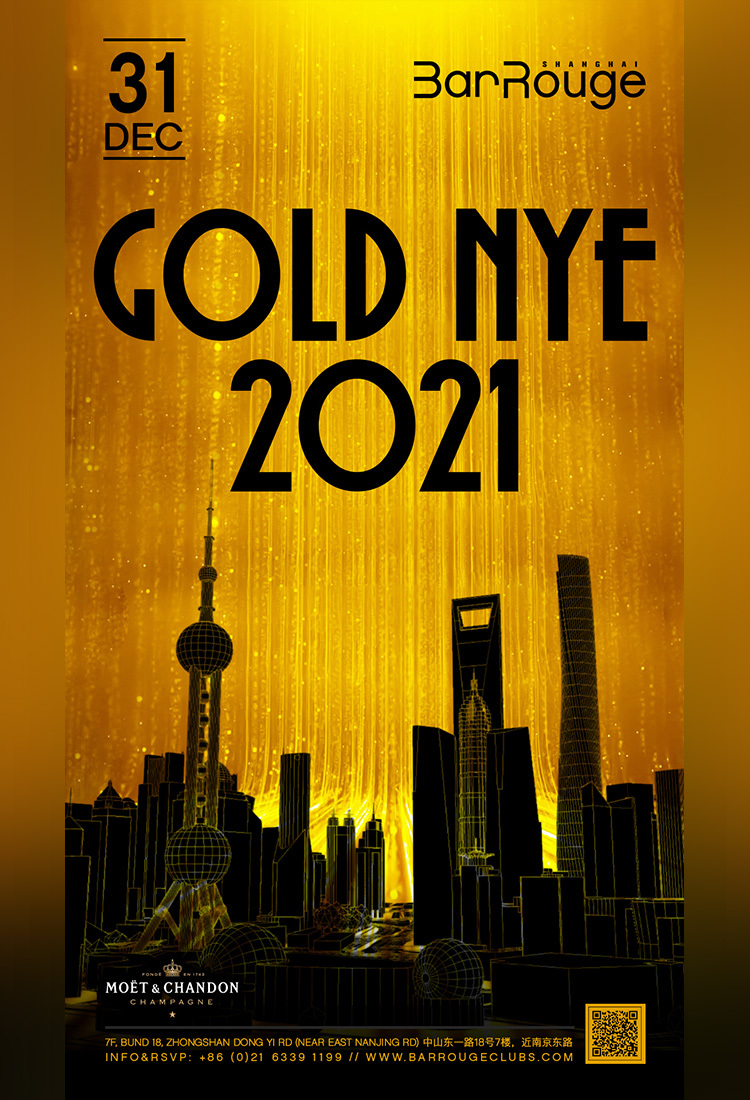 This one doesn't need any explanation. It's Bar Rouge, as always with a Gold themed party, but this year without the tourists. No free flow deals available at this one.

The Deal: 500rmb including one drink.



New Year's Eve Celebration at Ce La Vi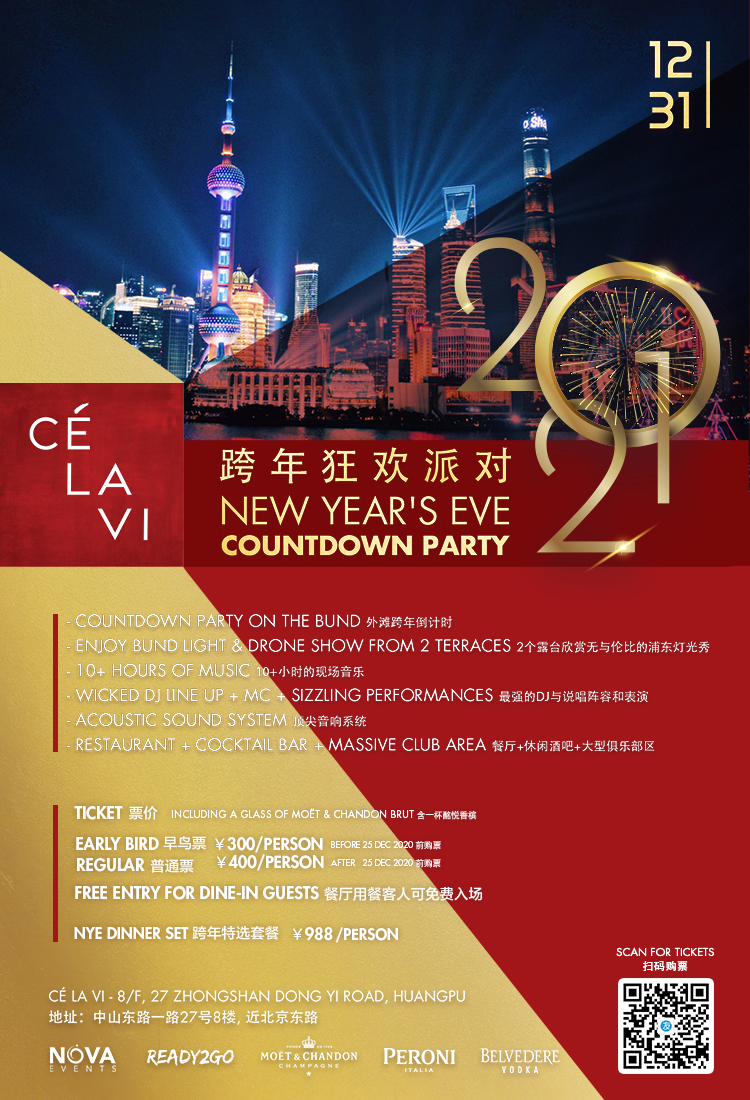 Ce La Vi is the latest (re)addition to Bund clubbing and dining. Nice terrace on the dining and lounge side, and a hipper crowd. Think M1NT.

The Deal: 400rmb including one drink



Sparkle NYE Dinner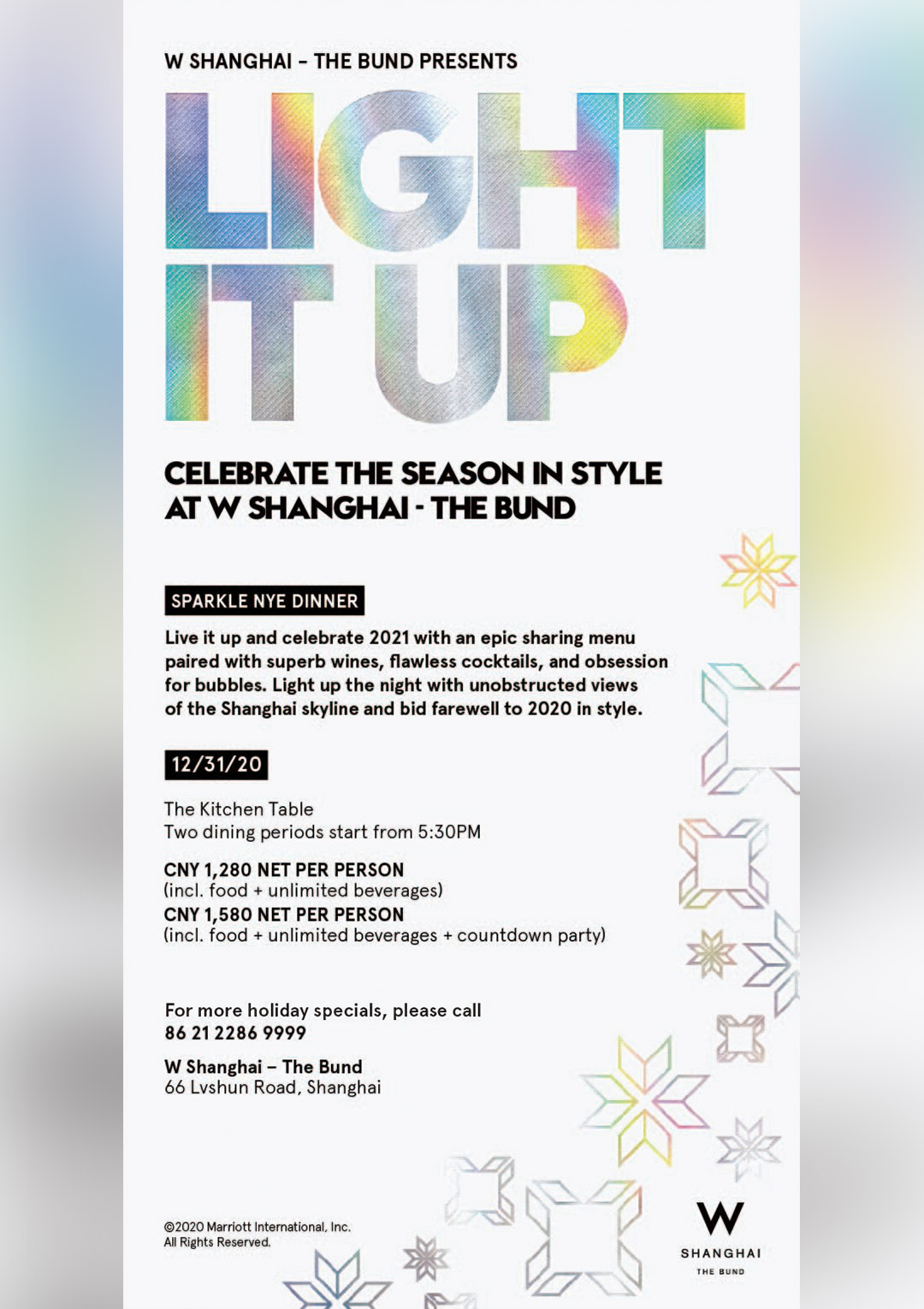 W Shanghai, great view, good vibes, trendy, younger crowd. Unfortunately, their count-down party has already sold out, but you can still book the dinner (you just won't get into the party).

The Deal: 1,280rmb net per person for dinner with free flow drinks.



Neon Beach NYE Disco Party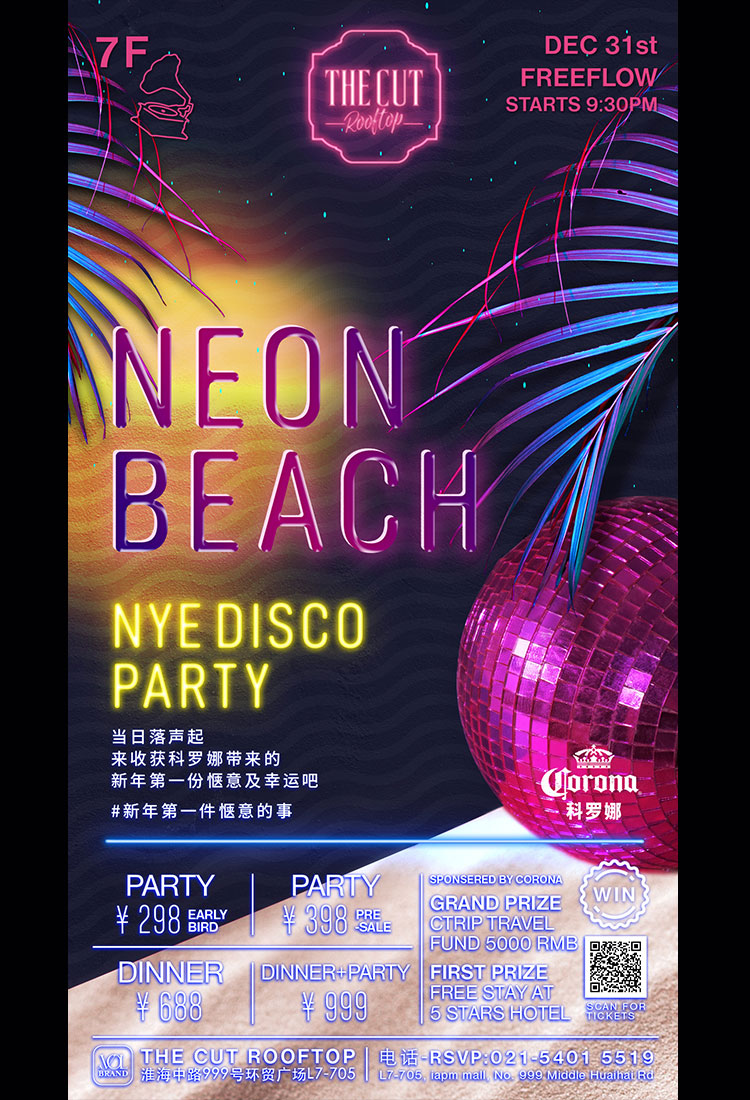 The Cut is a great upscale casual dining lounge from the group behind Bar Rouge. Their iAPM mall location has a great downtown rooftop bar, and one of the best free-flow deals on this list:

The Deal: 398rmb for free flow and 999rmb for dinner plus free flow.



Partayyy
The Pearl's Red Phoenix New Year's Eve Party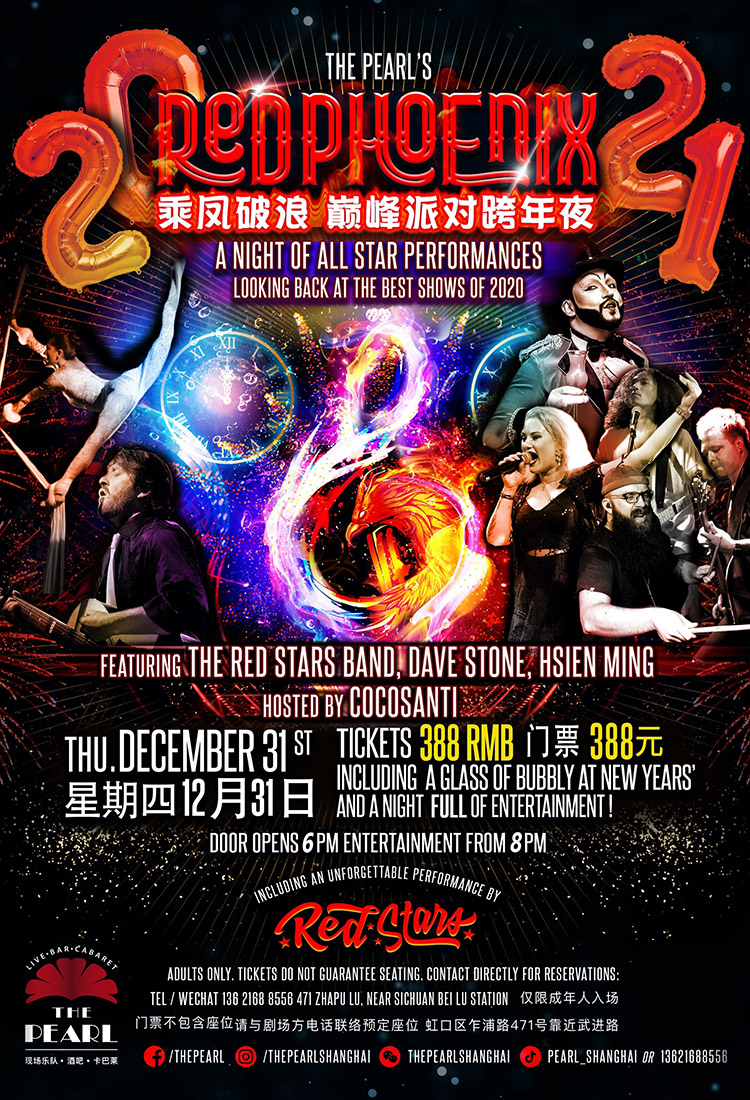 The Pearl has constantly been throwing some of the best parties of 2020. For NYE it's an evening full musical acts, guest performers, great food and a visual feast and non-stop entertainment from 2020 well into 2021. This one promised to be packed and good fun with lots of familiar friendly faces.

The Deal: Tickets are 388rmb, comes with a glass of bubbly at midnight and happy hour 6-8pm.



Mirage NYE 2021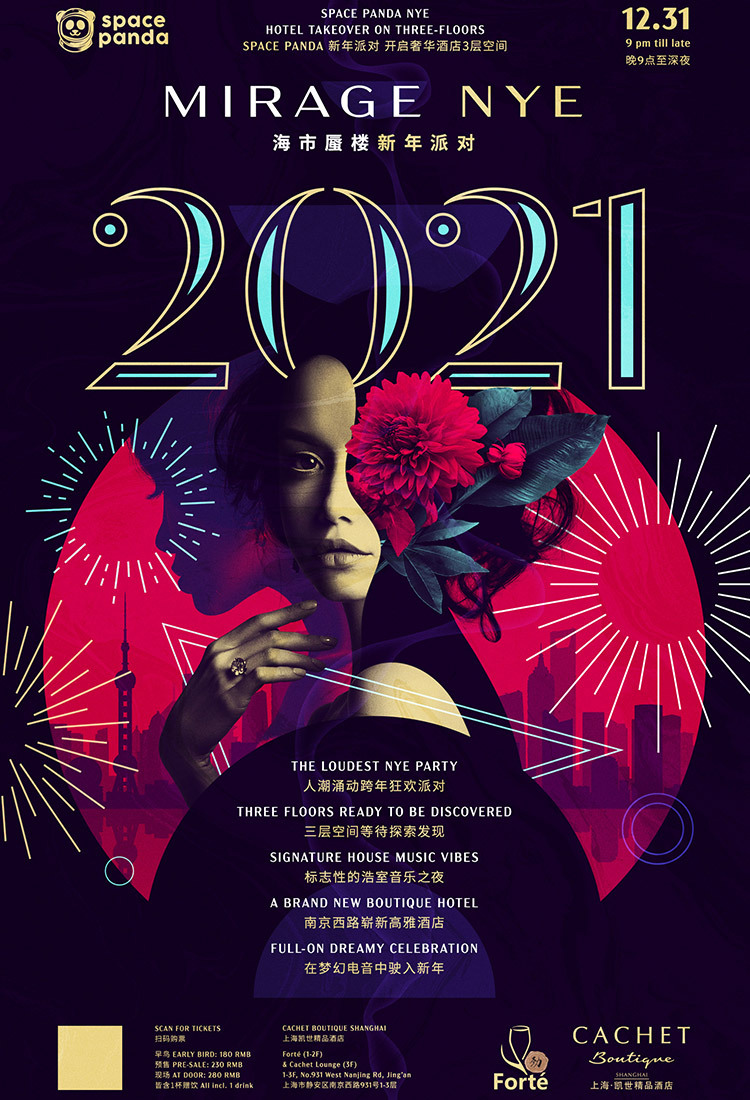 Party promoters Space Panda are doing so well they're throwing 2 NYE parties this year. At this one they take over three floors at the Cachet Boutique Hotel right off Nanjing Lu, with a cocktail bar and a full-on club space featuring the signature Space Panda house music vibes.

The Deal: Ticket starts at 180rmb and comes with one drink.



And Also
Patio · The Countdown Celebration Party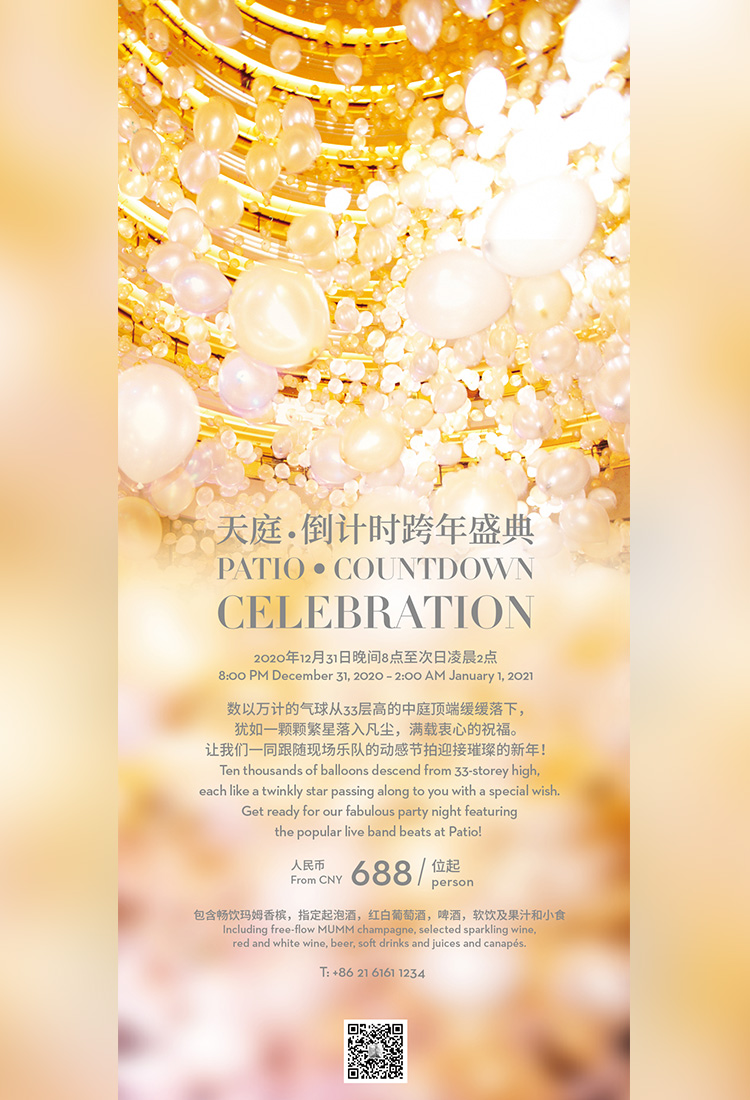 The Patio at the Park Hyatt has the closest to an actual firework show in Shanghai, except reversed, kind of? They're dropping 10,000 (biodegradable!) balloons into the central indoor atrium at the stroke of midnight.

The Deal: Entry ticket on SmartTicket is 658rmb, comes with three hours of free flow champagne, wine, Peroni, beer and soft drinks (9pm-midnight).


seul&SEUL New Year's Eve Dinner and Champagne Night

Taikoo Hui bistronomy gets busy with a trendy local crowd. Decent terrace with views of the Jing'an skyline.

The Deal: 888rmb for dinner, add 498rmb for a free flow drink deal

*
Looking for more parties? Check out our New Year's special page.