The workweek is coming to the end; people across the city are beginning to feel an itch for some fun, food and partying. This weekend, Shanghai is packed with things to do, from live jazz shows to 40-person speed dates to even a re-opening of a surely missed club. Here are 21 events to look forward to.
THURSDAY
Mar 1-5, all day @ Green Common
Green Common is selling a Beyond Meat Black Pepper Burger for only 9.9rmb. Now that is crazy! This deal is only available until Friday (March 5), so don't take too long to snag a patty. SmartShanghai actually tried this deal earlier in the week,
and the impression can be read here
. Ordering the meal at the restaurant will require a membership sign-up with the diner, but JSS can do delivery without the hassle.
Mar 4, 7pm-midnight @ Revolucion Cocktail
Revolucion's weekly ladies' night event, Unicorn Party, is having a one year anniversary party. Throughout the evening (until midnight), special drinks will be available for women. Entrance is free.
Mar 4, 6.30pm @ Shake
From now until April 2, Shake is doing a live funk and soul night. Music will be performed by Sheree on vocals and Joel on keys, resident Shake musicians. For the evening, all cocktails are buy-one-get-one (BOGO). There is dinner at 6.30pm, with music starting at 9.30pm.
FRIDAY
Mar 5, 7.30pm @ Cyclo
Looking for true love? Then maybe try a romantic movie. How about a bunch of young single people? Well, now get excited. Cyclo is hosting another speed-dating night. There are two sessions: 7.30-8.30pm and 8.45-9.45pm. A maximum of 40 people are allowed to join in on one session. A pre-paid single ticket costs 188rmb per person, but there is a group deal (must include one male) for 168rmb per person. If too late to order, then know that participation is 220rmb at the door.
Mar 5, 8pm @ C's Bar
You can smell it in the air, it's Spring. C's Bar is getting on with the seasonal change and is doing a flower power night. There will be live music by Bad Treatment, CARBON, The Jellyspoons and even guest DJ White Ghost mixing decks. The dress code is flowers, somewhat vague yet simple to do. There will be a BOGO special until 10.30pm, and free shots for any flower-person. Entrance is free.
Mar 5, 8pm @ Bar Rouge
Rewind that tape, and let's bring it back to the halcyon of 2011. Bar Rouge is doing a night of nothing but House music – you know, David Guetta, deadmau5, Avicii (RIP man, miss you), Swedish House Mafia and more. The entrance fee is 150rmb per person, and it includes one complimentary drink.
Mar 5, 9pm @ XBar
Welcome to the house of neon. Artist Jiji is decorating XBar in LED, and by LED, they mean L-E-D. There will be LED tank tops, LED pants, LED nails, LED necklaces – hell, there could even be LED LEDs. The entrance to the club is free before 11pm, but will be 60rmb after.
Mar 5, 10pm @ Kartel
Let's get funky monkey. Kartel is doing a funk night on Friday. DJ BO (and friends) will be funkin' it up all night at the rooftop bar. There will be a drink deal during the evening as well: 40rmb for all mixers.
Mar 5, 11pm-late @ Celia by Pulse
From the ashes, the phoenix shall rise! For what has felt like a millennium, Celia is finally re-opening. This legendary beast was the spot to go to just a few years ago. For this reopening party, there is a collection of DJs lined up: Leo Lang, Giuliio Perinello, Costin, Final Request, Fane, James Leland and Chewi. The entrance fee to the club is 100rmb, but it does come with one complimentary drink. Let's salute in respect to this old soldier's return to the stage.
SATURDAY
Mar 6, 1-5pm @ Bubba's Food Co.
From now on, Spare Leash and Bubba's will be hosting an adoption event every first and last Saturday of the month. Come to the first one of March, and bring a fluffy new best friend back home. There will even be pet-toy vendors at the event. If anything, bring your cuddly one and meet other pet owners of Shanghai.
Mar 6, 7pm @ Xin Che Jian
It literally is what it sounds like. Xin Che Jian is hosting a Laser Night, where people can come by and test out their brand new 80w laser cutter. Make sure to bring both a laptop and the desired material of cutting. The laser cutter can cut materials such as acrylic, paper, wood, fabric and leather. No metal though (except for engravings). To participate in this interesting afternoon activity, guests are to pay 120rmb.
Mar 6, 7.30pm @ The Anchor
The Anchor is holding a networking party, where guests will be able to play fun games of Texas hold'em. Feel like JB in Casino Royale and meet new people while working the table. The Texas hold'em doesn't play for money, but instead the top three players with the most amount of chips can earn prizes. There will even be a DJ mixing tunes for the evening. There are limited seats, so make sure to purchase early. Admission ranges from 110-138rmb per person.
Mar 6, 8pm-late @ The Apartment
DJ Bo is back at it again, and is mixing tunes for this Playboy-esque evening. The Apartment is transporting their guests to the 60s, capturing that old fashion style of smoking jackets and martinis. There is a pre-sale price of 100rmb, which comes with two complimentary drinks. If late, then know that the door price is still 100rmb, but is one drink instead.
SUNDAY
Mar 7, 11am @ Käfer by The Binjiang One
Käfer is doing a seafood buffet brunch on Sunday morning. The meals will be served a la carte, such as Lobster Thermidor, Scallops and Seabass. There is a free-flow of Prosecco, house wine and soft drinks. The deal is 528rmb per person, and a reservation at the restaurant is highly recommended.
Mar 7, 11.30am @ M on the Bund
More brunches are to be enjoyed on Sunday. M on the Bund has a vegan-focussed brunch, where they are serving a six-course meal. Expect dishes such as smoked eggplant, stewed chickpea curry and even a coconut sorbet as dessert. The menu has been designed for a minimum of two people, so book early and secure a table. The brunch costs 358rmb per person, with an included 10% service charge.
Mar 7, 7pm @ The Apartment
Recall that knowledge from The Great Gatsby and enjoy a 1930s night at The Apartment. DJ BO (what a busy week for him) will be mixing Big Band tunes with Retro Dance tracks. There is a dinner menu and a special vintage "Shanghai Millionaire" cocktail. Entrance is 200rmb per person, and comes with one complimentary drink.
SMARTTICKET
Mar 4, 8pm @ Lincoln Center Shanghai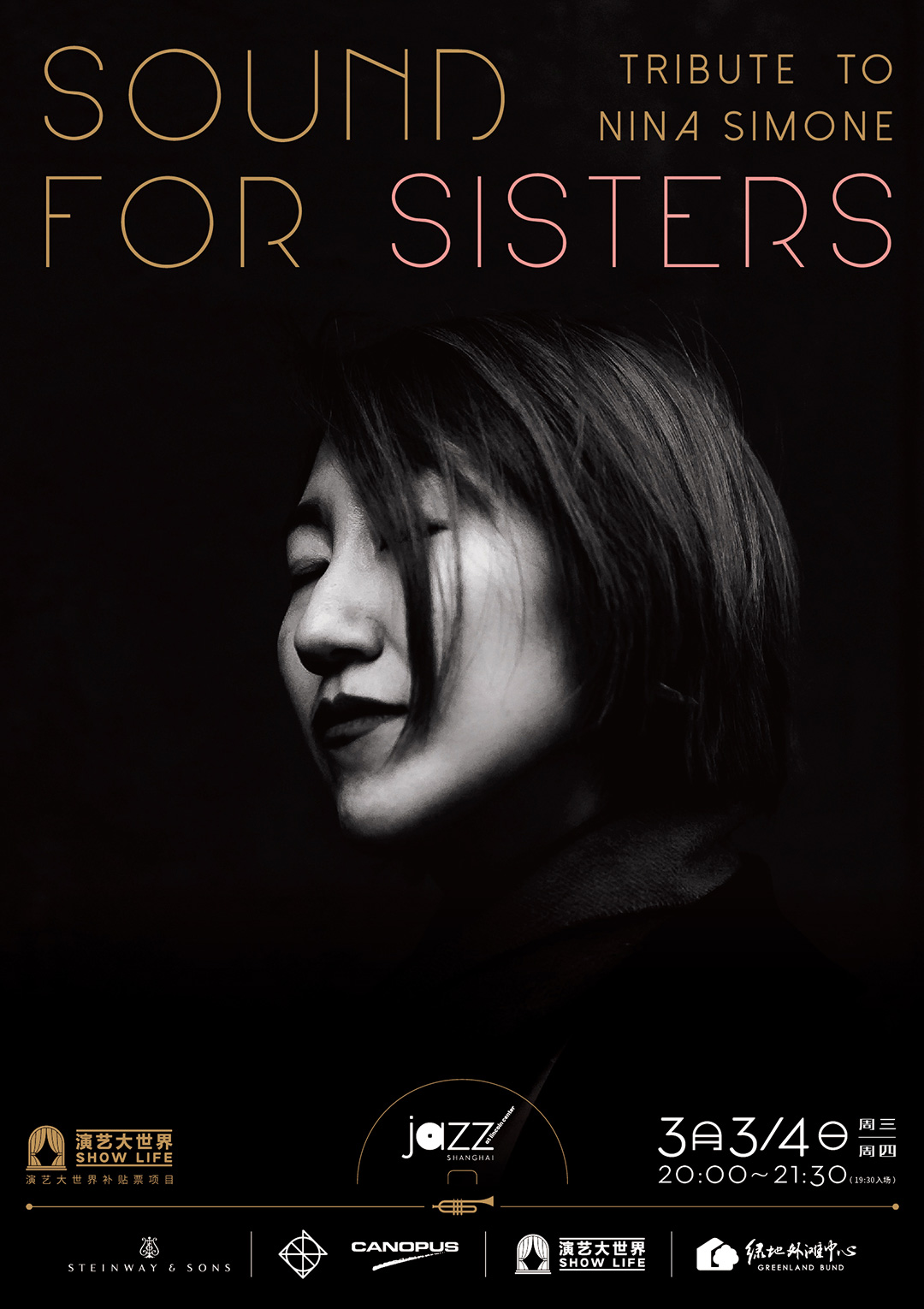 Famous jazz singer Chai Xia is collaborating with the Michael Compton Trio. The four musicians are coming together for "Sound of Sister", a tribute performance to the late singer Nina Simone. Get ready for a belter of a show, as the band will be singing greats, like "Feeling Food", "I Put A Spell On You", "My Baby Cares for Me" and more. The pre-sale price of a single admission is 150rmb, with a two-person package (including drinks) for 488rmb. Interested in seeing the show, then click here for
SmartTicket
.
Mar 5, 8pm @ Yuyintang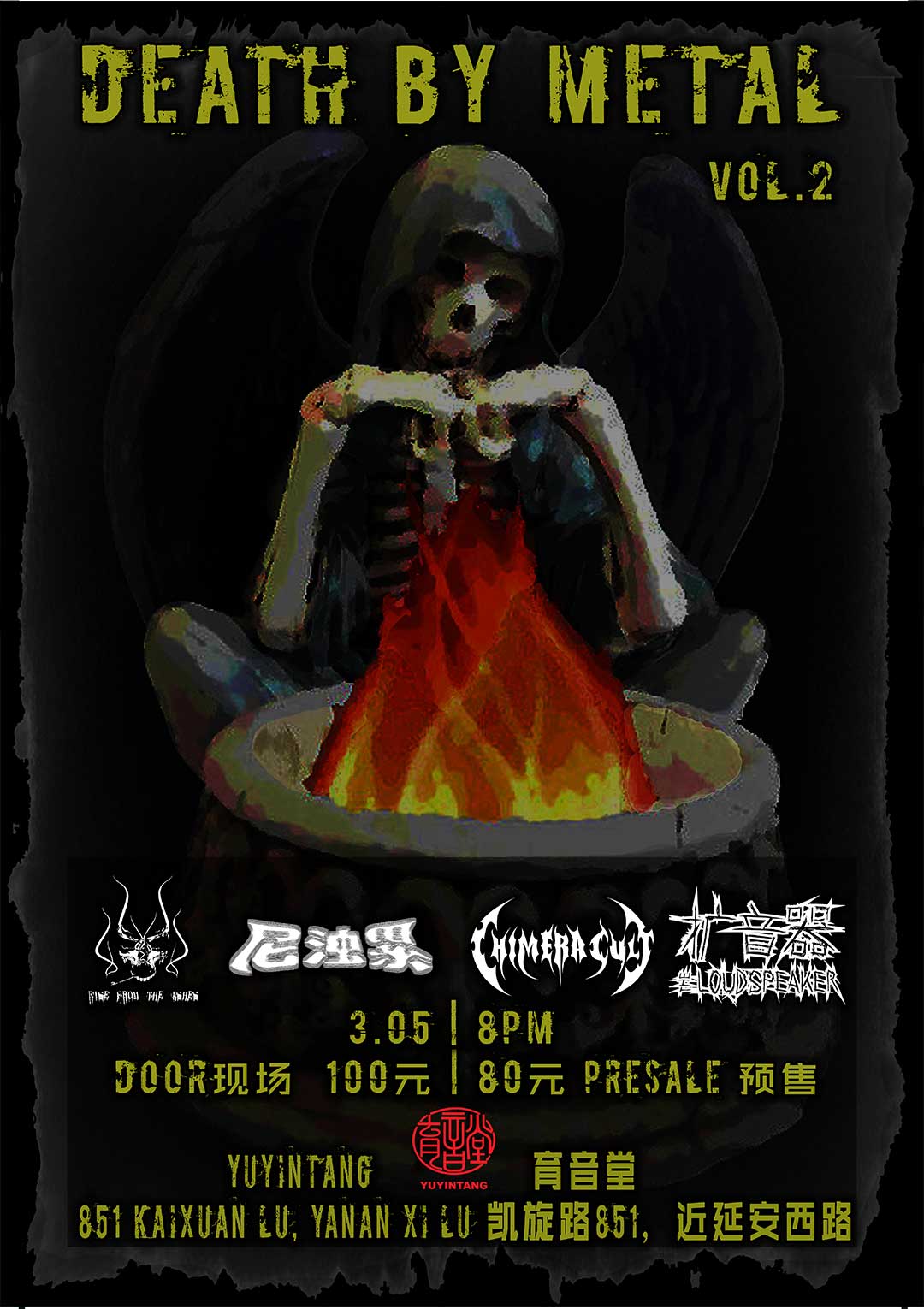 Get ready to rock, HARD! The "Death by Metal" concert is returning this March, and bands performing include Chimera Cult, Loudspeaker, Rise From the Ashes and Conch (尼浊累). Unleash the best, and grab a pre-sale ticket of 80rmb on
SmartTicket
.
Mar 5, 8pm @ Shanghai Symphony Orchestra Hall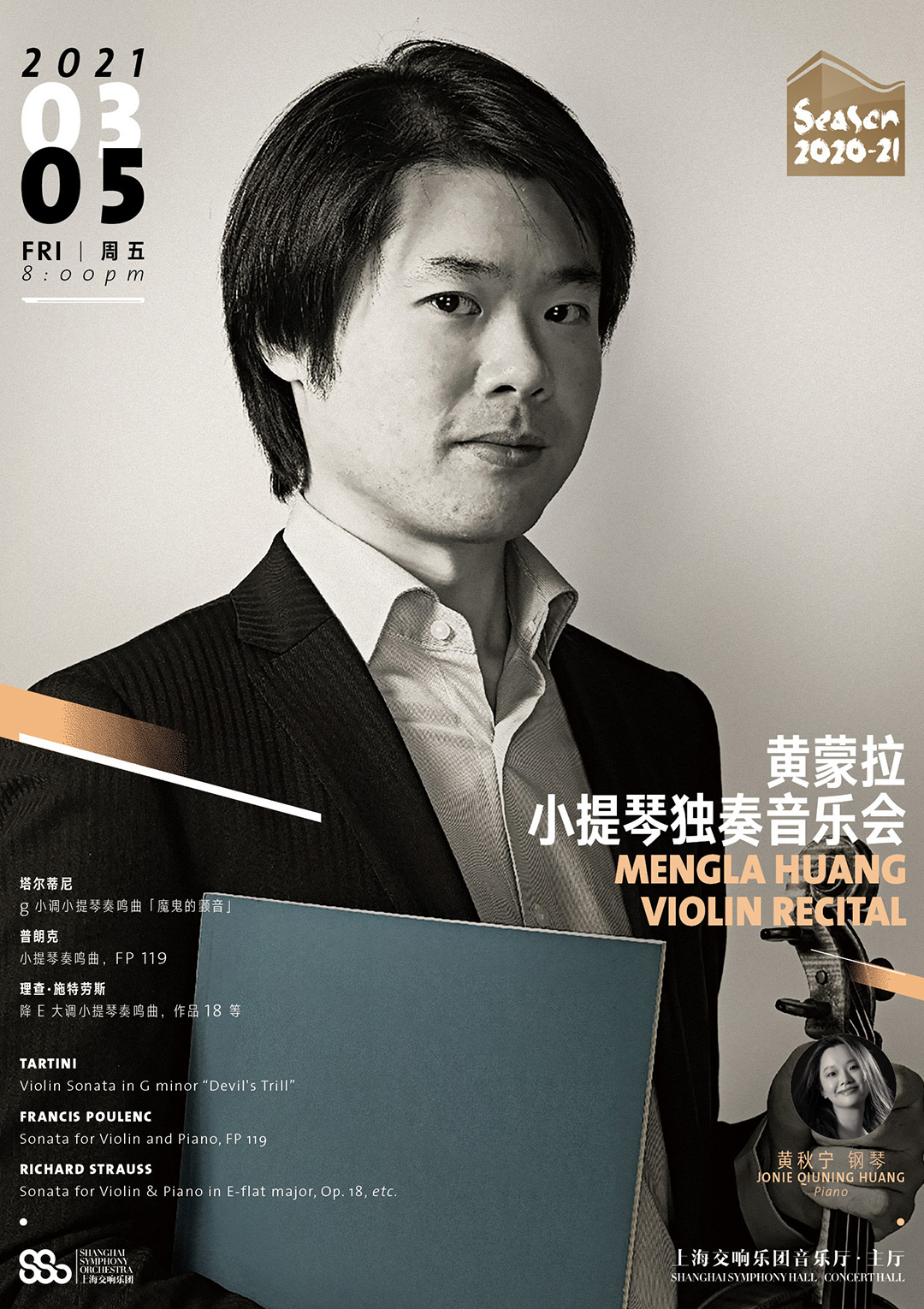 Violinist Huang Mengla is working alongside pianist Jonie Qiuning Huang for a violin recital. The two will be performing pieces from Tartini, Francis Pulenc, Strauss and Saraste. Prices for admission range from 180-380rmb, with costs differentiating depending on seating location. Get tickets on
SmartTicket
.
Mar 5, 7,30pm & 9.30pm @ Lincoln Center Shanghai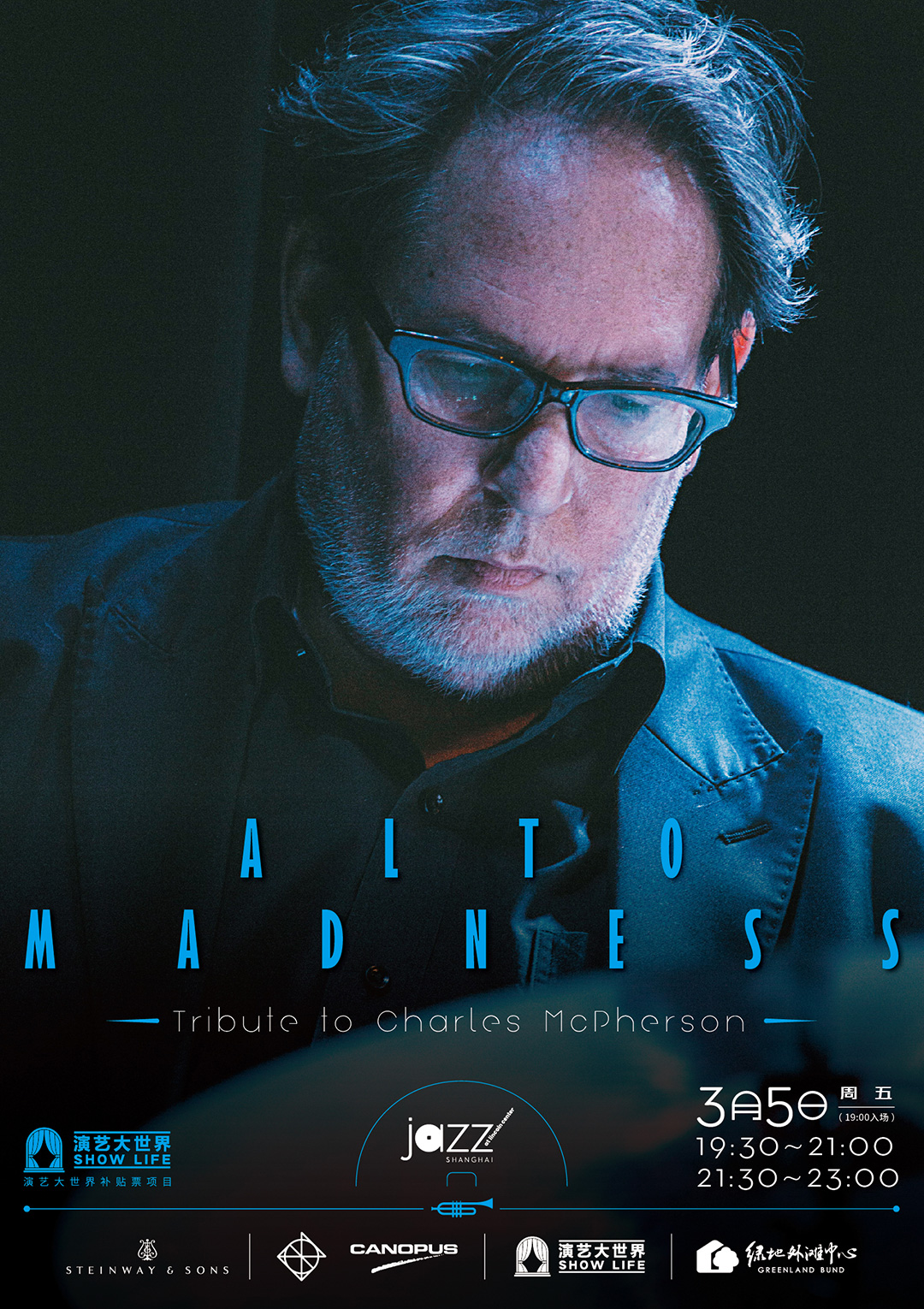 Drummer Al Golden is teaming up with three saxophonists, Li Shihai, Dr. Murray James and Chen Xinlu, as well as bassist Michael Hicks and guitarist Huang Jianqia, to perform "Alto Madness". The evening is a tribute show to world renowned jazz alto saxophonist Charles McPherson. Single admission for either shows is 180rmb. A two-person package is also offered for 518rmb, and it will include two complimentary drinks. Get seats by purchasing tickets on
SmartTicket
.
Mar 5-6, 9pm @ The Pearl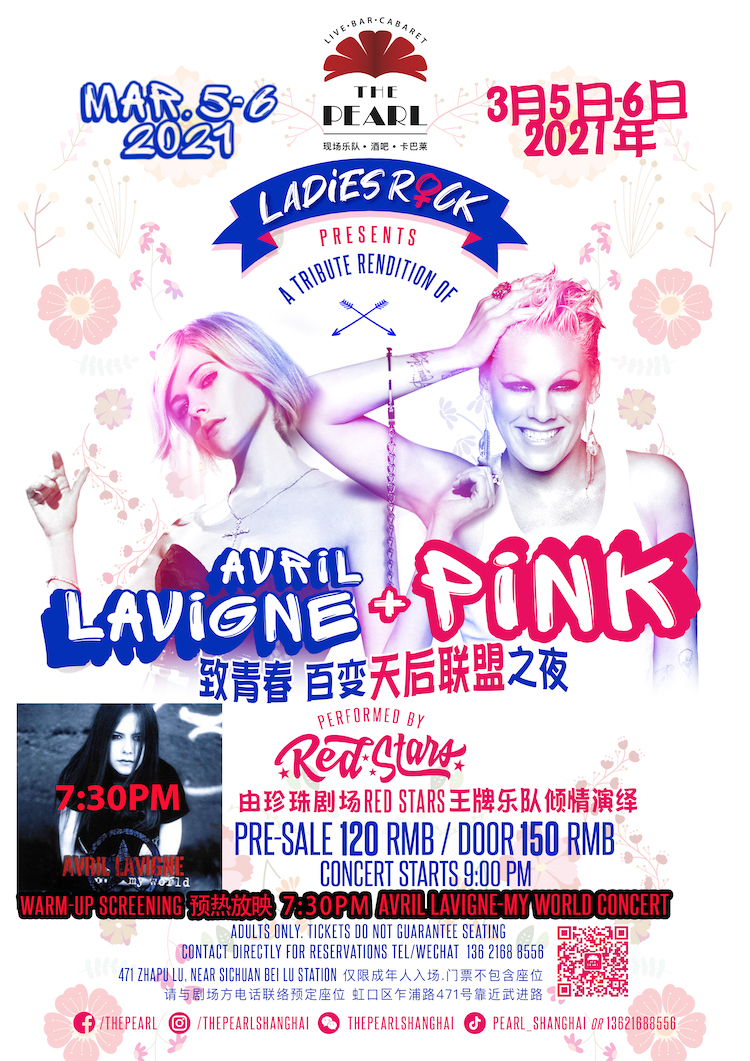 The Pearl loves treating its guests with rocking concerts. The Red Stars are doing a tribute night to punk rock's coolest chicks, Avril Lavigne and P!NK. The biggest songs of their career will be played, such as Sk8er Boi, Complicated, Just Like a Pill and more. Doors will open at 6pm, with happy hour running from 6-8pm. There will be a screening of Avril Lavigne's "My World Concert" at 7.30pm. There is a pre-sale ticket admission of 120rmb per person, which can be bought on
SmartTicket
.