The Chinese New Year holiday is over, and for many people, going back to work can seem like the worst thing right now. Know that, many establishments in Shanghai have organized events for everyone to enjoy. Here is a collection of things to do this weekend.
THURSDAY
Feb 18-21 @ Bird
Insipred by the Chinese natural elements (Metal, Wood, Water, Fire and Earth), Bird is doing a dining special where each dish is inspired by one of the elements. Take for example: Burnt Fennel as Wood or even Tempura Stuffed Shiso as Water. Selected Chinese wines will pair the entire dinner set. This CNY-special will only last until Feb 21, so make sure to book early.
Feb 18-28 @ Lucky Mart
Celebrate the New Year 'Lucky'-style, with 'Red Bull Sake Bombs'. Lucky Mart is selling the drinks for only 35rmb. Head over as soon as work is finished and get jazzed on energy drinks and Japanese Liquor.
Feb 18-28, 10am-8pm @ Shanghai Tower Exhibition Hall
Inspired by the science fiction novel "Asia: The Three-Body Problem", by Liu Cixin, this visually-stimulated experience will have guests feasting on a special-effects driven extravaganza. Single admission for adults is 140rmb, with a two-person deal of 260rmb. Children under 1.4 meters are 120rmb, as well are students under 23 years and seniors above 60 years. Children shorter than 1 meter can enter for free. Each admission comes with a free gift for guests.
Feb 18, 7pm @ Revolucion Cocktail
Revolucion Cocktail is doing a special CNY Ladies Night, where women can get free selected cocktails until midnight. DJs will be mixing up Latin vibes, House, Hip-Hop and more all night. Ladies Night is a reoccurrence at RC; every Thursday evening.
FRIDAY
Feb 19-21 @ Lucky Diner
If Thursday-night sake bombs was a taster for more, then know that Lucky Diner are also doing their own CNY-special deal. A dinner set for 2, patrons can be treated to a 'beer can' whole roast chicken with fries, sake mushrooms, roasted cauliflower and two marble sodas. There is even a 'hangover' special delivery service for the suffering few. A free bottle of sparkling wine will be given out to groups of 4 people or more. The dinner set for two costs 208rmb. Be aware, this dinning deal only lasts till Feb 21.
Feb 19, 7pm @ Commune Reserve
Head over to the Commune Reserve after work finishes (or before, if you can leave early), to grab a complimentary 10oz beer with any meal order. 'Nuff said.
Feb 19, 9pm @ Cachet Boutique
Starting on Feb 19, Cachet Boutique is doing a Madame FORTÉ Ladies Night every Friday. DJs will be mixing house and hip-hop tunes all night. A complimentary bottle of prosecco will be given out to any group of 5 women, with free-flow FORTÉ cocktails from 1am-2pm for the madames. Entrance is 100rmb at-the-door, but it can be free with the password (
psst
, it's "MVP Events"). The dress code is elegant or 'fashionably casual'.
Feb 19, 9pm @ SHAKE
The SHAKE band, with the singer Vanessa, are bringing in the Year of the Ox with a live music dance party. They will be playing renditions of Whitney Houston, Aretha Franklin, The Weekend and more. Admission is 100rmb, with dinner & cocktails starting at 6.30pm.
Feb 19-21, 2pm @ Chongming Island
Don't think that just because CNY is over, the relaxation can't continue. Yoga For Life is doing a retreat to Chongming Island again. Guests will be staying in a 5-star hotel, with a zen room to practice some yoga and meditation. Other activities to do include cycling across the island, visiting villages and quiet walks through nature. Rooms are shared between two people, and the all-inclusive package costs 2,650rmb per person. Guests will be on the retreat until Feb 21. There shouldn't be any concerns in regard to quarantines, Covid tests or even having the health code change colors. Chongming Island is within the Shanghai territory, so no stress.
SATURDAY
Feb 20-21, noon-6pm @ Mikkeller
DODU and Mikkeller are teaming up for a French rotisserie pop-up, on both Saturday and Sunday. Enjoy a collection of roasts, such as chicken and lamb chops, with some of Mikkeller's famous beers.
Fri 20, 3pm @ Radisson Collection Hotel
Artist and author Samuel Porteous is doing a book talk of his famous graphic novel "Constable Khang's Mysteries of Old Shanghai", a story about the lives of people in Shanghai during the 20s and 30s. Throughout the talk, Samuel will share the historical images that inspired the artwork, as well as talk about how the storyline was drawn from thousands of archival photographs, art pieces and historical records. Entrance for Historic Shanghai members is 150rmb, and 250rmb for non-members
Feb 20, 6pm with UnTour food tours
UnTour is doing their Speakeasy and Cocktail Drag Tour across Shanghai again. Guests will be guided across Old Xuhui with the aide of Drag Queen Lady N. Gentlemen. There will be cocktail mixing classes, drag shows, noodles to eat and visits to some of Shanghai's coolest speakeasies. Admission per person is 785rmb.
Feb 20, 9pm @ Elevator
Love Bang Coin goes live this Saturday evening at Elevator, where headling DJs Gouachi, Vorbi, Dandi and Heatwolves will be filling the night with mixes of hip-hop, R&B, Clun Trax and more. Entrance is 50rmb before 11pm, and 80rmb after.
SUNDAY
Feb 21, 10am with Wanna Travel
Wanna Travel is organizing a trip for people to head over to a hot springs resort to find some relaxation. Guests can ease their body in hot water baths, or even take part in fun activities such as horseback riding, go-karting, archery and more. There should be no fear in regard to health codes changing, the resort is still within the city limits. It costs 399rmb per person for this one-day retreat.
Feb 21, 2pm @ The Fellas
Weather reports say that Sunday is 24ºC, perfect for a rooftop party. Alter is hosting a party at The Fellas, where there will be food, drinks, music and dancing. Pre-sale price of admission is 100rmb, and includes one beer. The price at the door is 150rmb, and also includes one beer.
SMARTTICKET
Feb 18, 7.30pm @ Lincoln Center Shanghai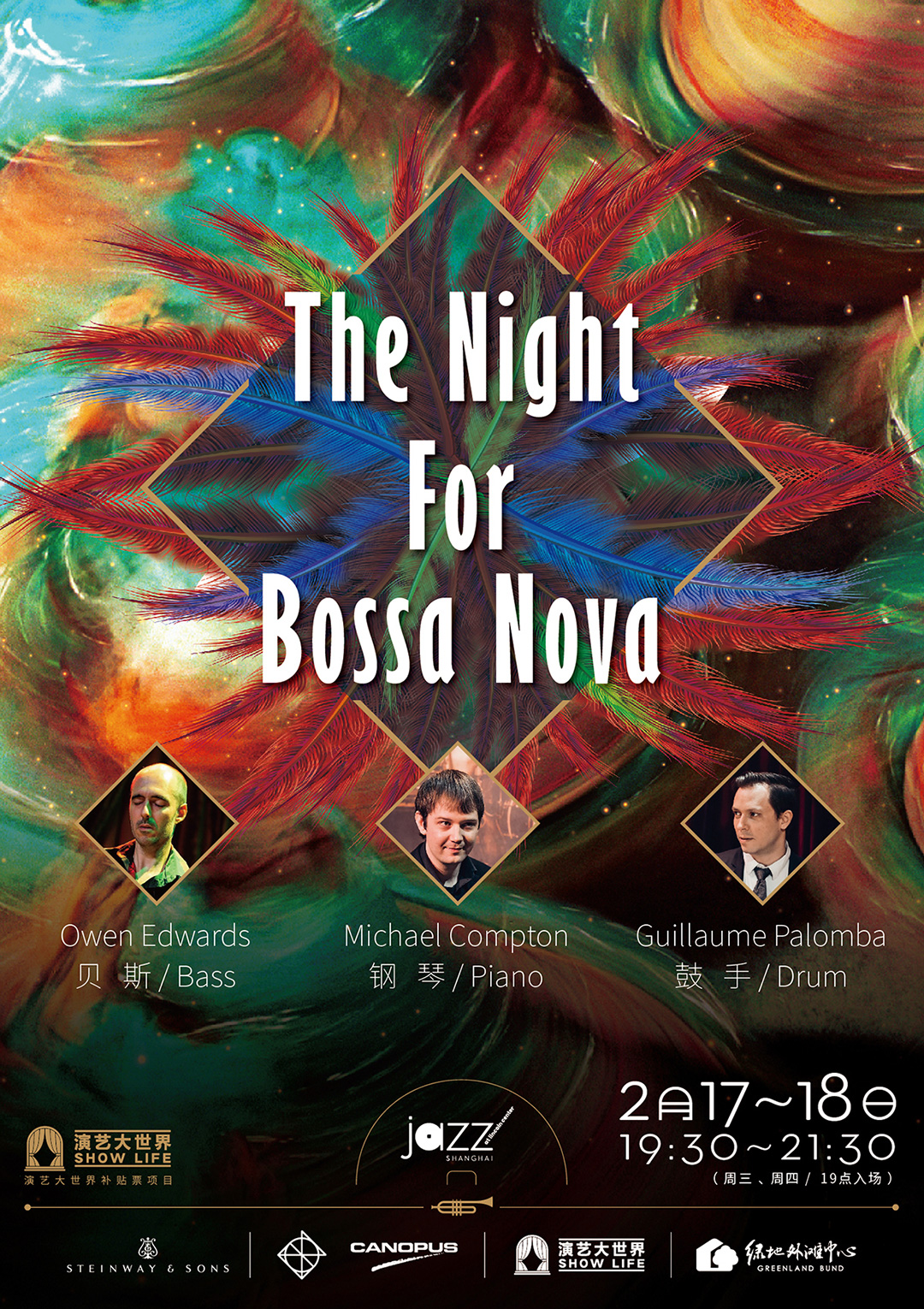 Imagine: white sandy beaches, a cold drink in your hand, the soft brush of the tide braising over your toes. Bossa Nova, the iconic sound of Brazil's 50s, captures this vivid image of sun and sandals. The Michael Compton Trio, lead by the man himself on the piano, Gillaume Palomba on drums and Edwards Owain Thomas on bass, will be playing live bossa nova music at the LCS. There is a single admission for 198rmb, and a couple special for 688rmb (comes with two drinks and a nuts platter). Enjoy sounds of Brazil for one night.
Feb 18, 9pm @ The Pearl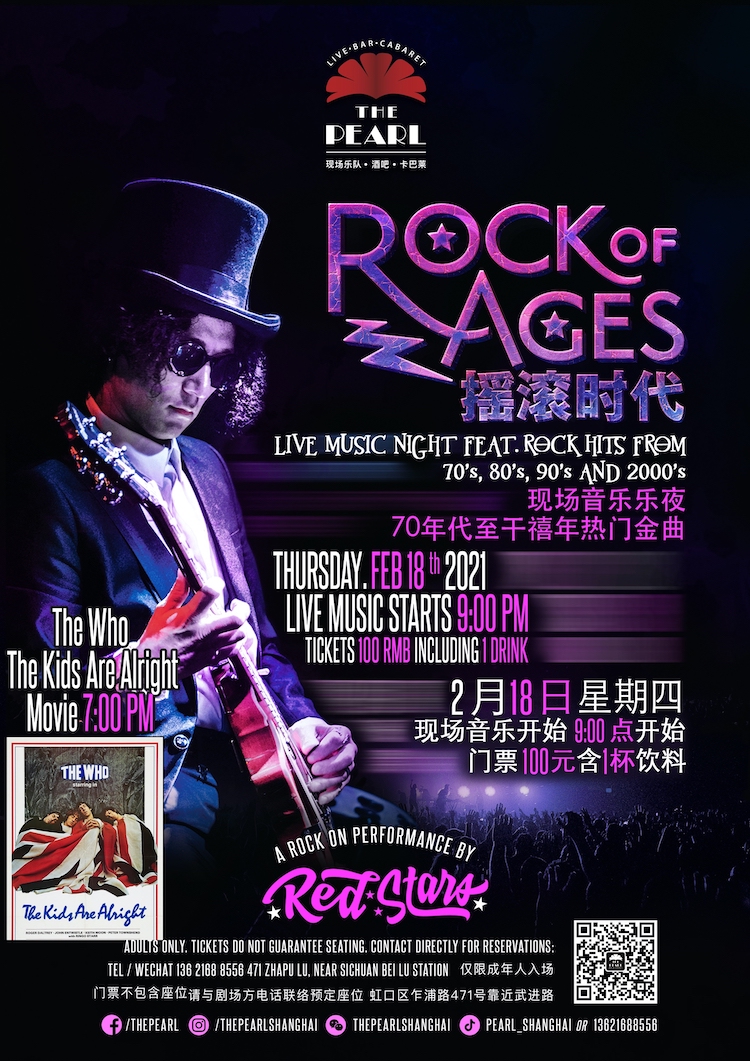 The Red Stars are back! After enjoying their CNY break as everyone else did, the band is dropping their 'Rock of Ages' live show. A tribute to the rock legends from the 70s to present and everything in between. Look forward to listening to renditions of ABBA, MJ, Bon Jovi, Queen and more. Doors open at 6pm, with happy-hour running till 8pm. The pre-sale price of admission is 100rmb, and includes one drink.
Feb 19, 8pm @ Lincoln Center Shanghai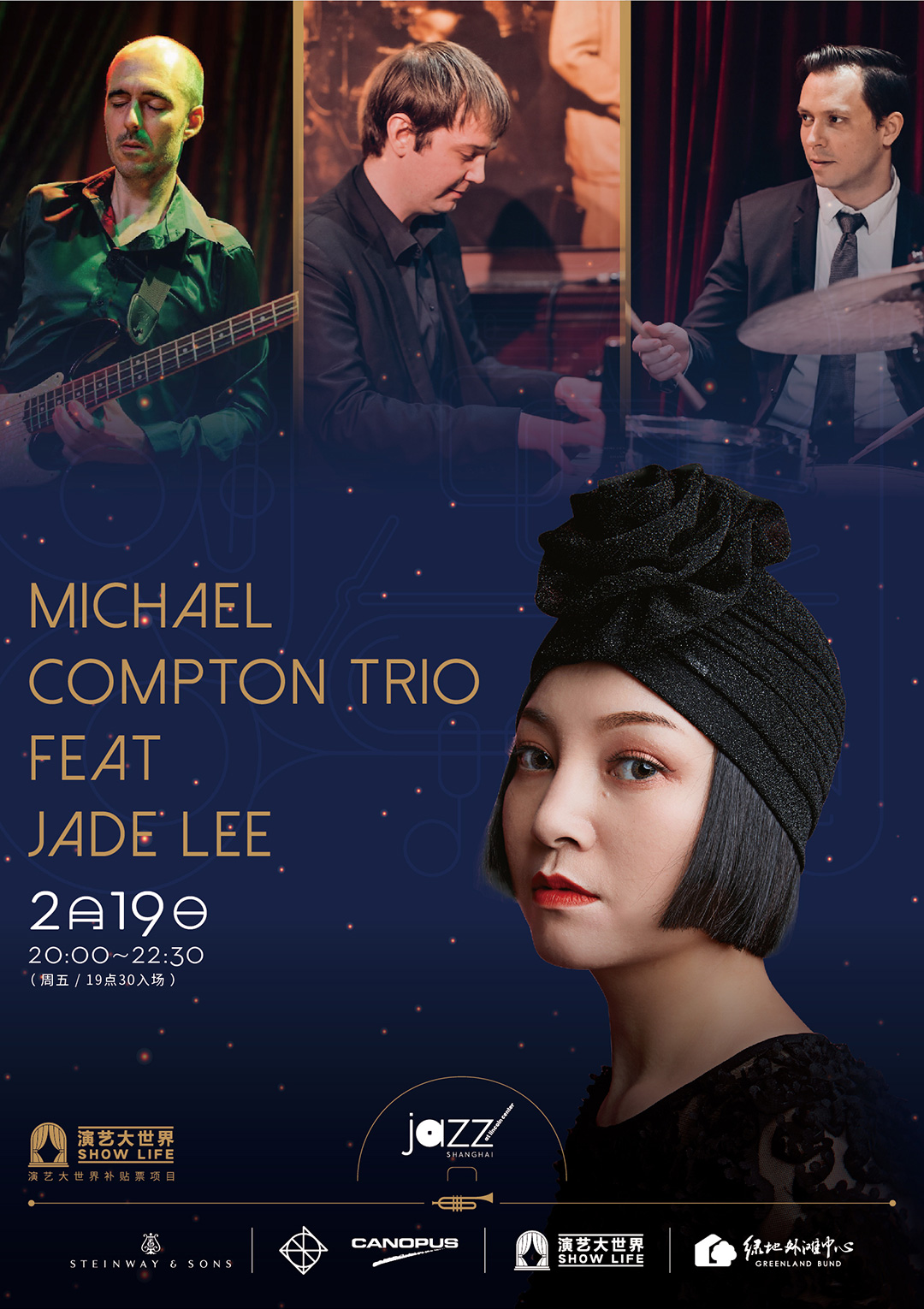 The Michael Compton trio are doing a night of jazz at the LCS. There will be a vocal accompanyment by Jade Lee, the first Chinese female student to attend the prestigious Royal Welsh Academy of Music and Drama. Single admission costs 198rmb, with the two-people special costing 688rmb. The couple deal will come with two drinks and a nuts platter.
Feb 20, 8pm @ Lincoln Center Shanghai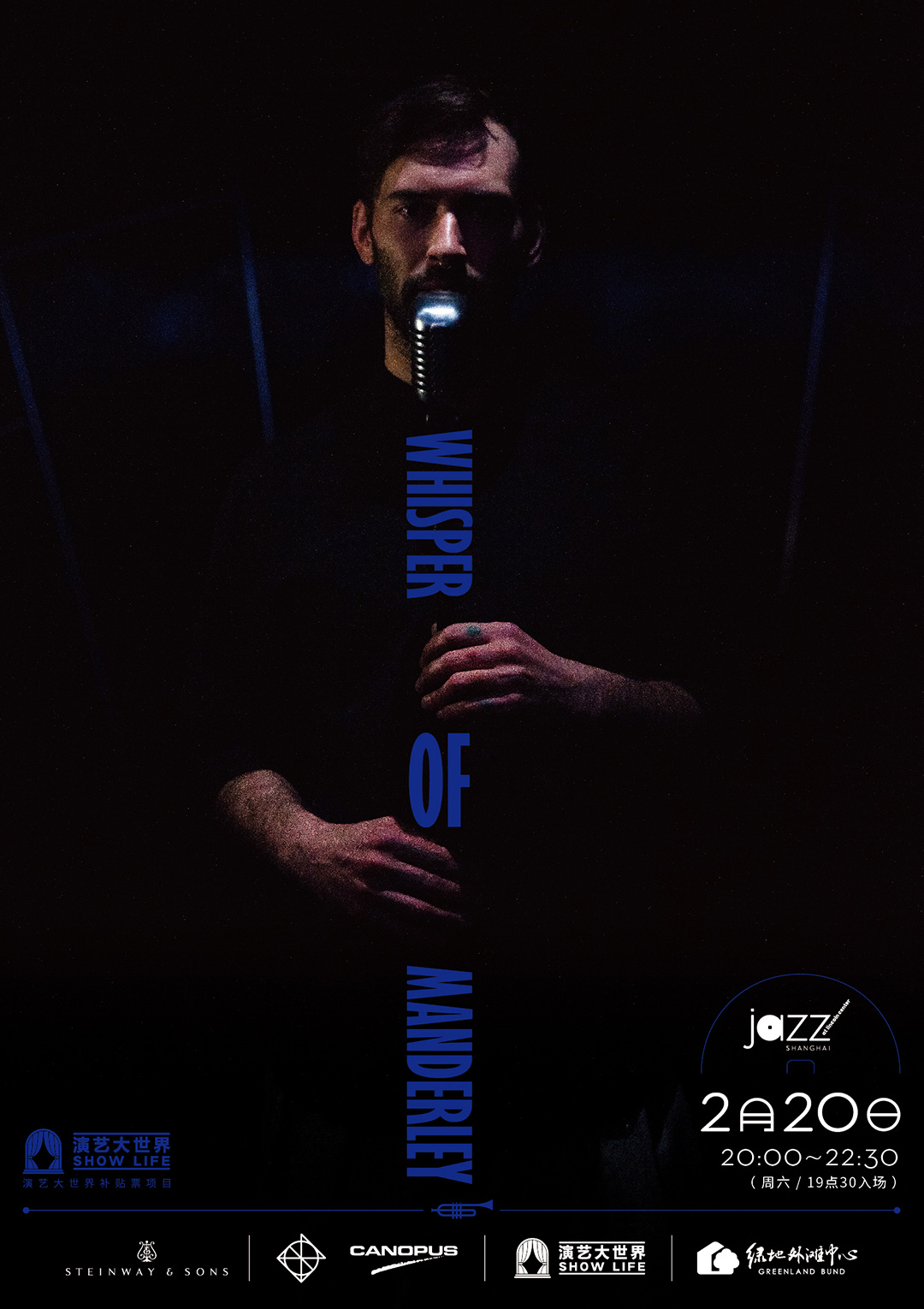 Nicholas Bruder, the actor portraying Macbeth in Punchdrunk's New York edition of 'Sleep No More', will be lending his voice for one night. Joining Nicholas's evening journey through music is Shanghai jazz instrumentalists Toby Mak on trumpet, Dong Ziyuan on drums, Lu Xuanchen on piano and Zhu Donghuan on bass. A single person entrance is 198rmb, and a two-person admission is 688rmb, with two complimentary drinks and a nuts platter.
Feb 20, 9pm @ The Pearl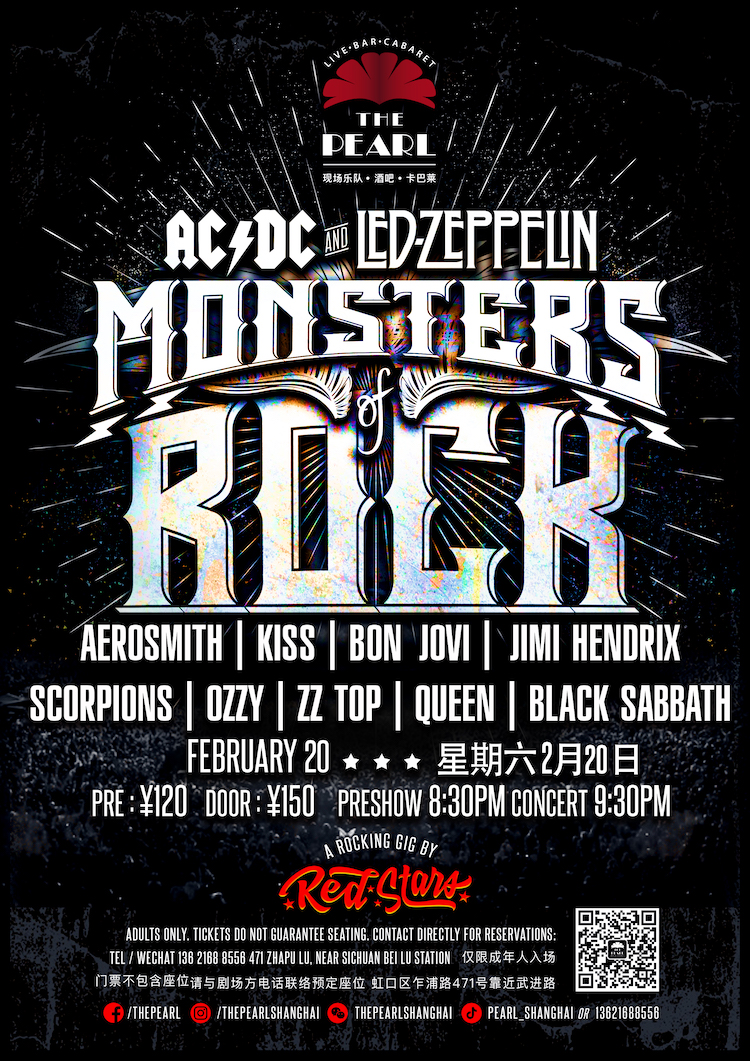 A night dedicated to the Rock Gods above! The Red Stars are doing a tribute to Aussie-rock band AC/DC, with a sprinkling of other greats such as Led Zepplin, Jimi Hendrix, Black Sabbath and more. Happy hour will run from 6-8pm, with dinner service ending much later. The pre-sale price of admission is 120rmb.
*
If interested in knowing about other events in the city, click here for our Things To Do Directory Page
.