There isn't a day that passes in this city where there's nothing to do, so here are 25 events to help avoid the fate of having a wasted weekend.
THURSDAY
Mar 11, 7pm-late @ Egg (Xiangyang Bei Lu)
Street Kings is taking the wheel at Egg on Thursday evening. Kelvin Ip will be serving one classic Sandwich (either a BLT or Reuben) and one special sandwich. Each sandwich will cost from a range of 65-75rmb.
Mar 11, 7-9pm @ Haworth
Green Initiatives and the Canadian Consulate General are coming together to host the screening of 'La Bolduc', a Canadian biopic about the Quebec folk Singer La Bolduc. Entrance for the screening is 20rmb.
Mar 11, 7.30pm @ Yuyintang Park
Yuyintang Park is hosting a stand-up night, where not only can comedians work their tight-five, but dancers, beat poets, songwriters and others can share the stage for the evening. All performances are in support of 'Someone the Musical'. Entrance is 100rmb, and includes one welcome drink.
FRIDAY
Mar 12, 5-7pm @ Civillita Art Supplies and Studio Space
Turn those sad clouds into happy ones. There will be a painting class, focusing on the stylings of the ever-so-loving Bob Ross. Participants will be painting the Yangshuo Landscape (the image above) and will be able to take their 30x40cm painting back home. The process is about two hours and it costs 200rmb to participate.
Mar 12, 6-9pm @ Suga'hai
Needing a change from the usual party-hard Friday evenings? Well, Suga'hai is hosting a (board and card) game night. There will be Monopoly, UNO, Cards Against Humanity and more. The 108rmb entrance fee will include food, but there is a 256rmb deal that comes with both food and free-flow booze. Sign-up fast, there are limited seats.
Mar 12, 8.30pm @ Yuyintang
Yuyintang is hosting a live band performance of Adele's biggest hits. PSYCH! In no way that's happening. What's actually going on is that indie rock band Deku is teaming up with both psych-rock band Pillow Case (枕头盒子) and goth-tech band Snuff Disco for a concert of psychedelic jams. Pre-sale price for entrance is 70rmb, but 90rmb at the door.
Mar 12, 10pm @ Inferno (United Valley)
This party is in celebration of Chimera Cult's first full-length album release. The musicians will be mixing different rock genres together: punk, hardcore, death metal, black metal, even some old school rock n' roll. Entrance is free and there is a special 'The Kool Aid' drink deal for 35rmb.
Mar 12, 10pm @ T66 Sky Bar
Do not become human, and instead, become...techno. Sky Bar is doing a techno festival called Detroit. DJs FANE, DAM's, NANOtech and THE MAN WITH HORNS will be blasting progressive house, techno and nanotech music all evening. The theme of the night: neon glow rave. Come dressed ready and enjoy the free neon glow paint at the event. It's 108rmb for pre-sale (includes one drink), and 128rmb at the door (also comes with a free drink).
Mar 12, 11pm @ Celia by Pulse
So...Celia never did open up last weekend. There were some technical issues that did hinder the much-anticipated debut, but this Friday evening, it's fo' real. Just like originally planned, the DJ lineup will include Giulio Perinelo, James Lealand, Final Request, H-Tronic, Lina K, Chewie, Costin and FANE. Entrance is 100rmb per person and will include one complimentary drink.
SATURDAY
Mar 13, noon @ Funkadeli
Bring that furry best friend to Funkadeli on Saturday afternoon, as the restaurant is serving up both a bruch for humans and treats for doggies. A portion of the drink proceeds will be given to Haven Animal Rescue. Make sure to book a table in advance.
Mar 13-14, 5pm @ seul&SEUL
White Day, which can almost be understood as Valentine's Day Part II, is this weekend. Share a romantic meal with a loved one as seul&SEUL will be offering a holiday special dinner set. Dishes to expect include mussel confit, French fried duck breast, mint jelly & white chocolate dessert and more. On Saturday, a single person would cost 888rmb, and on Sunday, the price will rise up to 999rmb.
Mar 13, 5pm @ Xian Che Jian
Xian Che Jian is hosting a housewarming party. There will be an outdoor BBQ starting at 5pm, with the party starting at 7pm. Participants planning on joining are asked to bring their own meat for the BBQ, or at least one ready-to-eat dish for sharing. Drinks and alcohol will be sold at the event.
Mar 13, 6pm @ On Air Space
Seeds of Change are hosting a charity music concert, where all-female musicians will take the stage for the event. This charity is in celebration of International Women's Day, and all proceeds will be given to the charities Bright & Beautiful and Proproots. There is an early-bird admission price of 120rmb. Regular tickets are 150rmb per person, but there is a group deal for 133rmb per person.
Mar 13, 7.30pm @ The Cactus
Jorge Geronimo will be hosting a salsa dance class at The Cactus. There will be a party following the class. Fee for participation is 128rmb, and includes one drink.
Mar 13, 8pm @ Bar Rouge
Bar Rouge is doing a Latin Night. The DJs of the evening will be mixing salsa, reggaeton and latin trap. The entrance fee is 150rmb, and includes one complimentary drink.
SUNDAY
Mar 14, 9am @ Untour Food Tours
Tour across Old Xuhui and indulge in a morning of traditional Chinese breakfast. The menu includes freshly-pulled noodles, fried dumplings, xiaolongbaos, savory pancakes and more. The food is vegetarian and kid-friendly. Participating in the tour costs 525rmb per person. Once signed up, participants will be given the location for meeting up.
Mar 14, 10am-1pm @ The Shanghailander
TEK-Shanghai and Green Initiatives are coming together to host an E-waste recycling event. Collect all of those outdated/broken electronics and come by to either donate, swap or ethically-dispose.
Mar 14, 10.30-11.45am @ NEOBRIDGE
Early to bed and early to rise. There will be an energy flow yoga class on Sunday morning. The class will be taught in both Mandarin and English, and mats will be provided to all. Participants should bring a bottle of water, arrive 15 minutes ahead of time, have a half-empty stomach and wear comfortable clothes. It will cost 88rmb to take part in the activity.
Mar 14, 12.30pm @ F45 Training
Work it out, sweat it out. The F45 10-minute fitness test is back, where participants will be pushing their stamina, strength, agility and speed. Categories included are Top Male, Top Female, Masters (40+ years), Team, and the newly introduced Male & Female Partnership. There will be prizes, drink deals and a raffle to enjoy. The fee to take part is 100rmb per person.
Mar 14, 7pm @ Inferno (United Valley)
It's not the World Cup, but the Table Cup! Inferno is hosting a foosball tournament, where the top three players can earn prizes. It's a 1-on-1 tournament, with participation costing 50rmb per person. It is free to just attend and watch the matches.
SMARTTICKET
Mar 11, 9pm @ The Pearl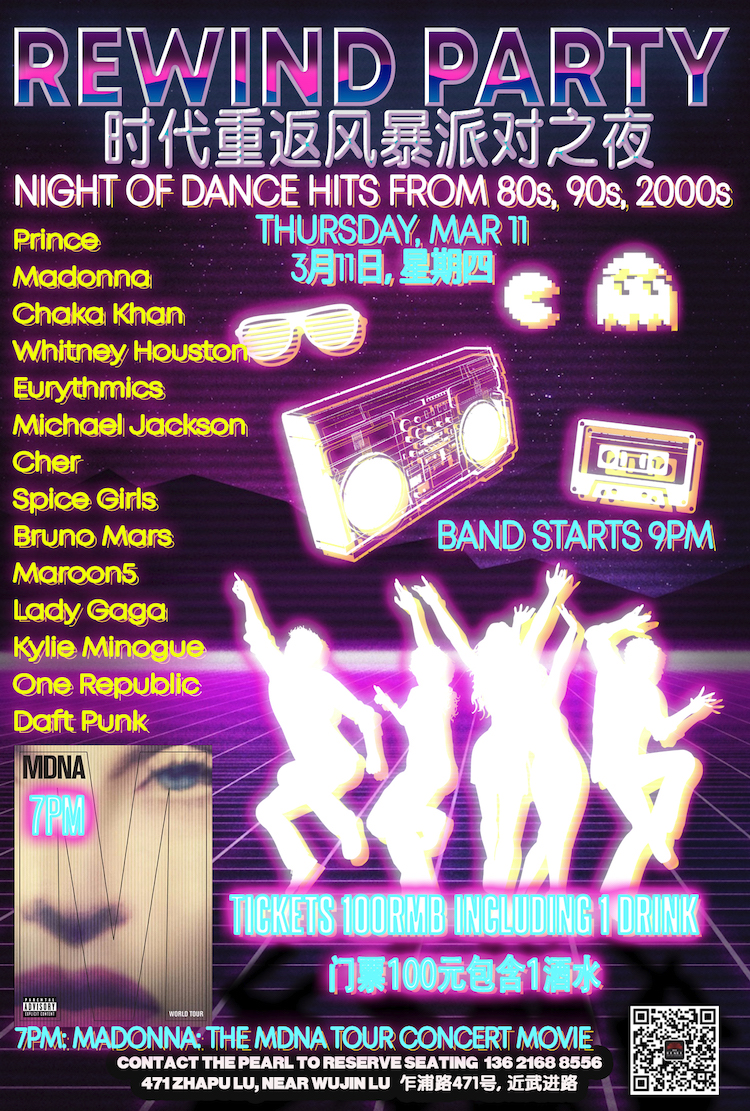 Hit the rewind button on the VCR, and jump back through the 2000s, 90s and 80s. The Pearl's Red Stars are doing live renditions of Madonna, Michael Jackson, Maroon 5, One Republic and more. There will be drink specials from LAIBA, and a dinner special on both mussels and burgers all night. Doors open at 6pm and a Madonna movie will be screened at 7pm. The pre-sale price of admission is 100rmb. Get tickets on
SmartTicket
.
Mar 12-13, 7.30pm & 9.30pm @ Lincoln Center Shanghai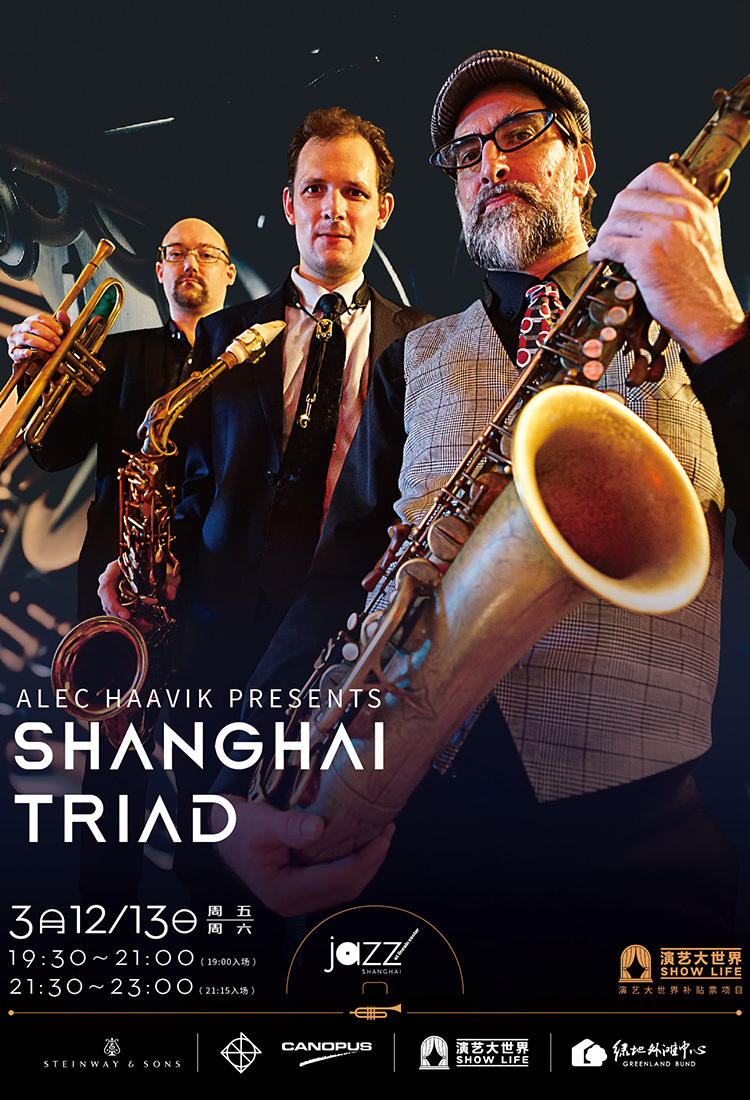 Alex Haavik will lead the Shanghai Triad for jazz performances on both Friday and Saturday evenings. The triad is made up of Alex, saxophonist Murray James and trumpeter Jeremy Sinclair. The three musicians will be accompanied by bassist Danny Zanker, drummer Guojun Yu and pianist Shaonan Su. There is a pre-sale single admission cost of 180rmb. There is also a couple package, which will include two complimentary drinks, for 518rmb. Go to
SmartTicket
if interested.
Mar 13, 9pm @ The Shanghai EDITION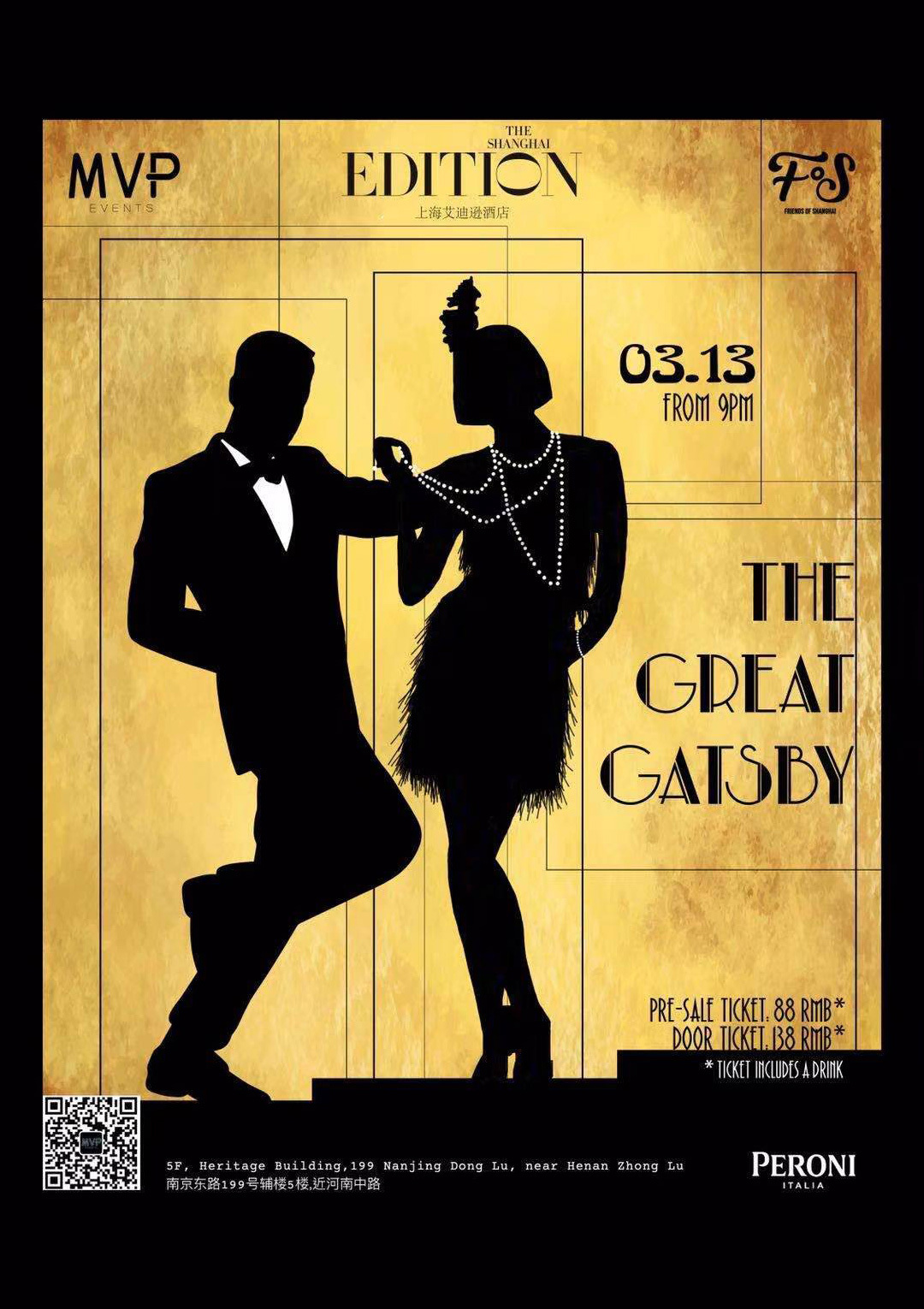 The Charleston, Big Band Jazz, flappers – mementos of the 1920s. MVP Events is hosting a 20s-themed party at The Shanghai EDITION. DJs Leon Will and Cece will be mixing electroswing, jazzy soulful and deep tech-house; a synthesis of both past and present. The dress code is 1920s, so think of three-pieced suits and tailored dresses. The pre-sale single admission is 88rmb, and comes with one complimentary drink. At-the-door is 138rmb. There are two VIP sofa packages: 2,488rmb for six people, one bottle of Perrier Jouët and one bottle of Spirit; 3,488rmb for eight people, one bottle of Perrier Jouët and two bottles of Spirit. Make the most of that pre-sale price on
SmartTicket
.
Mar 14, 11.30am @ Il Ristorante – Niko Romito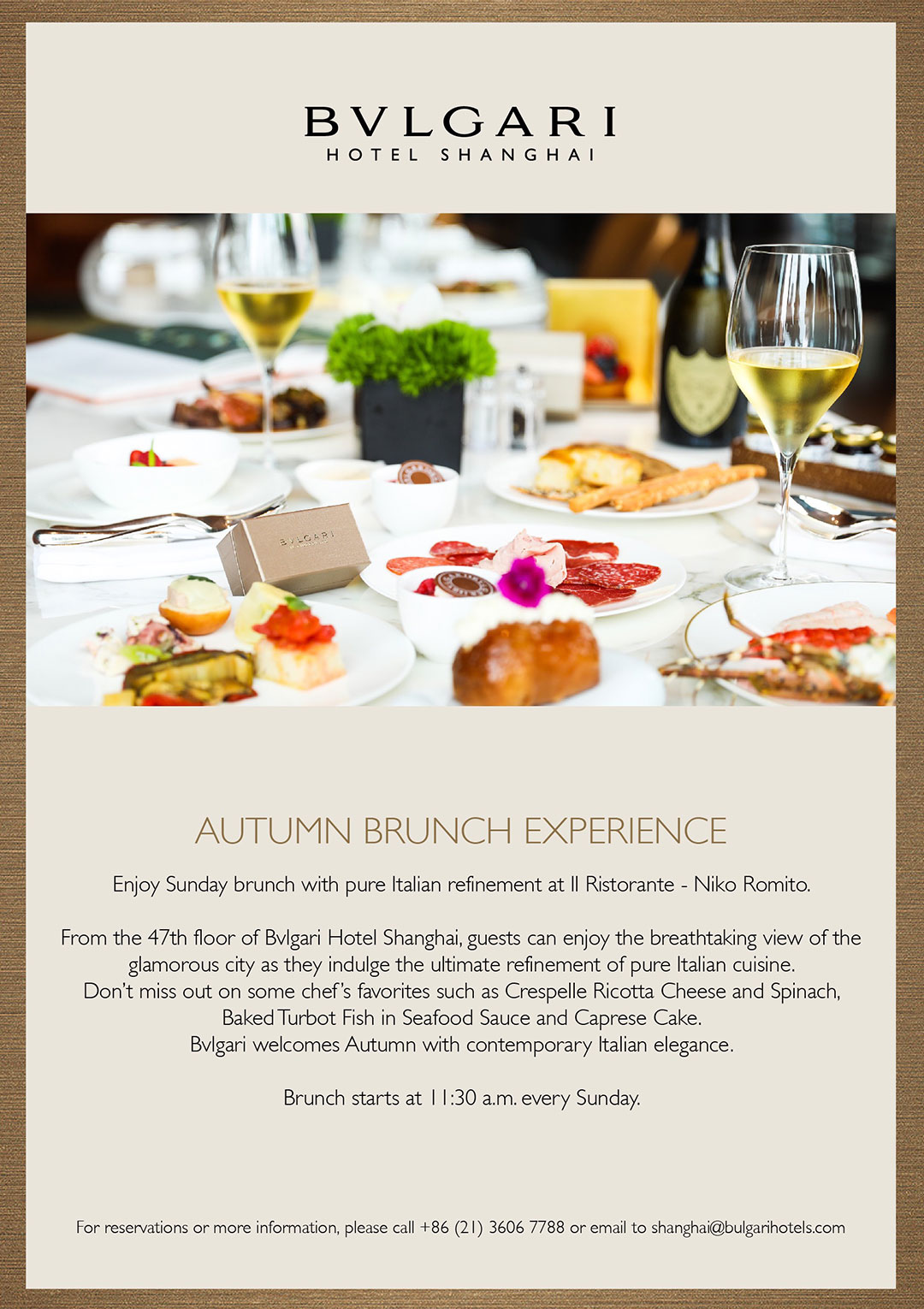 On every Sunday, until the end of the year, Il Ristorante at the Bulgari Hotel hosts their Italian brunch. Guests will enjoy some of the resident chef's favorite dishes, like the Crespelle Ricotta Cheese and Spinach, Baked Turbot Fish in Seafood Sauce and Caprese Cake. The simple brunch deal costs 720rmb per person, although, there are two four-person brunch deals. For 3,234rmb, four people will have both the brunch and free-flow wine. For 4,260rmb, four people will have both the brunch and free-flow champagne. Book a table and purchase the opportunity to dine via
SmartTicket
.
Mar 14, 7.30pm @ Lincoln Center Shanghai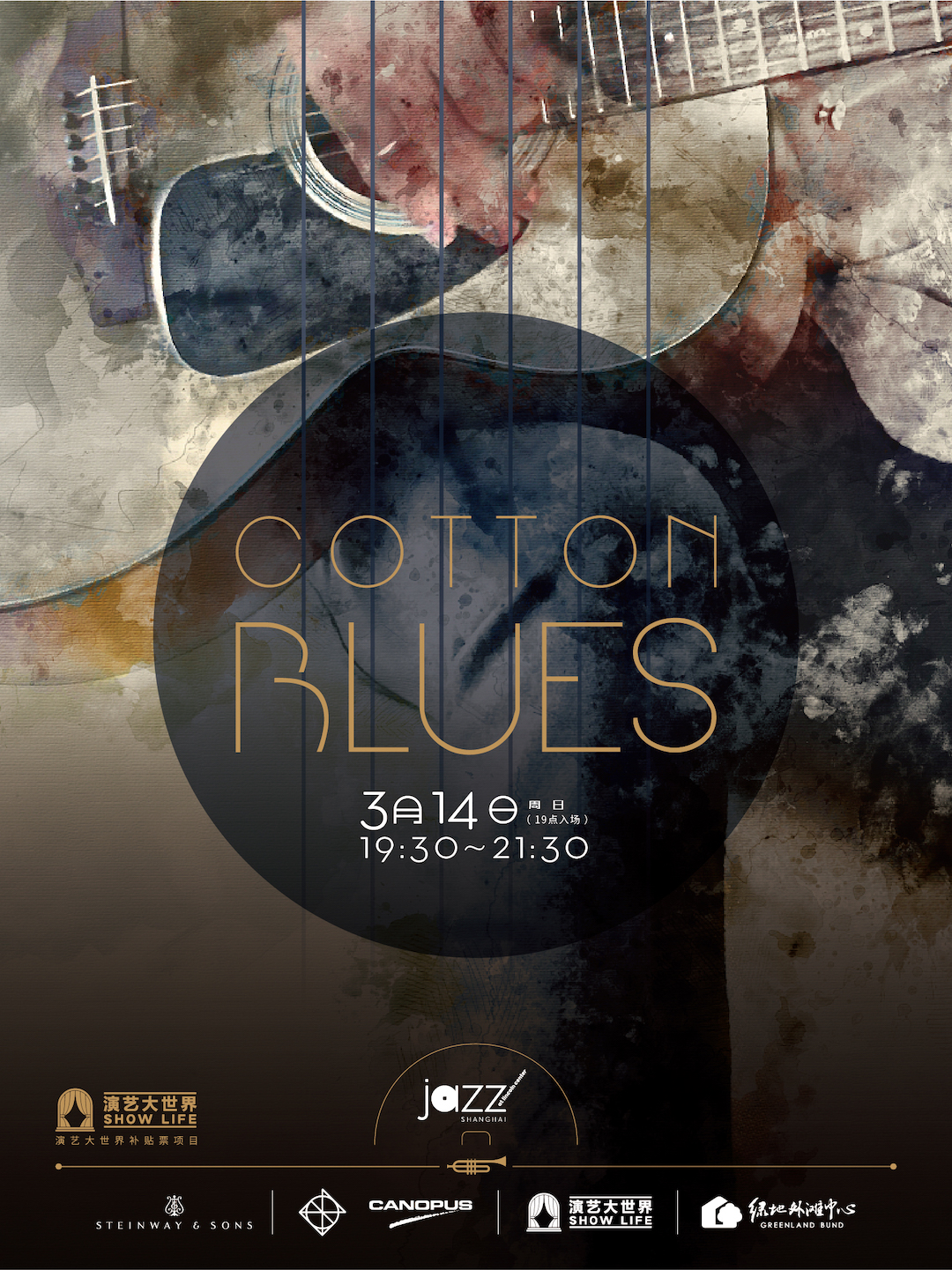 The Cotton Club Band is coming together for a one-night show at LCS. The lead guitarist, Gregory Smith (
SmartShanghai wrote about him last month
), will team up with bassist Jorland Paulino, trumpeter Toby Mak and drummer Edward Hart. Yiko Gu (顾怡蔻) will accompany the band and sing the melodies. A single admission is 150rmb, and a couple package (with two drinks) is 488rmb. Go to
SmartTicket
to grab a seat.