February has come to an end. With a perfect 28 days finishing on Sunday, welcome in the new Month (and hopefully better weather) with a weekend jam-packed with things to do. Here are 25 events that people should plan their days around.


THURSDAY
Feb 25, 7-9.30pm @ Curfew

Ladies Who Tech are welcoming in the Year of the Ox with their first new event of the Lunar Calendar, a STEM Drinks Night. This crossover between networking and social gathering is focussed around recruitment within the tech industry. Some topics that will be covered include how tech is shifting recruitment models in the industry and what recruitment trends are developing from new tech. Two recruitment experts will be sharing their knowledge for the evening, so come on down as the event is open to everyone. A single admission is 150rmb per person.


Feb 25, 8.30pm @ ALL CLub

CINEMQ is hosting their first movie night since the turn of the Lunar New Year. A screening of queer-related short films will be played at ALL Club. The movies start at 8.30pm, with an after-party led by DJ Yinan at 10.30pm. Entrance is free for the night.


FRIDAY
Feb 26, 5.30pm @ SakeMate

Mahalo my dudes, SakeMate are having a Hawai Night on Friday evening. There will be tapas and flavoured mojitos all night, with a DJ playing Latin Vibes and Reggaeton at 9pm. There is a dress code: sexy beach, so come dressed up to dance. Entrance is free.


Feb 26, 8pm @ LOFAS

How about finishing the drugery of a full work-week with some funnies. There is an open mic night on Friday, where participants can take the stage and can either test out their tight-five, or share a hilarious story to a supportive crowd. Doors open at 7.30pm. Entrance and participation is free.


Feb 26, 8.30pm @ Yuyuintang

Hogchoker is releasing their eighth album, with collaborations by Argentinian opera singer Ernesto Bauer and Jamaican reggae legends Horace Andy, Max Romeo and Big Youth. This celebration will include live shows by Carbon, Chick Eye and DJ BO, with video art by Mei Wah. Entrance to the event is 60rmb per person.


Feb 26-27, 9pm-late @ J. Boroski

Kelvin Ip, the co-creator of "Jianbing Cook-Off", is collaborating with J. Boroski for a two-night jianbing-cocktail crossover. The eggy breakfast treats will be selling for 25rmb, and Mark Lloyd of J. Boroski will bring back his infamous Jianbing Whisky Sour. Know that, in order to take part in the evening, a reservation will be needed – so call in!


Feb 26, 9pm @ XBar

Hush, don't tell anyone, but XBar is going to hold a secretive disco event on Friday. DJs Kougar, 超FUN and Charley will be leading the tunes for the evening. Plant-based glitter by NOMO Glitters will be sprinkled throughout the event, so dress in something that can get sparkled. Entrance is free.


Feb 26, 9.30pm @ Shake

The Shake band is teaming up with singer Vanessa for another night of Soul. They will be doing renditions of Whitney Houston, Aretha Franklin, Stevie Wonder and more. Dinner and cocktails start at 6.30pm, with the band at 9.30pm. Entrance is 100rmb per person.


Feb 26, 10pm @ The Fellas

Fevella Chic is a party celebrating the world-famous celebration of Carnival. DJ Uly will be playing Brazilian and Latino music hits all night long. Entrance is free.


SATURDAY
Feb 27-May 31, 10am-8pm @ Xintiandi Style

Starting from Saturday, and running all the way to the end of May, Virtually Versailles is a digial art exhibition. Not a way to see art through a device, but an experience through a visual landscape. 600 artists from industries across 7 countries, had currated the exhibit; featuring 11 halls with 4 themes about the kingdom of France. The themes include nature, fashion, history and humanity. The price range of admission is 69-150rmb.


Feb 27, 11am-3pm @ Abbey Road

Abbey Road is hosting a Pet Adoption Day. Shanghai Animal Rescue is hoping that caring people and happy families can take an adorable ball of love back home. There will be a brunch special to enjoy, where 10% of proceeds will be donated to SAR.


Feb 27, 2-5pm @ Community Center Shanghai

Lifeline is hosting their "R U OK?" workshop, an opportunity for people to learn and practice the 4 steps of holding a meaningful conversation. The campaign hopes to help people struggling with life, who are in need of support and care. Registration to participate is 150rmb per person.


Feb 27, 8-11pm @ Perch

After crashing The Camel, 白8 Baijiu is now taking over Perch. In the evening, hand-crafted baijiu cocktails will cost only 58rmb per drink.


Feb 27, 8pm @ RIINK

Vibe to some vaporwave at the roller disco. RIINK has DJ King Melo mixing tunes for the night. There will be a food, drink and skate deal package for 100rmb.


Feb 27, 9pm @ +86 Lounge

MVP Events are hosting FIESTA at +86 Lounge. DJ Tuto will be mixing Latin Vibes all evening. There is a special package, where guests can book a table and recieve two bottles of champagne and two bottles of vodka – all for 3,588rmb. Entrance can be free, just get on the guestlist by emailing in at events@mvpshanghai.com. If too late, know that entrance is 120rmb at the door.


Feb 27, 10pm @ Italo

Disco Hai is back at Italo, with DJs Fane and Chris Zhang mixing up tunes from the 70s, 80s and 90s. The dress-code for the night is "groovy", so get ready to get funky. For entrance, there is a pre-sale price of 88rmb, but it will be 120rmb at the door.


SUNDAY
Feb 28, 10.30am @ The One Executive Suites

Wanna Travel has organised a morning yoga with breakfast at the Kempinski. There will be a yoga course, with stretching and a light breakfast to follow. The price range for particpation is 108-118rmb per person.


Feb 28, 11am @ No.Name Studio Art Residency

Based on the works by artist C.C. and No.Name Studio, the "I Don't Wanna Show You" exhibition spawned from the response C.C. gave to the studio after they offered the oppurtunity to feature C.C.'s work: "i don't wanna show you". The collection will feature more than 300 pieces of work. There will be food, provided by Italo. It will cost 250rmb to be able to see the exhibit, transportation and food will be included.


Feb 28, 4.30pm @ BUSHIDO

There will be a singing bowl meditation class on Sunday afternoon. All levels of yoga are welcomed, and resources will be provided. It will cost 188rmb in order to participate.


Feb 28, 8.30pm @ Yuyuintang

Remember that scene in "Wayne's World" where Wayne and Garth meet Alice Cooper? So good. Anyway, the Alice Cooper Tribute Trio are doing one final concert, before the band parts ways. Expect a concert of perpetual rock, with costumes, makeup, stage antics, and of course, the jams of the legendary rock band. Special guests joining for the night include Rat King, Flying Games and 东京茶(Frozen Cops). Entrance is free for this rock night.


Feb 28, 9pm @ C's Bar

It's sad to say, but we all are going to have to say goodbye to the legendary French duo. Daft Punk have created some of the greatest tracks in the last 30 years, including the Oscar-nominated soundtrack to the 2010 film "Tron: Legacy" (if folks haven't heard it before, give it a lesson – killer synth). C's Bar is doing a tribute night, with DJs KuB, Mavas and Lobitio behind the decks, rocking out to the band's bests. Entrance is free.


SMARTTICKET
Feb 25, 8pm @ Lincoln Center Shanghai

A jazz evening, lead with a violin performance. Unsure what it maylook like? Know that the Lincoln Center is hosting the "Spring for Violin", a live music night of six musicians playing jazz and blues. The quintet is composed of violinist Liu Xing, pianist Huang Jianyi, saxophonist Chen Jiajun, bassist Tian Xin and drummer Yu Guojun. Admission for the show is 150rmb per person, but there is also a two-person package for 488rmb, and will include two complimentary drinks. If interested, purchase tickets on SmartTicket.


Feb 25, 9pm @ The Pearl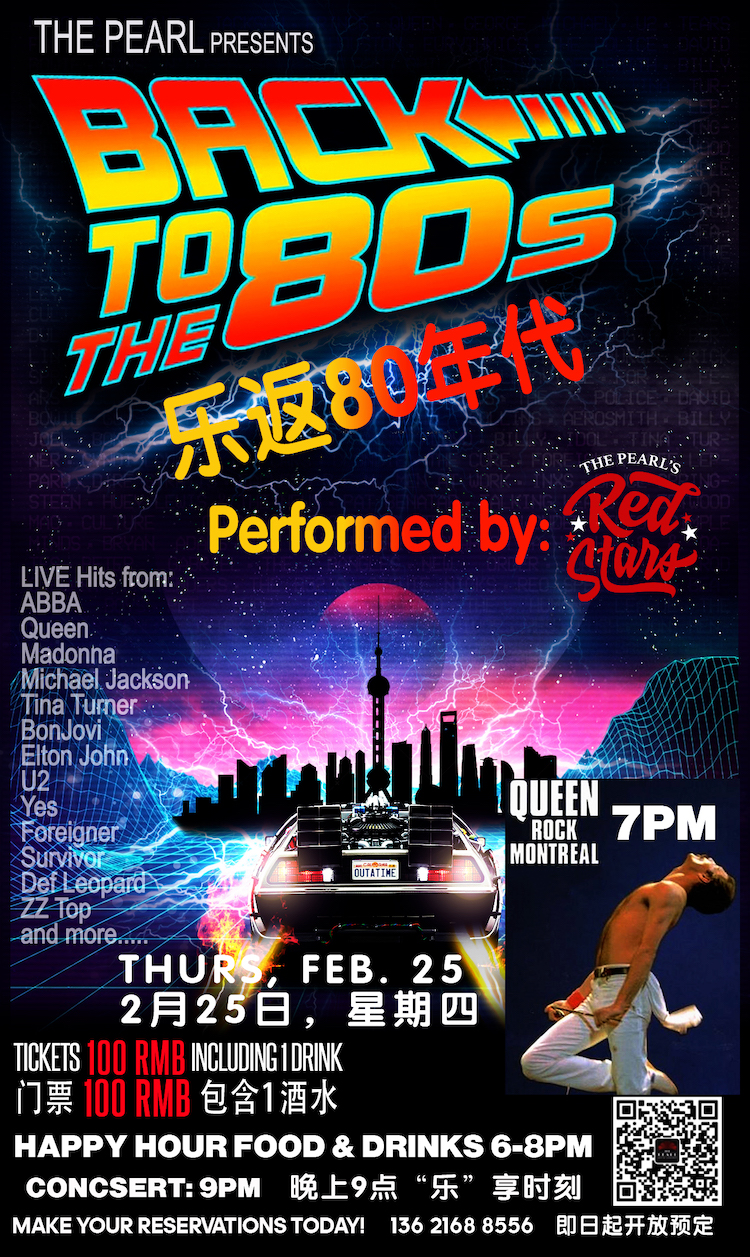 Nostalgia is big within the zeitgeist, so get a blast from the past with The Pearl's 80s Night. The venue's resident band, The Red Stars, are going to travel back in time and bring back the biggest hits from the big EIGHT-ZERO; expect renditions from MJ, Madonna, Whitney Huston, U2 and more. Doors open at 6pm, with a screening of "Footloose" at 7pm. There is a happy hour deal running form 6-8pm. The pre-sale price of tickets is 100rmb per person. Wanna groove? Then get tickets on SmartTicket.


Feb 26-27, 9pm @ The Pearl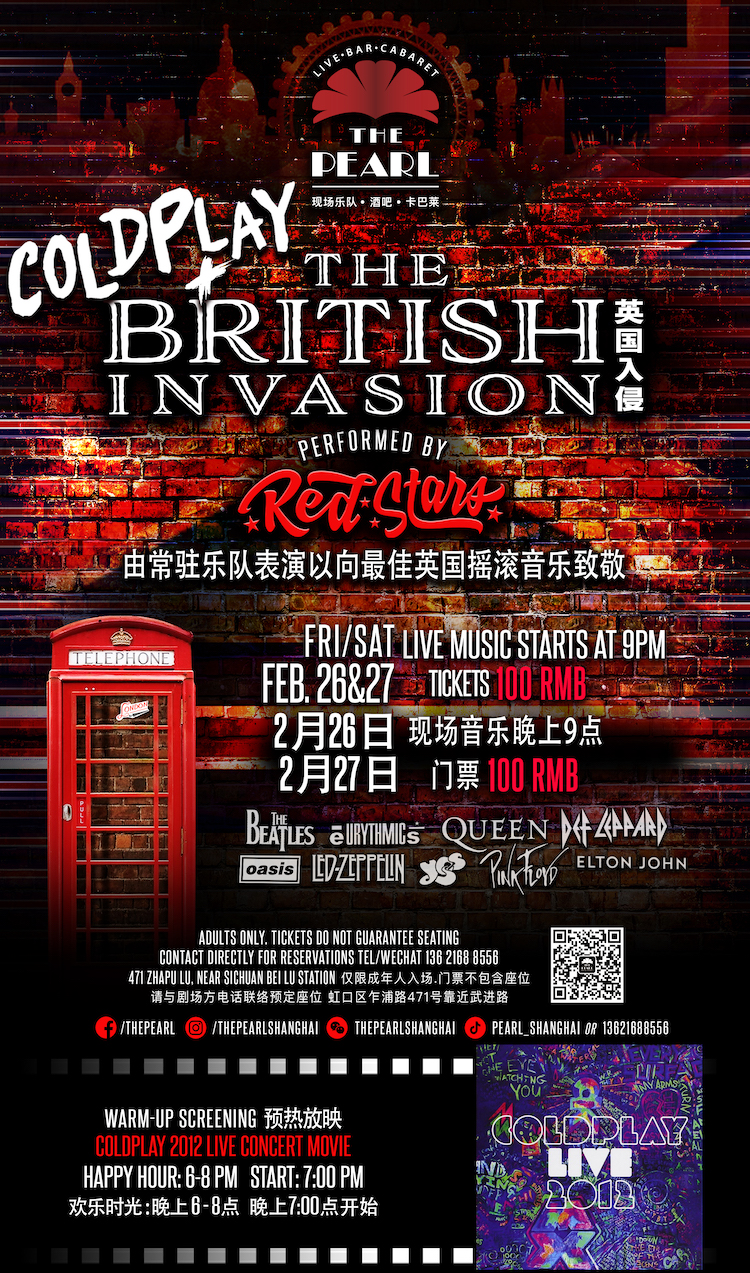 A frequent favorite for the venue, The Pearl is doing a two-night special of Coldplay and the British Invasion. The Red Stars lead the charge in playing the UK's biggest hits in the past 50 years, featuring bands like Queen, Def Leppard, Oasis, Radiohead and more. There is a screening of "This Is Spinal Tap" at 7.30pm, with happy hour going on from 6-8pm, as well as doors opening at 6pm. The pre-sale admission for both nights is 100rmb per person. Wanna rock out to the Kingdom's jams? Get tickets on SmartTicket.


Feb 28, 7.30pm @ Lincoln Center Shanghai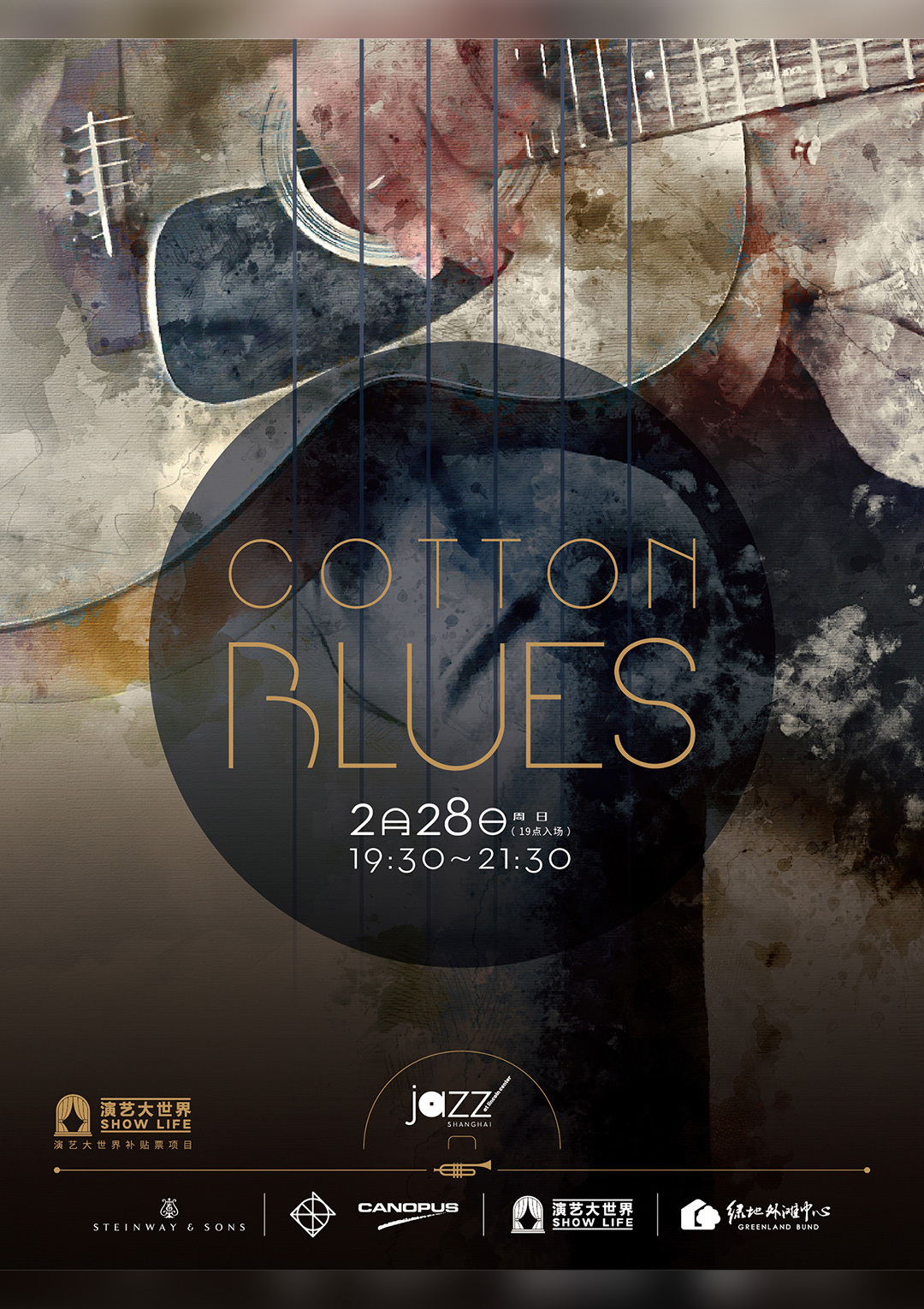 Cotton Club is back! Not necessarily the venue, that's very much still closed, but the band is doing a live show at the Lincoln Center. Expect a night of their bests, as guitarist and Shanghai long-termer Gregory Smith (we wrote an article about him recently), bassist Jorland Paulino, trumpeter Toby Mak, drummer Edward Hart and vocalist Yiko Gu take the stage. Admission for the night is 150rmb per person, with a two-person package of 488rmb. The double-deal will include two complimentary drinks. Get a seat for the evening on SmartTicket.