Christmas decorations have been packed away and New Year's has come and gone, but this January weekend has an eclectic collection of things to do. Here are 32 activities that folks can fill up their empty timeslots with.
THURSDAY
Jan 14, 8pm @ El Santo
The first of many to come ahead, El Santo is doing Latin dance classes every Thursday. Come dressed in the best silk shirt to learn how to do the Cha-Cha, or even swing to Salsa. The evening costs 100rmb, and includes both the lesson itself and a complimentary drink.
Jan 14, 9.30pm @ Bar Rouge
Thursday night is Ladies Night! Well, at Bar Rouge at least. Women can get free drinks until 11.30pm and free entry before 12.30pm with the password "SPACE PANDA". Dudes can also get in for free too. If any later than the witching hour, then it's 100rmb at the door.
Jan 14, 10pm @ Le Café des Stagiaires
Ignore the cold of the month and come along for a metaphorical trip across the Carribean. LCDS is doing a tropical night, with Buy-One-Get-One deals on Mojitos all night and tunes to groove to.
FRIDAY
Jan 15, 6-10pm @ Kinetic Space
Celebrating both the turn of the new year, but more importantly, their 12th year anniversary, Green Initiatives is having a great big ol' party. This one-part fiesta, one-part networking event, whole-part community celebration is free to attend – just make sure to reserve first though.
Jan 15, 7pm-1am @ RIINK
Slide into some skates and hit the polished floors of RIINK. The venue is doing a retro night, with a special package deal: 99rmb for a free drink and a pair of skates. Get ready to get moovin'.
Jan 15, 8pm @ Abbey Road
Grab a free live show at Abbey Road on Friday eve. There will be a drink deal for the night: 150rmb for two hours of free-flow on selected beer, wine and cocktails.
Jan 15, 8pm @ Bar Rouge
The newest event series at Bar Rouge, Open House is a tribute to DJing culture. Resident DJs of the venue will be running the night, featuring tunes from House to Disco to Hip Hop and everything else underneath the EDM-umbrella. Entrance is 150rmb, and incldues one complimentary drink.
Jan 15, 8pm @ Zapfler German Craft Brewery
Got what it takes? Zapfler is starting their brand-new weekly drinking challenge. Anyone with an iron gut can put themselve to the test – drink 330ml of craft beer with straw eyeglasses (
that shouldn't be too tough
). Top three winners will earn voucher prizes.
Jan 15, 9pm-late @ Forté
Hey ladies, this one goes out to you. MADAME FORTÉ is going to be the ladies night of all ladies nights. There will be DJs mixing RnB hits on the turn-table, live dancers, free bottles of prosecco for groups of 5, free cocktails after midnight and even free entrance – all for the gals. The dudes can join too, but it will be 100rmb at the door (free before 11pm with the password
MVP EVENTS
). Dress code is elegant yet casual; so come looking classy — shucks, guess the sneakers will need to take the night off!
Jan 15, 9pm @ Ringside Bar
Ringside Bar is having a free karaoke night, welcoming anyone to come and warble to their heart's contempt. There's food and drinks accompanying the event. Click
here to see the menu
.
Jan 15, 9pm @ SHAKE
SHAKE is doing a live Funk & Soul night, featuring Jonas Seetoh on lead vocals and Vanessa and the SHAKE band supporting. Dinner and cocktails start at 6.30pm, with the live music at 9pm. It's 100rmb at the door.
Jan 15, 9.30pm @ C's Bar
Movement (动作) is Shanghai's resident Electronic Music community, and on Friday night they're bringing their Techno-House to C's Bar. DJs Dam, Lev Zep, Sexi Monki and Lobito will be scratching the decks for the night. This event is all-inclusive and free.
Jan 15, 10.30pm @ Le Café des Stagiaires
#flashbackfridays, LCDS has DJ $.KIV breaking the dance floor with the best hits of the 80s. They've got MJ, Prince, Madonna - a plethora of jams.
SATURDAY
Jan 16-19, 9am @ M50 Art District
If this weekend seems a bit too intense, then maybe take the time to explore some inner peace. Paradigm Healing is a 4-day campaign to help people relax and rejuvenate. There will be meditation, yoga, painting, pranayama and more. All the tools will be provided, attendants just need to wear something comfortable. It will cost 400rmb a day to participate.
Jan 16, 1pm @ Curfew
This cold, cold winter has not been easy on the fluffy residents of Shanghai stuck either in shelters or wandering the streets. To help get these animals loving new homes, Spare Leash and Curfew are running an adoption day at Curfew this Saturday. If you're looking for a new companion, remember to adopt don't shop!!!
Jan 16, 3pm @ Mikeller Tasting Room
Strictly Cookies and Mikeller are pairing cookies with beer. Each set of cookie-to-beer will cost 208rmb. Sounds like an unorthodox coupling to endorse! Like big man, Arnie, says in Pumping Iron, "Milk is for babies, when you grow up you have to drink beer".
Jan 16, 4pm @ Miguel de Cervantes Library
"La Mano Invisible" is a surreal Spanish film about eight people tasked to carry out their dayjobs, while the audience watches on. Screening is free to watch, but seat booking is required in advance. Contact
infosha@cervantes.es
to reserve.
Jan 16, 8pm @ Funkadeli
There's been a murder...IN OUTER SPACE! Funkadeli is going to be homebase for a murder mystery x space opera crossover, where guests have to deduce the identity of the murderer. Costs 180rmb to participate and comes with two free drinks plus appetiser. Attendants need to come dressed in character and receive their roles before the event.
Jan 16, 8pm @ RIINK
Get sent to the future, while also being hit with a blast from the past. DJ Lev Zep is doing desco-house mixes all night. There is a package deal for 158rmb which includes a drink, a snack and skates.
Jan 16, 9pm @ Elevator
Beijing' ByeByeDisco are swinging into town on Saturday night, and their big man Pei will be mixing tracks from midnight to 2am. Shanghai Social Club's Frau will be getting the party started at 9pm, with resident Meng-Meng closing off the night.
Jan 16, 9pm @ Bar Rouge
Fusion Beats is a brand new series, featuring DJs mixing house with big commercial hits. Entrance is free before midnight using the password "NOVA". Turn up late and it's 150rmb at the door.
Jan 16, 9pm @ C's Bar
Weekend looking at bit too glitzn'glammy for your tastes? Looking to just get down and dirty? C's Bar is doing a night of trash (
hey, their words
), complete with trashy songs, trashy bands, and trashy looks. Folks gotta rock up in the same outfit they passed out in from the night before.
Jan 16, 10pm @ Inferno
Strap on your leather and let's swim in black, Inferno is holding Goth Night. Party will feature DJ Muninn, who will be mixing classic goth, darkwave, and industrial tunes all night. The black beer brewers, Witchcraft, are a sponsor for the night, with a guest bartender from Crimson Pangolin Gin creating custom cocktails. Event is free to attend.
Jan 16, 10.30pm @ Le Café des Stagiaires
Calling all B-Boyz and B-Girlz, LCDS is doing a 90s beats night. DJ Skinny Brown will be leading the floor with a bunch of ol' school hits, like Public Enemy and Salt n Peppa. Come and be ready to break the floor.
SUNDAY
Jan 17, 11.30am-1.30pm @ Ringside Boxing & Beyond
Ringside is holding a 90-minute aerial yoga masterclass. It's beginner-friendly, as participants will be learning both the basics and tricks of the exercise. In collaboration with Canadian brand TITIKA and beauty salon The Blondies, there will be free exercise clothes to take home and free hair-braids to have. The cost of particpation is 288rmb per person.
Jan 17, 3pm @ UV Working
This open tai chi workshop teaches a bit of martial art's history plus basic moves. It's 55rmb to join, so scan the QR code to RSVP.
Jan 17, 3.30pm @ Shanghai Brew House
This latin dance class will have folks sweating to mixes of Salsa and Bachata. The cost of the class is 148rmb. Reserve a spot by scanning the QR code.
Jan 17, 6.30pm @ LOFAS
Cap off the weekend with some movies. JZ big band musicion Alec Haavik stars in the evening's first movie, "The Lizard's Journey", a short-film about a man's reptile-like metmorphosis. It will be followed with a Q&A. The second screening is the silent film classic "Fraust", with music accompanyment by Haavik's Ghosts Before Breakfast. The burger joint
BAPS
will be serving themed burgers for the night. It's free to attend.
SMARTTICKET
Jan 14, 9pm @ The Pearl
Got some bottled up emotions that need to be freed? The Pearl's got the perfect angsty solution to all that COVID-19 frustration. This complete night of alt. rock and grunge features The Red Stars, playing favorite tracks from Nirvana, Soundgarden, Alice in Chains, Stone Temple Pilots, even Aussie band, Silverchair! There's dinner service all night and happy hour running from 6-8pm. Pre-sale tickets are 80rmb, buy them
here on SmartTicket
.
Jan 15-16, 7.15pm @ Shanghai Grand Theatre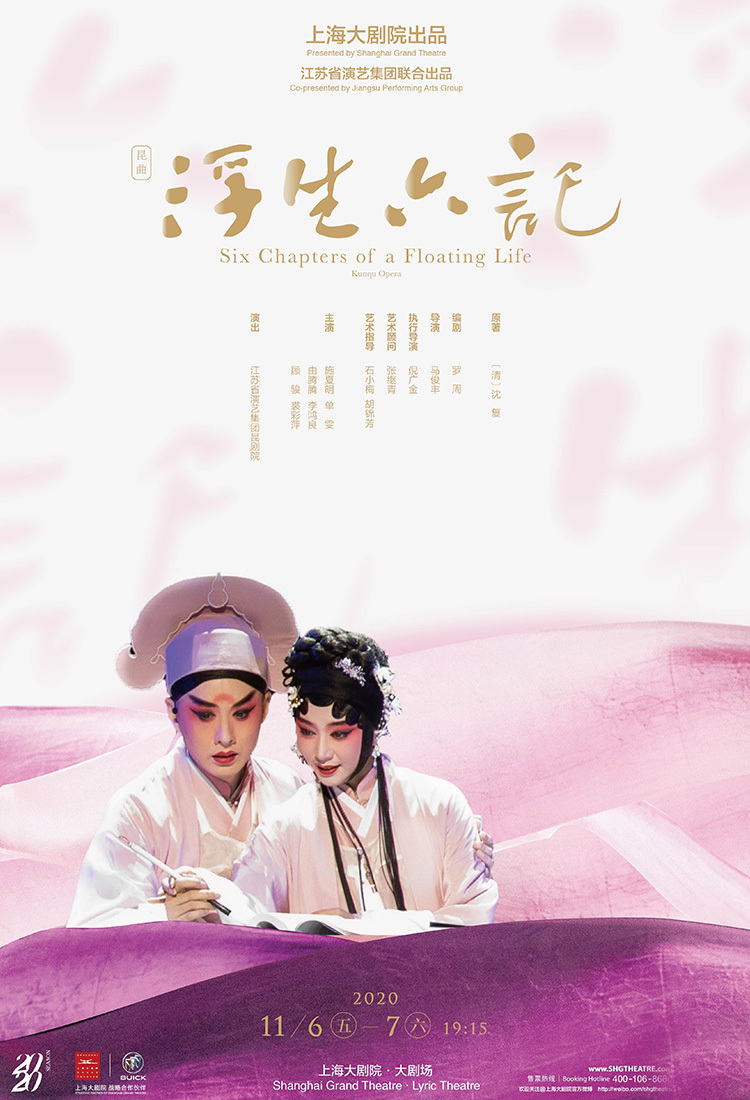 The "Six Chapters of a Floating Life" is a Kunqu opera (one of the oldest forms of Chinese opera), and it tells the journey of love and marriage of its author Shen Fu and his wife Yun Niang. This beloved tale has been adapted for the stage by the Kunqu Theater of Jiangsu Provence, directed by award-winning Luo Zhou. Costs 480rmb. Click
here to purchase tickets
.
Jan 15-16, 8pm @ Lincoln Center Shanghai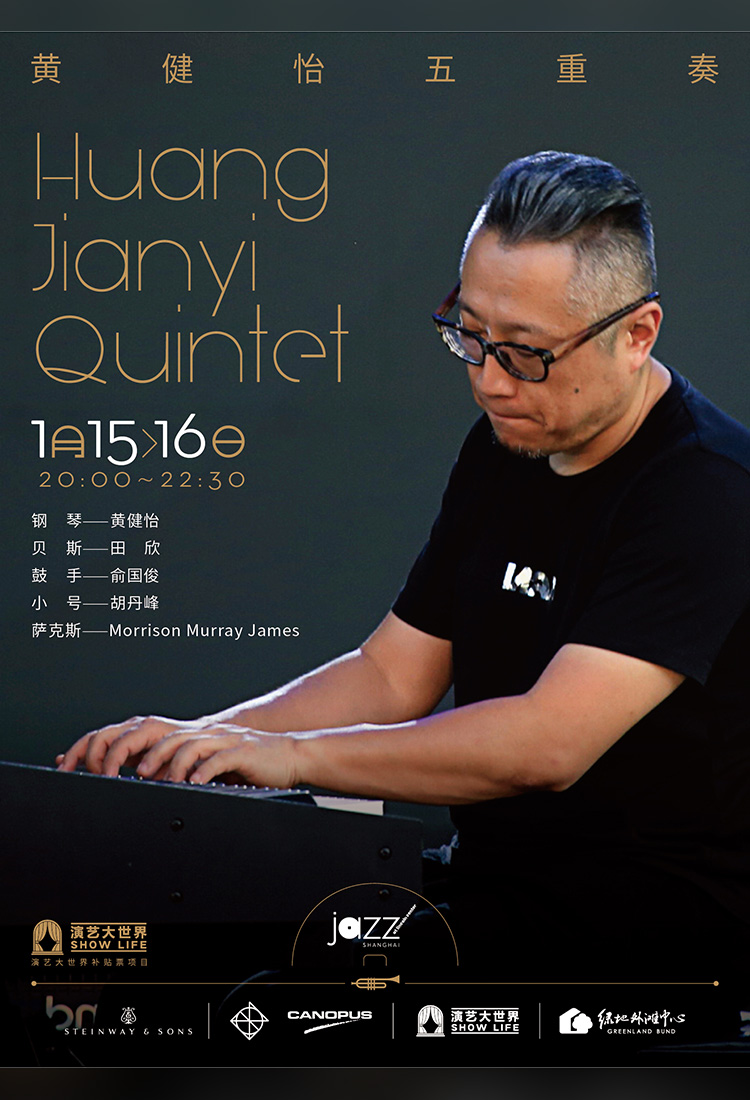 Renowned pianist and composer Huang Jianyi is leading a double-night of live jazz at the Lincoln Center. He will be accompanied by his quintet: Tian Xin on Bass, Yu Guojun on drums, Hu Danfeng on Trumpet and Murray James Morrison on sax. Pre-sale prices are 180rmb. Each ticket comes with one complimentary snack plate. Grab a ticket
here
.
Jan 15-16, 9pm @ The Pearl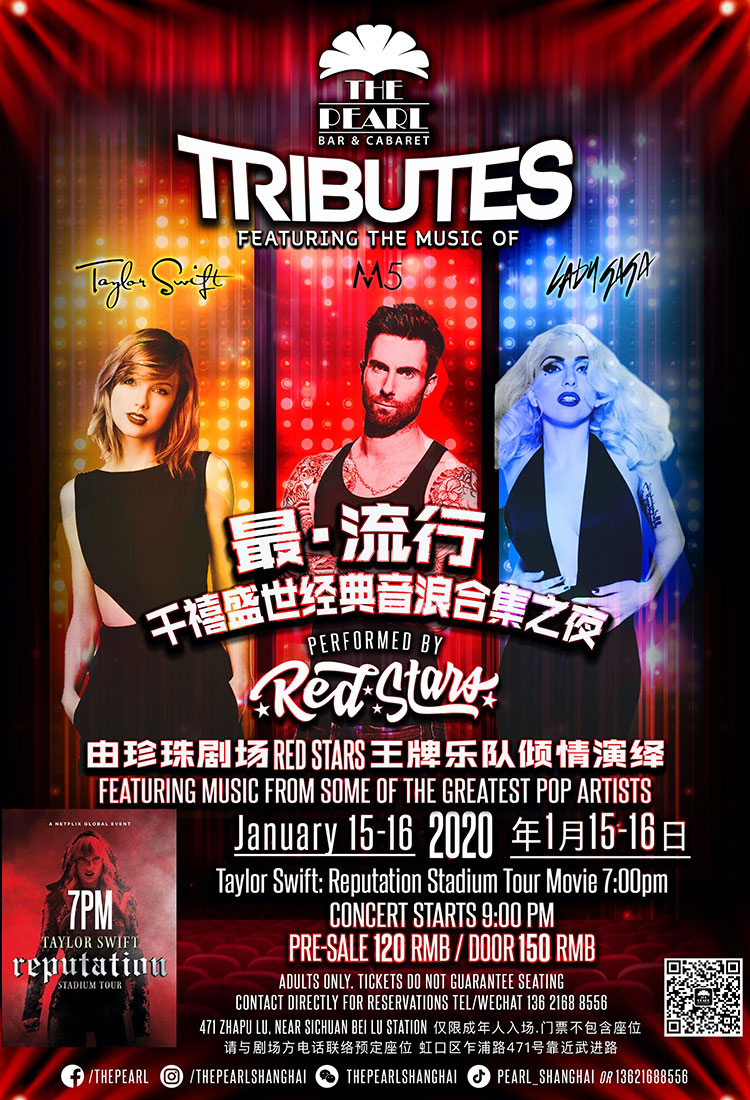 The Pearl has covered every possible decade to rock music out to, well, except for the 2000s...until now! The Red Stars are doing renditions of some of the biggest pop stars of the world: Maroon 5, Taylor Swift and Lady Gaga – the gambit of a Millenial's teens. Dancers Sasha and Anna will join the rockers as they throw power moves on the stage with their choregraphed dancing. There is happy hour going from 6-8pm. Pre-sale tickets are 120rmb, hit the link
here to book
.